David Wilson Schumaker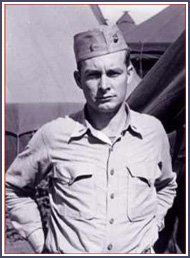 Name: David Wilson Schumaker
Branch of Service: U.S. Marine Corps
Unit: Bomb Disposal Unit
Rank: Captain
Dates of Service: 6/Jun/1942 - 8/Oct/1945
Theater of Service: Asiatic-Pacific
Notes: After WWII, David served naval tours in
Japan, Korea, Vietnam, and the United States. He
retired from active duty on 1 March 1967 on disability.
David permanently retired on October 1, 1970, with
the rank of Colonel.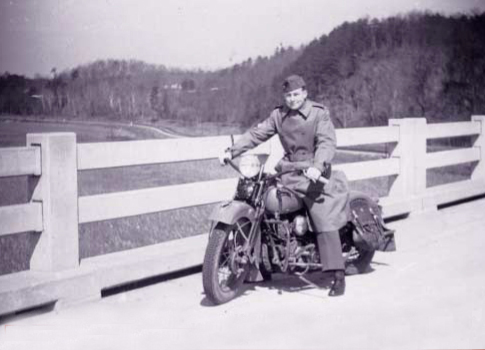 David Schumaker on his 1931 Harley Davidson on the bridge over the James River at
Bremo Bluff, VA -- photo dated May 1943.
David's Photos of the American Invasion of Okinawa, April - May 1945:
David Wilson Schumaker's Obituary
Published in Richmond Times-Dispatch on January 27, 2013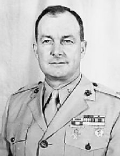 SCHUMAKER David Wilson, 93, of Mechanicsville, departed this life January 21, 2013. Born at Penlan, in Buckingham County, Virginia, May 15, 1919, he was the son of the late Charlie Walker Shumaker, and Cora Belle Raikes Shumaker, and was the stepson of the late Hallie Ballowe Shumaker. David was predeceased by brothers, Lacy Nicholas Schumaker, Lewis Paul Schumaker, Clarence Edward Shumaker, and Frank Ellsworth Schumaker; sisters, Ruby Lee Saunders, Ruth Belle Matthews, and Mildred Louise Ransone. Col. Schumaker is survived by his loving wife of 66 years, the former Mary Love Lewis; three children, Catherine Sue Tyler (James O. Jr.) of Richmond, Va., Donna Kay Mercer (Robert) of Van Nuys, Calif., and David Wilson Schumaker Jr. (Lynn) of Herndon, Va.; six grandchildren, Julia Tyler Boltz (Zach) of Chester, Va., Debra Tyler Dartez (David) of Virginia Beach, Va., Kate Schumaker (Paul) of Blacksburg, Va., Christopher David Schumaker of Herndon, Va., Whitney Paige Mercer of Chicago, Illinois, and Devon Calais Mercer of Santa Cruz, Calif.; and five great-grandchildren. He is survived by one brother, Charlie Walker Schumaker Jr. of Victoria, Va.
David Schumaker was a retired Colonel, U.S. Marine Corps, having served over a period of 25 years including WWII, Korea and Vietnam. Colonel Schumaker graduated from the University of Virginia with a BCE in June 1942; and from Rensselaer Polytechnic Institute with an MS M in 1961. He served in the Pacific theater as a Bomb Disposal Officer from June 23, 1943 to October 13, 1945 and took an active part in the campaigns of Bougainville, Guam, and Okinawa. He was awarded the Bronze Star with combat V for action on Guam. He was qualified to wear the Asiatic Defense Medal with four stars, Presidential Unit Citation, American Defense Medal, Korean Defense medal, Korean Medal, and the Cold War Certificate.
In retirement, Dave and Mary Love traveled the country in their Air Stream trailer and were active members of the Wally Byam Caravanners Club International for 36 years. He was a longtime member of the Lions' Club, having served as President of the Scottsville Club, was a lay speaker in the Pawling Avenue Methodist Church in Troy, N.Y., and the Springfield Methodist Church in Springfield, Va., and in various capacities on the boards of the Scottsville United Methodist Church. Dave will be remembered by many for his passion to make and repair items large and small, and to solve problems, both because he loved a challenge and because he cared deeply about people and making life better for those around him. He was a strong and loving support to his family and an inspiration to many. He will be missed.
A memorial service will be conducted at 2 p.m. on Sunday, February 3, 2013, at Covenant Woods, 7090 Covenant Woods Drive, Mechanicsville, Va. 23111. Interment will be private at the National Cemetery at Quantico. Memorial contributions may be made to Covenant Woods Fund, 7090 Covenant Woods Dr., Mechanicsville, Va. 23111, or the Building Fund of the Fairfield Presbyterian Church, P.O. Box 1088 , Mechanicsville, Va. 23111.