Robert Ray Hunter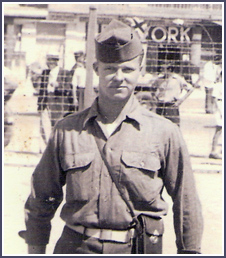 Name: Robert Ray Hunter
Branch of Service: U.S. Army
Unit: 306th General Hospital
Rank: Corporal
Dates of Service: 7/1/1943-4/28/1946
Area of Service: Europe, American
Robert Ray Hunter's Oral History

Robert Ray Hunter was born on December 6, 1924, in Scottsville, Virginia; he was the son of Albert Cushman Hunter (1889-1930) and Eva May (Ray) Hunter (1895-1980). In 2017, Robert and his wife, Ruth Hunter, lived in Richmond, Virginia.

OBITUARY
Richmond Times Dispatch, October 7, 2018
Robert Ray "Bob" Hunter, Sr.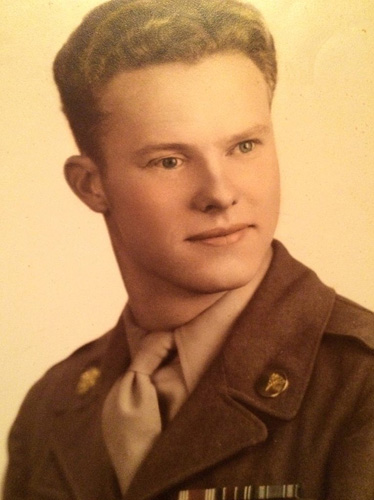 HUNTER, Robert Ray "Bob," Sr., of Richmond, Va., peacefully left this world in his sleep, with his family in attendance on October 4, 2018. He was born December 6, 1924, the second son of Albert Cushman Hunter and Eva May Ray, in Scottsville, Va. He was preceded in death by his brother, James Addison Hunter; and his sister, Alice Hunter McLane. He is survived by his devoted wife of 68 years, Ruth Daniel Hunter; and his four sons, Robert Ray Hunter, Jr., Christopher Nelson Hunter and his wife, T. Diane Hunter, Timothy Cushman Hunter and his wife, Monica NeSmith Hunter, and David Everette Hunter and his wife, Tara Mary Hunter; and seven grandchildren, Robert Ray Hunter III, Julie Elizabeth Hunter, Hannah Lee Hunter, Devon Grace Hunter, Trevor John Hunter, Micah Lynn Hunter and Samuel Clay Hunter. Mr. Hunter was raised in the Children's Masonic Home of Virginia in Richmond. He attended Highland Springs High School. After graduating from high school, Mr. Hunter was drafted into the Army in 1943 and served as a Military Policeman stateside and as a Medical Corpsman in the European Theater of Operation with the 306th General Hospital. He was honorably discharged in 1946 and entered VPI in the fall of 1946. He graduated in 1950 with a Bachelor of Science degree in mechanical engineering. He and Ruth Elizabeth Daniel were married March 23, 1950. Mr. Hunter was a Certified Professional Engineer and retired as the Acting Director of Engineering and Buildings, Department of General Services for the State of Virginia in 1987. He was active in the Eastern Shore Chapel Episcopal Church in Virginia Beach and was an active member of St. John's Episcopal Church in Richmond, where he served on the Cemetery Committee. Private family gatherings will take place to distribute Bob's ashes in various locales that were meaningful to him. He specifically asked, "No flowers please, save your money to buy gasoline."