George Brockman Cleveland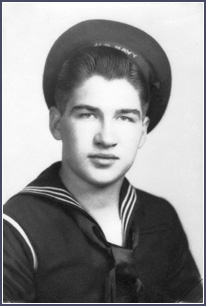 Name: George Brockman Cleveland
Branch of Service: U.S. Navy
Unit: USS PCS 1377, USS Prometheus
Rank: Coxswain V6
Dates of Service: 7/9/1943-3/28/1946
Theater of Service: Asiatic-Pacific,
American

OBITUARY
The Daily Progress, Charlottesville, VA
August 25, 2018
GEORGE B. CLEVELAND, SR.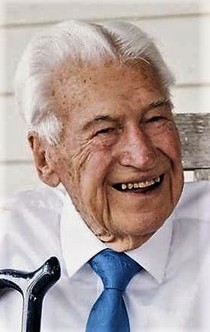 It is with deep sadness that we announce the death of our beloved George Brockman "G.B." Cleveland, Sr., 93, of Scottsville, who passed away on Wednesday, August 22, 2018 at his home.

He was born on May 21, 1925, in Scottsville, a son of the late Luther and Bessie (Seay) Cleveland. In addition to his parents, he was preceded in death by his wife of 46 years, Ruby (Bourne) Cleveland; a brother, Norvelle Cleveland; and a sister, Edna Williams.

G.B. retired from Home Beneficial Life Insurance Company after over 42 years of service. He was a World War II Veteran, having served his country in the U.S. Navy. He will be fondly remembered as a loving husband, father, grandfather, and friend. His love for his family and friends was the cornerstone of his life. He loved gardening, making and refinishing furniture, flipping houses, and fishing. He loved life and lived it well. He will be sorely missed by all who knew him.

Survivors include his wife of 18 years: Virginia Maxwell Cleveland; his children: Fonda Haley and husband, Mike, and George B. "Brock" Cleveland, Jr. and wife, Tracy, all of Scottsville; three granddaughters: Breanna Davis and husband, Jon of Free Union, Bailey Trevillyan and husband, Teddy, and Brooke Johnson and husband, Austin, all of Scottsville; step-daughter: Margaret Thompson and husband, Jim of Ashland; step-son: B. Maxwell and wife, Andi of Scottsville; step-grandsons: Ryan Thompson and wife, Audrey, Matt Thompson, and Jack Maxwell; step-granddaughters: Alyssa Thompson, Evie Maxwell, and Lucy Maxwell; and numerous special nieces, nephews, and other extended family members.

The family wishes to thank everyone for their love, prayers, visits, calls, texts, and other acts of kindness shown to G.B. and his family during his recent illness. A special thanks to Jill Snow; Pam Arnold; The At Home Care staff, especially Dawn, Valerie, and Gabe; and Hospice of the Piedmont for all of their support during this difficult time.

A funeral service will be conducted at 2:00 pm, Sunday, August 26, 2018 at the Scottsville United Methodist Church by the Reverend Brian Lamb and Pastor Trey Critzer. Interment will follow in the Scottsville Cemetery.

The family will receive friends from 6:00 until 8:00 pm, Saturday evening, August 25, 2018 at the Scottsville United Methodist Church.

In lieu of flowers, memorial contributions may be made to the American Heart Association, 4217 Park Place Court, Glen Allen, Virginia 23060-3315.