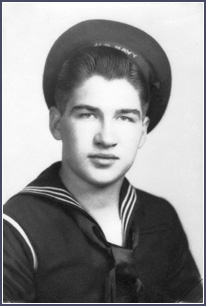 Oral Historian: George Brockman Cleveland
Interview Date: 22 January 2007
Interviewer: John Bowers
I was 18 when I went into the Navy on July 16, 1943. My service number was 835 79 31. I still remember it - I got in trouble once and had to pull extra duty because I didn't know it. I volunteered for the Navy and did my boot training at the Sampson Base, Geneva, NY. It was a lot of fun, but I was homesick from being away from home. It was the first time I'd ever been away from home. Up to that time, the farthest I'd ever been away from Scottsville was Virginia Beach.
After boot camp, I went to Philadelphia Receiving Station, and I was assigned to a brand new ship, the PCS 1377. However, it wasn't complete. So then we went to Brooklyn Naval Yard and stayed there four months, waiting for the ship to be finished. When the ship was finished in January 1944, we put all the ammunition on the ship and boarded it. We went out for a test run and hit a storm. The new Captain Dan Bowie knocked the right screw off. Water came over the top of the ship and froze on the decks. Everyone was seasick - it was just the biggest mess. We came back and went into dry dock. We had to unload the ship so that they could put a new propeller on the ship. Then we loaded the ship up again and started out and went on down to Key West, Florida.
The ship was a Patrol Craft Sweeper -PCS - it pinged on submarines. We were attached to a sonar school at Key West. Every day, these students would come on board our ship, and we took them out to sea. A submarine would go along with us. he sub would submerge and the students would ping on it with sonar. We would stay at sea about 5 hrs. and then head back in. We would have to take off our work clothes (dungarees) and dress up in our dress uniform again to come into the dock. As a training ship, everything had to be shipshape.

PCS-1377 Class Patrol Craft Sweeper: Laid down 13 February 1943 by the Wheeler Shipbuilding Corp., Whitestone, Long Island, NY; Launched 14 October 1943; Commissioned 19 January 1944. Fate unknown.
Specifications: Displacement 245 t. (lt) 338 t.(fl); Length 136'; Beam 24' 6"; Draft 8' 7"; Speed 14.1k; Complement 57; Armament one 3"/50 dual purpose gun mount, one 20mm gun mount, four depth charge projectors, one depth charge projector (hedgehog), two depth charge tracks; Propulsion two 800bhp General Motors 8-268A diesel engines, Snow and Knobstedt single reduction gear, two shafts.



c. September/October 1945, San Diego, CA. In dry dock having fore peak repaired after collision in rough seas when they collided with the fuel ship.


I was on that ship for 14 months. I was really tired of that ship, and they came out and that anyone that wanted to volunteer for underwater demolition could get off the ship. And a volunteer would get $50 more each month to do this duty. So I was young, and I volunteered for it. I went into training with the other volunteers for 5 weeks. When I got out of the underwater demolition training, they shipped us to California. I had to swim a mile. They took us out to sea, dropped us off, and we had to swim back to the beach. Then we'd have to go in and blow up the beach. People were getting killed blowing up the beach and so I thought I'd better get out of that since I volunteered for it.
While we were in training, we had the very best food. We had steak practically every day and I was all for that. We were put in a bullpen where you couldn't jump ship. It had a wire fence 10 or 12 feet tall alongside the ship. So they brought us out of the fenced bull pen and let us boarded ship for Hawaii and Eniwetok -- it didn't have a tree on it when I got there. They'd blown them all off. Then I hit Leyte Gulf in the Philippines. I never saw so many ships in my life! While I was there, the war ended.
I was on a repair ship (R3) - I have a photo of it right here. Other ships would tie up along side it for repairs. It had big machine shops to do almost anything. My job was as a coxswain. We worked topside, took care of the sailors, kept the ship clean, chipping and painting, and everything.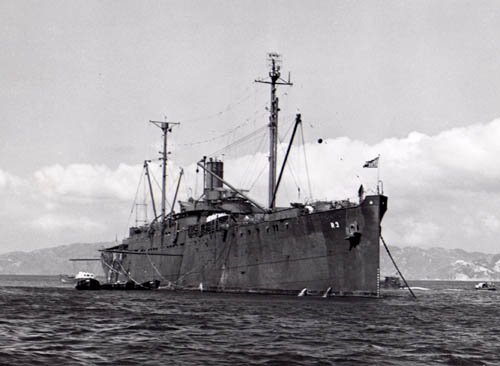 The war ended in 1945 while we were in Leyte Gulf. Our ship had to leave the Philippines when a typhoon came up in 1945 and so all of the ships had to go to sea. We went from the Philippines to Okinawa. Then the typhoon hit Okinawa, and our ship became the first one to go into Hong Kong, China, after the war.

We set up our communications and stayed in Hong Kong for about three months. Then we came home and I was discharged on March 28, 1946 in Shelton, Virginia.
| | |
| --- | --- |
| | |
| | |