William Paul Schneider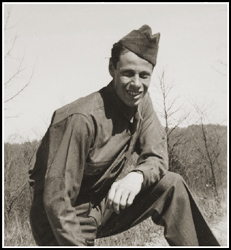 Name: William Paul Schneider
Branch of Service: U.S. Army
Unit: Tenth Battalion
Rank: Sergeant
Dates of Service: 3/21/1941-5/8/1945
Area of Service: Europe-African-Middle
Eastern

William Paul Schneider was born on April 9, 1918, in New York City, New York; he was the son of William Schneider and Anna (Cirofici) Schneider. William married Lina Louise Jenkins on June 30, 1945, in New York City, New York. William passed away on October 7, 2015, in Charlottesville, Virginia, and is buried at Scottsville Cemetery, Scottsville, Virginia.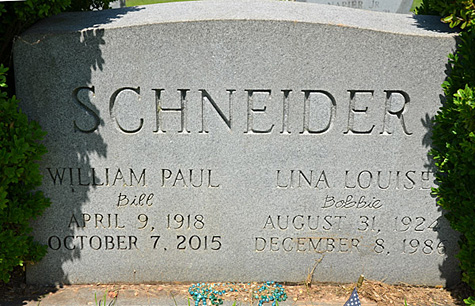 William Paul Schneider, Obituary
The Daily Progress, Charlottesville, Virginia
October 2015
William Paul Schneider, 97, passed away on Wednesday, October 7, 2015, at his residence at Our Lady of Peace in Charlottesville, Virginia. Bill was born in 1918, in the Bronx, New York, the only child of the late William Schneider and Anna Cirofici Schneider.
He attended Evander Childs High School in the Bronx and worked for Consolidated Edison prior to enlisting in the U.S. Army early in 1941. When war broke out, he served as a mechanic in the 760th Tank Battalion in campaigns in North Africa and Italy. He met his bride-to-be, Lina (Bobbie) while in basic training in Georgia, and their correspondence throughout the war sustained them both. They married shortly after the war at his home church, St. Luke's Methodist Church in Woodlawn, the Bronx.
Following the war, Bill found employment at The Woodlawn Cemetery as an auto mechanic, and spent the next 37 years there in several capacities, ultimately rising to the position of cemetery General Manager. He served for a number of years as the president of the New York Metropolitan Cemetery Association. He and Bobbie made their first home together in Woodlawn, where sons, Fred and Jim were born. When the family moved to nearby Yonkers, New York, Bill served as Cubmaster in the local Cub Scouts troop and continued to be active at St. Luke's.
After his retirement from Woodlawn in 1982, he and Bobbie moved to Scottsville, Virginia, where they participated in many local activities. They were both members of Scottsville United Methodist Church, with Bill also serving in the Scottsville Lion's Club, the Scottsville Rescue Squad, and the Horseshoe Bend Players. He helped build and on several occasions crew a Scottsville batteau, the Edward Scott, in the James River Batteau Festival. In 2012, Bill moved to Our Lady of Peace, where he continued to enjoy community activities.
Bill was preceded in death by his wife of 41 years, Lina Louise Schneider.
He is survived by his two sons, Frederick W. Schneider and his wife, Irene Dorrier, of Charlottesville, and James R. Schneider and his partner, Edward Strickler, of Scottsville; his granddaughter, Lina B. Schneider, of State College, Pennsylvania; and many other relatives and friends.
Funeral services will be held at Scottsville United Methodist Church on Sunday, October 11, 2015, at 3 p.m. with the Rev. Bruce Lugn officiating. Burial will follow at the Scottsville Cemetery. The family will receive friends at Thacker Brothers Scottsville Funeral Home on Saturday evening, October 10, 2015, from 6:30 until 8 p.m. The family request that in lieu of flowers, consideration be made of a contribution to The Scottsville Rescue Squad or The Scottsville United Methodist Church. Family and friends may share memories and photos at www.thackerbrothers.com.