William Sebald Frank Lenherr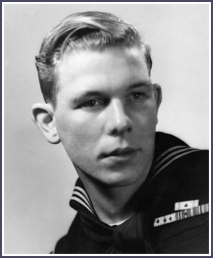 Name: William Sebald Frank Lenherr
Branch of Service: U.S. Navy
Unit: U.S.S. Washington
Rank: Coxswain
Dates of Service: 1941-1945
Theater of Service: Asiatic-Pacific
William also served in the U.S. Navy through the 1950's.
Photos from Coxswain Lenherr's WWII service:
During WWII, Lenherr served as a coxswain aboard the USS Washington (shown above), which was commissioned at the Philadelphia Navy Yard on May 15, 1941. Shown below are photographs of the battleship's commissioning exercises where Captain Howard H.J. Benson assumed command in front of his crew.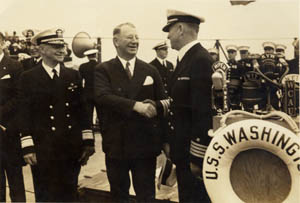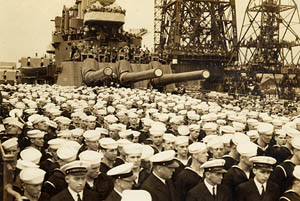 The USS Washington sailed for the Pacific on August 23, 1942, and served there for 34 months. During its Pacific tour, the battleship damaged three enemy cruisers and a destroyer and sank a battleship, destroyer, oil tanker, and several transports. She sank more combat tonnage than any U.S. battleship in WWII and was never hit or lost a man to the enemy.
Her crew made quite a team, who fought side-by-side effectively. When liberty was granted ashore during refitting operations, the crew knew how to relax. Shown below is Lenherr's liberty pass and a photograph of him standing (at right) with two of his sailor buddies ca. 1942.