Thomas J. Bugg, Jr.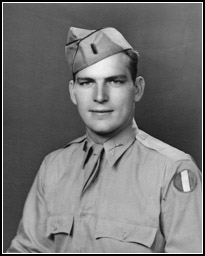 Name: Thomas J. Bugg, Jr.
Branch of Service: U.S. Army
Unit: 55th IRTC Battalion
Rank: 1 LT
Dates of Service: 8/4/1942-1/15/1946
Theater of Service: EAMET

Lt. Bugg was captured by the German Army on 6 October 1944 in Germany and imprisoned in a POW camp for U.S. military officers at Oflag 64, Poland. In January 1945, prisoners at Oflag 64 were told that the camp was to be evacuated in 24 hours. Everyone was in great spirits with that news! Each prisoner was given enough Red Cross food to last about one week. Little did they realize that they would be marching in subzero temperatures to Hammelburg, Germany, approximately 350 miles away.



Obituary
Thomas J. Bugg, Jr.
1920 - 2015
Thomas Jackson Bugg, Jr., 95, of Scottsville, passed peacefully from this life to eternal life with his Lord and Savior, Jesus Christ, on October 29, 2015, at The Heritage Inn in Charlottesville.
He was born March 29, 1920, in Shores, Virginia, to the late Thomas Jackson Bugg and Emma Virginia Minter Bugg.
In addition to his parents, he was preceded in death by his wife of 64 years, Dorothy Elizabeth Graham Bugg; an infant son, William Holman Bugg; a sister, Virginia Ann Bugg Motts; a brother-in-law, George Charles Mont's; a sister-in-law, Doris Russell Bugg; and two nephews, Philip Mark Graham, and Waverly Minter Bugg, Jr.
Thomas is survived by his two daughters, Carolyn Ann Bugg Butler and Husband, Bevley of Scottsville, and Virginia Graham Bugg Hepler and husband, Herschell of Gordonsville; one son, Thomas Jackson Bugg, III, and wife, Sue of Cincinnati, Ohio; eight grandchildren, Thomas Franklin Butler, Leigh Ann Butler Perry and husband, Wayne, Jennifer Graham Butler Stancil and husband, Matthew, Laurie Anne Hepler Horner and husband, Jack, Shelly Elaine Hepler Wright and husband, Mark, Thomas Jackson Bugg, IV, Cullen Michael Pohlman and Corey Matthew Pohlman; nine great-grandchildren, Owen Walker Perry, Carson Scott Perry, Miles Tipton Stancil, Graham Caswell Stancil, Nevin Elizabeth Horner, Fairen Catherine Horner, Jackson Graham Horner, Frederick Marshall Wright and Solis Elaine Wright; a brother, Waverly Minter Bugg of Mechanicsville, Virginia; a brother-in-law, Caswell Proctor Graham and wife, Zelma of Christiansburg, Virginia; three nieces, Mary Monts, Bebe Gaskill, and Susan Camper; two nephews, Charles Monts, and Marty Graham; and a number of extended family members and many friends.
Mr. Bugg grew up in the Shores area of Fluvanna County where he was a 1939 graduate of Fluvanna County High School and a 1946 graduate of VPI. His education was interrupted in April 1943 by the call to service in the U.S. Army during WWII. He served from 1943 until he was honorably discharged on January 12, 1945. He was held as a POW/MIA from October 6, 1944 until April 28, 1945. He received a number of special medals recognizing his excellence in service.
Thomas married Dorothy Elizabeth Graham in 1943 and after discharge from the U.S. Army and graduation from VPI in 1946, they returned to Fluvanna County to purchase and operate Lowfields Farm, first as a dairy farm and in later years as a beef cattle farm until his retirement in 2001. In addition to farming, he worked as an extension agent for the U.S. Department of Agriculture and for Sears, A.O. Smith/Harnischfeger, and other companies throughout the years. In retirement, he moved to a new home built by his son-in-law in the Scottsville area where he enjoyed raising a garden, tending to his beautiful flowers, and maintaining a beautiful yard from 2001 to 2014. He has resided at The Heritage Inn in Charlottesville since 2014.
He was a lifelong member of Seay's Chapel United Methodist Church in Shores, Virginia, having accepted Jesus as his Lord and Savior at an early age and attending regularly from early childhood. He has worked faithfully for and held many leadership positions within the church and was the senior member at the time of his death. In addition, he was always active in his community and served Fluvanna County faithfully with service on a number of boards prior to his retirement. He served as a member and later Chairman of the Board of Supervisors; as a member of the Regional Jail Board representing Fluvanna County; as a member of the Fluvanna Social Services Board; and as a member and in leadership roles with the VFW Post 8169 in Scottsville for a number of years.
The children of Thomas and Dorothy would like to express how grateful we are that our parents are now reunited together for all eternity. We feel so fortunate to have had them in our lives as our parents to guide and protect us and will miss them greatly.
We would also like to extend special thanks and appreciation to Dr. Randolph Lanford for all the great and special care he provided our father throughout the years; to everyone at The Heritage Inn for all the love, kindness, and care provided our Dad during his stay with them; to all the personnel with the Veterans Administration Home Based Primary Care for all of the very thoughtful and professional care they provided to our father; to everyone with Hospice of the Piedmont for the great love, compassion, and care they provided during his last days; and to Elaine Hall, Jackie Shifflett, and Fay Wood for all the love, kindness and care they provided to Dad during his last years in his home in Scottsville.
A funeral service will be held at Seay's Chapel United Methodist Church at 11 a.m. on Monday, November 2, 2015, by the Reverend Greg Miller and the Reverend James Jetton. Internment, with military rites, will follow at Seay's Chapel United Methodist Church Cemetery.
All who knew Thomas remembers well how they would visit with him near a mealtime in his special way of love, compassion, and hospitality, he would always offer to share a meal before they would leave. In remembrance of their father and in honor of his kindness, hospitality, and thoughtfulness, the family will hold a luncheon in the Seay's Chapel Miles-Bugg Fellowship Hall immediately after the service.
The family suggests, in lieu of flowers, memorial donations may be made to Seay's Chapel United Methodist Church Cemetery Fund, 4916 Shores Road, Palmyra, VA 22963; VFW Post 8169, West River Road, Scottsville, VA 24590; Hospice of the Piedmont, 675 Peter Jefferson Pkwy, Suite 300, Charlottesville, VA 22911; or Scottsville Volunteer Rescue Squad, P.O. Box 550, Scottsville, VA 24590.