Theodore Roosevelt Townsend
Photo not available
Name: Theodore Roosevelt Townsend
Branch of Service: U.S. Army
Unit:
Rank: T/5
Dates of Service: 7/14/1941-11/9/1945
Area of Service: European-African-
Middle Eastern, American

Theodore Roosevelt Townsend was born on January 26, 1919, in Watauga County, North Carolina; he was the son of Wilson Arlando Townsend (1893-1957) and Ora Lee Hodges (1897-1963). In April 1940, Marshall was living in Cunningham, Fluvanna County, Virginia. Marshall married Agnes Fannie Napier on August 30 1941, in Palmyra, Fluvanna County, Virginia. Theodore passed away on May 30, 1998, in Scottsville, Virginia, and is buried at Scottsville Cemetery in Scottsville.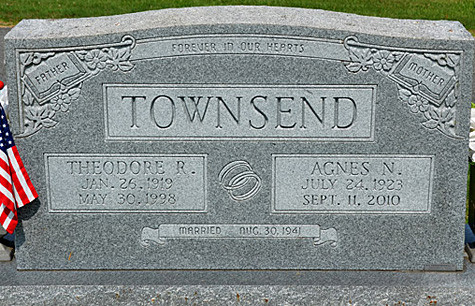 Theodore Roosevelt Townsend, Obituary
The Daily Progress, Charlottesville, Virginia
May 31, 1998
Theodore "Ted" Roosevelt Townsend, 79, of Scottsville, died Saturday, May 30, 1998.
He was born in Valle Crucios, N.C. Preceding him in death were his parents, Wilson and Ora Townsend ; seven brothers, one sister, and one grandson, Chuck Townsend.
Survivors include his wife, Agnes Townsend; one daughter, Phyllis T. Trevillyan and her husband, Edwin, of Palmyra; one son, Doug T. Townsend and his wife, Cindy of Mt. Crawford; one sister, Mildred T. Childress and her husband, James, of Esmont; two brothers, Jay C. Townsend and his wife, Helen, and Landon G. Townsend and his wife, Velma; one aunt, Elsie Hodges; four grandchildren, Ann Baldwin, Jordan and Nicholas Trevillyan, and Michael Townsend; three great-grandchildren, Matthew, Justin, and Cassie Baldwin; and numerous nieces and nephews.
Mr. Townsend served in the US Army during World War II and retired from Uniroyal-Goodrich, Scottsville, after 37 years. Then for 15 years, he drove a school bus for the Fluvanna County schools. He had served as a deacon of Fluvanna Baptist Church and was a member of the Fluvanna Ruritan Club.
A funeral service will be held at 2 p.m., Monday, at Thacker Brothers Funeral Home, Scottsville.
Internment will follow at Scottsville Cemetery.
The family will receive friends at the funeral home this evening from 7 to 8 p.m.
In lieu of flowers, memorial contributions are requested for the Scottsville Rescue Squad or Hospice of the Piedmont.