Stuart Walter Townsend
Branch of Service: U.S. Army
Unit:
Rank: CPL
Dates of Service: 3/02/1945-8/28/1946
Theater of Service:

Stuart Walter Townsend was born on June 6, 1923, in Boone, North Carolina; he was the son of Wilson Arlando Townsend (1893-1957) and Ora Lee Hodges (1897-1963). Stuart married Mary Annie Napier on August 16, 1941, in Palmyra, Virginia. Stuart passed away on October 10, 1993, in Scottsville, Virginia, and is buried at Scottsville Cemetery.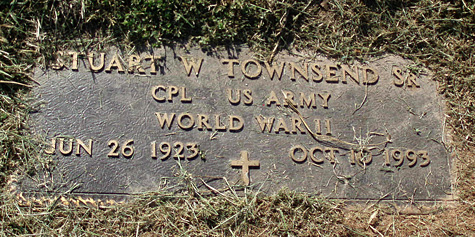 Stuart Townsend, Sr., Obituary
The Daily Progress, Charlottesville, Virginia
October 11, 1993
Stuart Walter Townsend, Sr., 70, of Scottsville, died Sunday, Oct. 10, 1993. He was preceded in death by his wife, Mary Annie Napier Townsend, and his parents, Wilson and Ora Townsend.
Mr. Townsend is survived by a son, Stuart Walter Townsend, Jr., and his wife, Lynda H. Townsend of Scottsville; a granddaughter, Angela L. Seaman and her husband, Kennan M. Seaman of Charlottesville; a grandson, Stuart Walter Townsend, III, and his wife, Eva Moore Townsend of Scottsville; one great grandson, Peyton Stuart Townsend; one sister, Mildred Childress; three brothers, Landon, Jay C., and Ted Townsend, all of Scottsville.
Mr. Townsend was a retired employee of W.F. Paulett and Son in Scottsville and had served in the U.S. Army during World War II. Mr. Townsend was a member of the Scottsville Baptist Church, and an honorary member of the Scottsville Volunteer Fire Department and a charter member of the Scottsville Volunteer Rescue Squad.
Funeral services will be conducted at 11 a.m. Wednesday at Thacker Brothers Funeral Home, Scottsville, with the Rev. Mark E. King officiating. Internment will follow in Scottsville Cemetery. The family will receive friends at the funeral home Tuesday evening between 7-8 p.m.
Memorial contributions may be made to the Scottsville Rescue Squad, P.O. Box 33, Scottsville, VA 24590.