Sidney Randolph Pugh, Sr.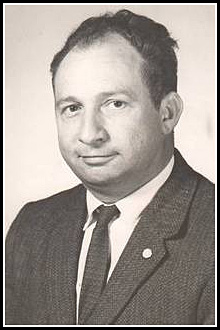 Name: Sidney R. Pugh, Sr.
Branch of Service (1): U.S. Army
Unit:
Rank: PVT
Dates of Service: 2/1/1943-
Theater of Service: Asia
Branch of Service (2): U.S. Army Air Force
Unit:
Rank: CPL
Dates of Service: 10/18/1945-
Theater of Service: American

Sidney Randolph "Randy" Pugh, Sr., was born on November 21, 1923, in Covesville, Albemarle County, Virginia; he was the son of Elmer G. Pugh and Clara B. (Spencer) Pugh. Sidney passed away on April 25, 2014, in Scottsville, Virginia, and is buried in Scottsville Cemetery.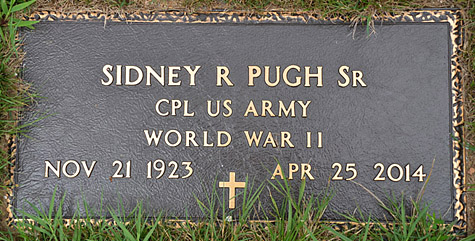 Sidney Randolph Pugh, Sr., Obituary
Thacker Brothers Funeral Home, Scottsville, Virginia
April 25, 2014
Sidney Randolph "Randy" Pugh, Sr., 90, of Scottsville, passed away Friday night, April 25, 2014 at his home.
He was born November 21, 1923 in Covesville, a son of the late Elmer and Clara (Spencer) Pugh.
In addition to his parents, he was preceded in death by four sisters, Hazel McKinnon, Beulah Webb, Christine Beck, and Alma Crawford.
Mr. Pugh served in the US Air Force during WWII. He worked as an Insurance Agent at Home Beneficial Life Insurance Company for 31 years. During his retirement years, he found great joy in gardening, baking delicious desserts, and spending time with his friends at the Senior Citizen Group get togethers when his health permitted.
He leaves behind his wife of 65 years, Florence (Goodman) Pugh, in whose care he found great comfort and support as his health declined. Also surviving are four children: Emily Huffman of Waynesboro, Melinda Talley and her husband, Ed, of Moneta, Sid Pugh, Jr., of Scottsville, and Paul Pugh and Liz Frey of Leesboro; two grandchildren, Thomas Sidney Carpenter, IV, and his wife, Brittany, of Afton, and Jason Pugh and his wife, Faith, of Scottsville; two great-grandchildren, Ava and James Pugh of Scottsville; and a number of extended family members and friends.
A funeral service will be conducted at 3:00 pm, Monday, April 28, 2014 at Thacker Brothers Scottsville Funeral Home by the Reverend Jim Logan. A private internent will be held in the Scottsville Cemetery.
The family will receive friends one hour prior to the funeral service at the funeral home.
In lieu of flowers, contributions can be made to the Scottsville Volunteer Fire Dept. or the Scottsville Rescue Squad.