Roger Freeland Tapscott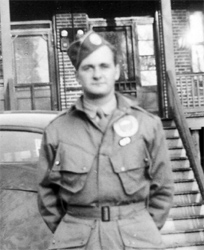 Name: Roger Freeland Tapscott
Branch of Service: U.S. Army
Unit: 507th Parachute Infantry
Rank: TEC 5
Dates of Service: 6/3/1942-6/15/1944
Killed in action in Normandy, France.
Theater of Service: Europe
Wife: Mrs. Pauline Lottie Tapscott
Scottsville

Roger F. Tapscott Killed in Action in France
Scottsville News, 3 August 1944 (p.1):
Corporal Roger F. Tapscott of the U.S. paratroopers was killed in action in France, according to a telegram recently received by his mother, Mrs. Sidney Tapscott.
Corporal Tapscott joined the armed forces on the third of June 1942 and had been overseas for 6 months.

Roger Freeland Tapscott was born August 26, 1916, in De Land, Platt County, Illinois; he was the son of Sidney Freeland Tapscott, Sr., (1886-1940) and Maria Sophia (Mansfield) Tapscott (1897-1959). In 1935, Roger lived in Scottsville, Virginia. While enlisted in the Army, Roger married Lottie Pauline Pippin on August 14, 1943, in Richmond, Virginia. On June 15, 1944, Roger was killed in action in Normandy, France; he was awarded a Purple Heart Medal. Roger was buried in the Normandy Cemetery in St. Laurent, France.