Paul William Thomas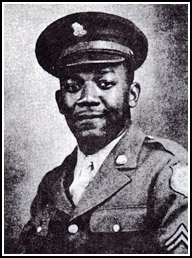 Name: Paul William Thomas
Branch of Service: U.S. Army
Unit: 3178th Qm. Serv. Co.
Rank: Sgt.
Dates of Service: 2/09/1943-2/11/1946
Theater of Service: American

Paul William Thomas was born on March 20, 1922, in Esmont, Virginia; he was the son of Fred Thomas and Addell M. (Woodie) Thomas. Paul married Mamie Lee Boling on June 22, 1947, in Esmont, Virginia. After his divorce, James married secondly Anna Ruth McClain on October 16, 1967, in Arlington, Virginia. After his divorce in February 1980, James married thirdly Annie Glenn Harvey on November 28, 1986, in Arlington County, Virginia. Paul passed away on April 6, 2003, in Washington, DC, and he is buried at Arlington National Cemetery, Arlington, Virginia.