Paul Joseph McGuire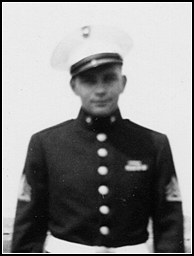 Name: Paul Joseph McGuire
Branch of Service: U.S. Marine Corps
Unit:
Rank: S/Sgt.
Dates of Service: 12/11/1942-11/30/1945
Area of Service: Asiatic-Pacific

Staff Sergeant Paul J. McGuire Home from Southwest Pacific
Scottsville News, 27 July 1944 (p.1):
Staff Sergeant Paul J. McGuire of the U.S. Marine Corps, who has been serving in the Southwest Pacific for 17 months, is now spending some time in the home of his parents, Mr. and Mrs. C.H. McGuire in Scottsville.

Paul Joseph McGuire was born on October 19, 1923, in Scottsville, Fluvanna County, Virginia; he was the son of Charles Henry McGuire (1885-1960) and Annie Elizabeth (Dolan) McGuire (1894-1945). Paul married Lois Myrtle Moore (1926-1988). Paul passed away on February 29, 1984, in Jacksonville, North Carolina, and is buried at the Wilmington National Cemetery, New Hanover County, North Carolina.