Marshall Owen Townsend
Photo not available
Name: Marshall Owen Townsend
Branch of Service: U.S. Army
Unit:
Rank:
Dates of Service(1): 12/6/1943-12/4/1945
Area of Service (1):
Dates of Service(2): 2/19/1946-
Area of Service(2): Hawaiian Department,
Army Air Corps

Marshall Owen Townsend was born on September 7, 1925, in Boone, Watauga County, North Carolina; he was the son of Wilson Arlando Townsend (1893-1957) and Ora Lee (Hodges) Townsend (1897-1963). In April 1940, Marshall was living in Cunningham, Fluvanna County, Virginia. Marshall married Katherine Irene Napier on June 24, 1949, in Petersburg, Virginia. Marshall passed away on October 7, 1978, in Schuyler, Nelson County, Virginia, and he is buried at Scottsville Cemetery in Scottsville, Virginia.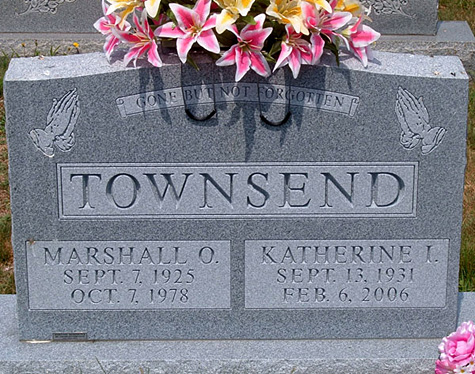 Marshall Owen Townsend, Obituary
The Daily Progress, Charlottesville, Virginia
October 8, 1978
Marshall Owen Townsend, 53, of Schuyler, died at his home on October 7.
He was a retired employee of Alberene Stone Corp.
Survivors are his widow, Katherine Napier Townsend; two daughters, Mrs. Patsy Craig and Mrs. Judy Johnson of Schuyler; three sons, Roger Lee Townsend and Ronnie Owen Townsend of Charlottesville; and Larry Wayne Townsend of Schuyler; two sisters, Mrs. Virginia McKamey of Taylorsville, N.C.; and Mrs. Mildred Childress of Esmont; seven brothers, Tate R. Townsend of Staunton; Theodore R. Townsend, Landon G. Townsend, and Jay C. Townsend, all of Scottsville; Mack L. Townsend of Sioux City, Iowa; and N. Dean Townsend of Melbourne, Fla.
Funeral will be at Thacker Brothers Funeral Home in Scottsville Monday at 2 p.m. followed by burial in Scottsville Cemetery.
The family will meet with friends at the funeral home Sunday evening 7 to 9 p.m.