Margaret Ann Sells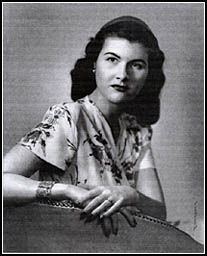 Name: Margaret Ann Sells
Branch of Service: Office of Strategic Services
Unit: Code 203
Rank: CAF-4
Dates of Service: Sept. 1944 - Jun. 1945
Theater of Service: American

OBITUARY
Daily Progress, Charlottesville, VA
July 7, 2013
MARGARET EMANUELSON
Dr. Margaret Ann Sells Emanuelson of Scottsville, Virginia, passed away on Thursday, June 27, 2013, at Rosewood Village in Charlottesville. She was born in Atlanta, Georgia, on February 1, 1924, to the late Captain Benjamin Andrew Sells and Ora Mai Giles Sells. Margaret attended Shorter College, a girls' school in Rome, Georgia, and then graduated from The University of North Carolina at Chapel Hill in 1944. Upon graduation, she went to work for the Bureau of Ships in Washington, D.C., and lived there with her mother, since according to Margaret, "at that time no young lady ever lived alone." In September 1944, she was recruited by the Office of Strategic Services (OSS) where she remained until her marriage. Her association with the OSS was a source of pride for her and the back drop for three of her novels which she authored later in her life. In May 1945, Margaret married Charles William Emanuelson, a United States Navy pilot from Norfolk, in St. Patrick's Cathedral, New York City.
After the end of World War II, Margaret and Bill moved to Virginia Beach, where they raised their five children. In the mid-1980's, they moved to Point Harbor, North Carolina, and in 1994, Margaret and Bill relocated to southern Albemarle County. In 1960, Margaret satisfied a yearning for furthering her education by attending graduate studies at The College of William and Mary, Richmond Professional Institute (now Virginia Commonwealth University), and the University of Virginia where she received her doctorate. She held two diplomas, one in clinical psychology and one in forensic psychology. Margaret worked as Director and Chief Psychologist for a hospital-based psychiatric practice affiliated with DePaul Hospital in Norfolk. She was engaged thereafter in the private practice of psychology until her retirement in the early 2000's.
In later life, Margaret became a prolific writer, all the while dealing with her failing vision secondary to age-related macular degeneration. Her first book, Lost Yesterdays, was a collection of experiences during her career as a clinical psychologist. She later completed three historical novels, Company of Spies, Web of Spies, and New Moon Rising. Most recently, she has published an anthology of her poetry, From My Tower, featuring Christmas at Greystone. At the time of her death, she was writing another book, Totally Awesome, describing the power of the Holy Spirit in her life. Margaret was a member of The Order of St. Luke, The Daughters of the American Revolution, United Daughters of the Confederacy, The OSS Society, and numerous professional psychological societies.
Margaret is survived by her husband, Charles William Emanuelson Sr. (the love and light of her life); a daughter, Laura Margaret E. Carter and her husband, Dr. Bruce Thomas Carter; a son, Charles William Emanuelson Jr.; a daughter, Belford Louise Camilla E. Martin and her husband, Timothy Tabor Martin; and a son, Jefferson Kimbrough Sells Emanuelson. Margaret was preceded in death by a daughter, Roma Bailie E. Bray and her husband, Charles Edward Bray, both of whom were killed in an airplane accident in 1984; and a son-in-law, Dr. Ronald Ross Peters, who died in 1995. She is survived by four grandchildren, Dr. Barrett William Ross Peters and his wife, Mary Katherine Trible Peters, Courtland Donald Truitt Peters, Jacob Corbin Hunter Martin, and Mariah Emily Anne Martin. Margaret is also survived by two great-grandchildren, Lochlan Trible Ross Peters and Truitt Dunaway West Peters. The family wishes to extend their gratitude to the incredibly wonderful and caring staff at Rosewood Village on Greenbrier Drive and Hospice of the Piedmont for their loving care during her only illness.
A memorial service will be held at Christ Church, St. Anne's Episcopal Parish, 900 Glendower Road, Scottsville, at 3 p.m. Wednesday, July 17, 2013, with the Reverend R. Ellen White and Fr. Stephen Alcott officiating. There will be a reception in the parish hall following the service. There will be a private interment at a later date. In lieu of flowers, please consider memorial donations to Christ Church, St. Anne's Episcopal Parish, 900 Glendower Rd., Scottsville, VA 24590 or St. George Catholic Church, 7240 Scottsville Rd., Scottsville, VA 24590 or Hospice of the Piedmont, 675 Peter Jefferson Pkwy., Suite 300, Charlottesville, VA 22911 (www.hopva.org). Hill and Wood Funeral Home is handling the arrangements.