Malcolm H. Melton
Photo not available
Name: Malcolm H. Melton
Branch of Service: U.S. Army
Unit: 9th Infantry Regiment, 2nd Infantry
Division
Rank: PVT
Dates of Service: 8/19/1943-12/17/1944
Killed in action in Europe, buried at
Ardennes American Cemetery, Neupre, Belgium. Awarded the Purple Heart with Oak Leaf Cluster.
Area of Service: Europe
Grandmother: Mrs. Ellen E. Davis, Scottsville

Hatton Boy Arrives at Camp Walters, Texas
Scottsville News, 14 October 1943 (p.1):
Pvt. Malcolm Harris Melton, 20, grandson of Mrs. W.P. Davis of Hatton, has arrived at this Infantry Replacement Center to begin his basic training as an infantryman. He has been assigned to a battalion stressing rifle-heavy weapons-specialist training.

Malcolm H. Melton's gravestone at Ardennes American Cemetery, Neuville-en-Condroz, Arrondissement de Liege, Belgium: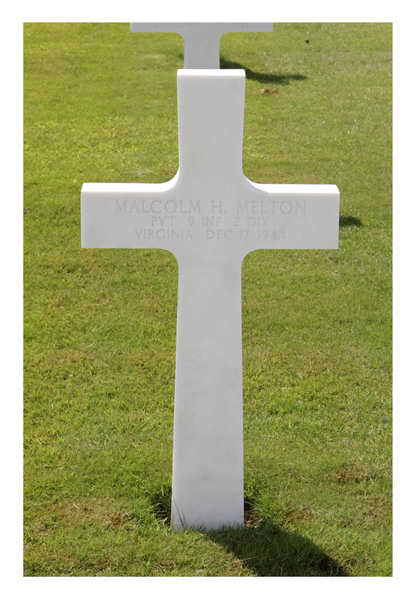 MALCOLM H. MELTON
9th INF, 2 DIV
Virginia, Dec. 17, 1944