Elwood Leroy Collins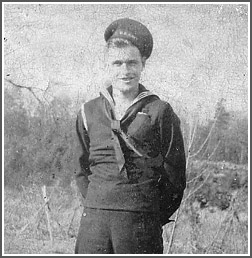 Name: Elwood Leroy Collins
Branch of Service: U.S. Navy
Unit:
Rank: BS2
Dates of Service: 1942-1946
Area of Service: Asia

Elwood Leroy Collins was born on October 28, 1925, in Cunningham, Fluvanna County, Virginia; he was the son of George Jefferson Collins (1899-1983) and Katherine Walker (Bragg) Collins (1902-1995). Elwood married Lucille Rose Glass on August 30, 1947, in Madison, Virginia. Elwood passed away on March 24, 2013, in Charlottesville, Virginia, and is buried at the Scottsville Cemetery in Scottsville, Virginia

Elwood Leroy Collins, Obituary
The Daily Progress, Charlottesville, Virginia
March 2013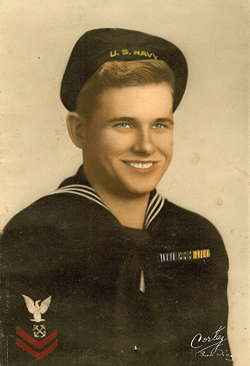 Elwood Leroy Collins, 87, of Charlottesville, died on Sunday, March 24, 2013, at his residence. He was born on October 29, 1925, in Fluvanna County, a son of the late George Jefferson Collins and Katherine (Bragg) Collins Hanlon. In addition to his parents, he was preceded in death by his wife, Lucille (Glass) Collins; two brothers, George Jefferson Jr. and Frederick; and a sister, Mildred (Collins) Johnson.
Mr. Collins retired from the Virginia Department of Forestry after over 40 years of service. He attended Hinton Avenue United Methodist Church in Charlottesville. He was a World War II veteran, having served his country in the United States Navy from 1942 until he was honorably discharged in 1946 as a Boatswain's Mate Second Class. While in the Navy, he was a member of the Scouts and Raiders and was a Coxswain of the lead LCC at Omaha Beach on D-Day. He also participated in the Atomic Bomb Testing at Bikini Atoll in 1946.
Survivors include two daughters, Kitti Mann and her husband, John, of Fredericksburg and Rabia Betty Magee and her husband, Bill, of Charlottesville; four granddaughters, Karen Mann and her partner, "Bones" Fannon of Atlanta, Georgia, Amy Mann also of Atlanta, Tracey Farrar of Fredericksburg, and Meri Magee of Seattle, Washington; two great-grandchildren, Malachi Farrar of Fredericksburg and Ella Grace Mann of Atlanta; and a large extended family.
A graveside service will be conducted at 3 p.m. on Friday, March 29, 2013, at the Scottsville Cemetery. The family will receive friends from 6 until 8 p.m. on Thursday, March 28, 2013, at Thacker Brothers Scottsville Funeral Home. In lieu of flowers, memorial contributions may be made to the Charlottesville - Albemarle Rescue Squad, 828 McIntire Road, Charlottesville, Virginia 22902. Family and friends may share memories and photos at www.thackerbrothers.com.