William Howard Johnson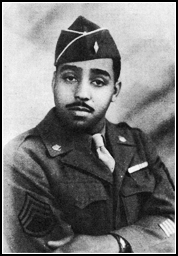 Name: William Howard Johnson
Branch of Service: U.S. Army
Unit:
Rank: S/Sgt.
Dates of Service: 9/8/1942-12/30/1945
Area of Service: American, European-
African-Middle Eastern

William Howard Johnson was born on August 29, 1918, in Albemarle County, Virginia; he was the son of Jesse F. Johnson and Erna Johnson of Esmont, Virginia. William married Lucy Ardelia Thompson on August 25, 1951, in Lexington, Virginia. William passed away on August 4, 1991, in Charlottesville, Virginia,and is buried at Oakwood Cemetery in Charlottesville.