James Henry Snoddy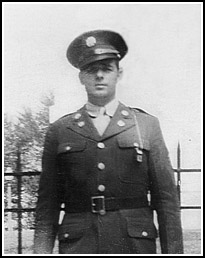 Name: James Henry Snoddy
Branch of Service: U.S. Army
Unit: 12th Armored Div., 7th Army
Rank: Sgt
Dates of Service:2/21/1942-10/11/1945
Theater of Service: European-African- Middle Eastern

Sgt. Snoddy Awarded Combat Infantryman Badge
12th Armored Division, 7th Army, France
Scottsville News, 22 February 1945 (p.1):
Sgt. James H. Snoddy, 33133404, husband of Mrs. Louise B. Snoddy of Rt. 3, Scottsville, has been awarded the Combat Infantryman Badge.
This badge is awarded for satisfactory performance of duty in ground combat against the enemy and entitles the soldier to $10 per month additional pay. The badge is worn on the left breast above the service ribbons.
The local soldier is a member of the 12th Armored Division, commanded by Maj. General Roderick R. Allen, and has been overseas three months. His unit is one of the newest on the front of Lt. Gen. Alexander M. Patch's 7th Army.

James Henry Snoddy was born on June 1, 1912, in Buckingham County, Virginia; he was the son of Carlyle Snoddy and Cora (Bransford) Snoddy. On August 17, 1942, James married Louise Beulah Baber in Charlottesville, Virginia. James passed away on February 24, 2004, and is buried in Centenary United Methodist Church Cemetery, Buckingham County, Virginia.