James Edward Thompson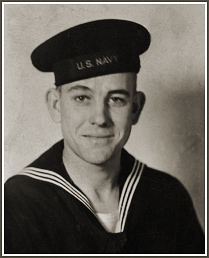 Name: James Edward Thompson
Branch of Service: U.S. Navy
Unit: NSD, Pearl Harbor
Rank: Seaman 1st Class
Dates of Service: 6 Nov. 1944-
18 Mar. 1946
Theater of Service: Asiatic-Pacific,
American
James E. Thompson's Oral History

James E. Thompson at Great Lakes, Ill.
Scottsville News, 7 December 1944 (p.1):
James E. Thompson, 19, son of Mr. and Mrs. Charles E. Thompson, R. 2, Scottsville, is receiving his initial Naval indoctrination at the U.S. Naval Training Center, Great Lakes, Illinois.
His recruit training consists of instruction in seamanship, military drill and general Naval procedure. During this period, a series of aptitude tests will be taken by the recruit to determine whether he will be assigned to a Naval Service School or to immediate duty at sea.
When his recruit training is done, the seaman will receive a period of leave.

James Edward Thompson was born May 17, 1925, in Fluvanna County, Virginia; he was the son of Charles Edwin Thompson and Bessie Ellen (Kirby) Thompson. James married Ruby Pippin on October 21, 1949, in Palmyra, Fluvanna County, Virginia. James passed away on May 9, 2016, in Charlottesville, Virginia, and he is buried in Antioch Baptist Church Cemetery in Scottsville, Virginia.

James Edward Thompson, Obituary
The Daily Progress, Charlottesville, Virginia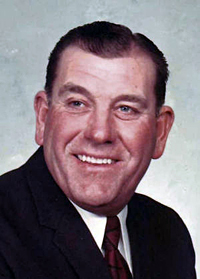 James Edward Thompson, 90, of Scottsville, passed away on Monday, May 9, 2016, at the Heritage Inn of Charlottesville surrounded by his family. He was born on May 17, 1925, in Fluvanna County, a son of the late Charles Edwin and Bessie (Kirby) Thompson.
In addition to his parents, he was preceded in death by a daughter, Janice Faye Thompson; five sisters, Annie, Alice, Pauline, Lena, and Virginia; and two brothers, Lewis and William.
Mr. Thompson was a retired house painter. He took great pride in his work and was a very hard and dedicated worker. He was a Veteran, having served his country in the U.S. Navy. He was a member and Deacon of Antioch Baptist Church where he served faithfully whenever he saw a need. He enjoyed hunting and being of help to others.
Survivors include his wife, Ruby (Pippin) Thompson of Scottsville; three daughters, June Lilly of Scottsville, Judy Rosson and husband, Jim of Palmyra, and Sandra Clore and husband, Gary of Scottsville; a sister, Mary Lloyd of Richmond; nine grandchildren, 20 great-grandchildren, and a number of nieces, nephews, and other extended family members.
A memorial service will be conducted at 3 p.m., Sunday, May 22, 2016, at Antioch Baptist Church in Scottsville by Pastor David Vogt. The family will receive friends immediately following the services at the church. In lieu of flowers, memorial contributions may be made to Antioch Baptist Church, 4422 Antioch Rd, Scottsville, VA 24590. Thacker Brothers Scottsville Funeral Home is handling arrangements. Family and friends may share memories and photos at www.thackerbrothers.com.