Haden B. Anderson
Name: Haden B. Anderson
Branch of Service: U.S. Marine Corps
Unit: Aircraft Engineering Squadron 44,
MCAS, Cherry Pt., NC
Rank: Corporal
Dates of Service:4/22/1944-6/4/1946
Theater of Service:

OBITUARY

Daily Progress, Charlottesville, VA

September 20, 2012

HADEN BLEDSOE ANDERSON


Haden Bledsoe Anderson, 92, of Scottsville, was taken in his sleep by his Lord Jesus Christ on Wednesday morning, September 19, 2012, at The Laurels of Charlottesville.

He was born on February 20, 1920, in Scottsville, a son of the late Wiley Young and Irene (Haden) Anderson. In addition to his parents, he was preceded in death by his wife, Hazel Howard Anderson; a son, Howard Haden Anderson; a sister, Sara Eloise Roberts; three brothers, Benjamin Douglas Anderson, Orville McLeod Anderson and Everette Wiley Anderson. Mr. Anderson served in the United States Marine Corps during World War II. He was an active member of Scottsville Baptist Church, having served as Deacon, Trustee, and for 27 years as Treasurer; and was a member of the Scottsville Masonic Lodge #45 A.F. & A.M. He was previously co-owner of W.F. Paulett and Son Hardware in Scottsville until his retirement in 1985. Haden enjoyed traveling and had visited most of the State and National Parks and had been to Canada, Mexico, South America, and Africa. He served on several mission trips to Tanzania, East Africa. Survivors include his daughter-in-law, Joan Newton Anderson of Scottsville; a brother, Robert Anderson; and his wife, Edna, of Scottsville; two grandchildren, Melissa Haden Anderson Morgan and her husband, Danny, of Staunton and Melanie Anderson Cogar and her husband, Douglas, of Greenville; and two great-grandsons, Dustin Harris and Davis Cogar. A funeral service will be conducted 3 pm Saturday, September 22, 2012, at Thacker Brothers Scottsville Funeral Home by the Reverend James Jetton and the Reverend Robert Spencer. Burial will follow at Scottsville Cemetery. The family will receive friends from 6 until 7 pm Friday, September 21, 2012, at the funeral home. In lieu of flowers, memorial contributions may be sent to the Scottsville Rescue Squad, P.O. Box 550, Scottsville, VA 24590; or to the charity of your choice. Family and friends may share memories and photos at www.thackerbrothers.com.

A Quiet Man
Scottsville Monthly, 12 October 2012
by Ron Smith, Correspondent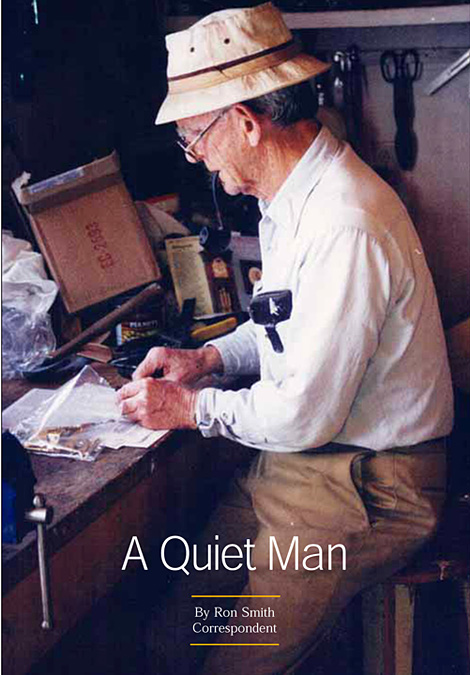 The late Haden Bledsoe Anderson was a fixture for 92 years in Scottsville.
Photo courtesy of Joan Anderson.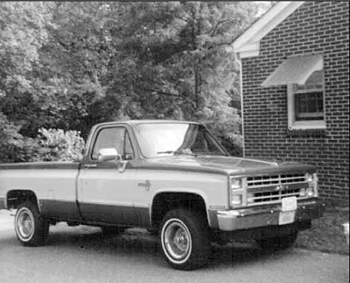 When you spotted the Chevy pickup coming down Valley Street, you didn't have to wonder who the driver was, but rather "where was Haden headed?" The pickup, like Haden Bledsoe Anderson was a fixture in Scottsville.

Haden was born in 1920. On Friday, February 20th to be exact. And, for the next 92 plus years, except for time away during WWII, he would be part of the local landscape.

Wiley Young Anderson and his wife, Irene, welcomed their newborn into the world that cold February day. Irene's maiden name was Haden, and so it was felt to be a proper first name for the newest addition to the Anderson family. Haden would grow up with a sister, Sara Eloise, and four brothers, Benjamin Douglas, Orville McLeod, Everette Wiley, and Robert Anderson.

With the onset of WWII and the call for volunteers, Haden didn't hesitate to answer the call and serve his country. He served proudly in the United States Marine Corps from 1944 until 1946, and although he remained "stateside" during his time in the Corps, he served honorably. It was during his days in the Corps that his only son, Howard Haden Anderson was born. When Howard passed away in 2009, it was an event from which Haden would never fully recover.

Haden's brother, Robert remembers Haden's dislike for change. Since Haden had no interest in watching the sports segment of the six o'clock news, he would call his sister, Sara, each evening at 6:25 pm to check on her well being. Haden had his routines, and he stuck with them. Haden may have been seen by some as "unique", but isn't everyone? That's what helps to make people special.

Gene Harding and Haden met regularly on Fridays at noon to enjoy lunch at Lumpkin's. Gene knew he had better not be late, for if the clock read five after noon when Gene arrived, Haden would be gone. When Haden could no longer drive, Gene would drive him places. After Gene began driving, they always arrived at Lumpkins together.

After completing his service to our country, Haden returned to Scottsville and then began to do something he not only loved but was extremely good at, which was carpentry and woodworking. An expert craftsman, Haden would take homes that were in need of repair and turn them into residences that anyone would be proud to occupy.

When W.F. Paulett, Jr., decided to sell his hardware business, Haden, along with a couple of other local residents became a co-owner of the hardware store which today still bears the name of W. F. Paulett. In 1984, Haden sold his share of the business and retired but not in the true sense the word "retire" implies.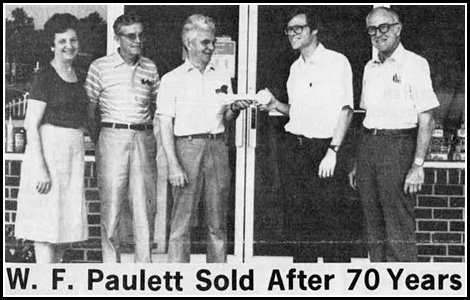 W.F. Paulett Sold After 70 Years

On June 15, 1984, George H. Hooper, 36, from Atlanta and his father, George D. Hooper, from Pittsburgh took over W. F. Paulett and Son, Inc., a long-standing Scottsville business established in 1914.
In the photo above, (left to right) Marguerite P. Spencer, Wilson I. Dansey, and Haden B. Anderson, former owners, hand over the symbolic key to the business to the new owners.
Mrs. Spencer, who came to W.F. Paulette in 1947 along with Anderson and Dansey, who has been with the company since 1934, will remain for an extended period of time.
The new owners vow to conduct business in the same manner as the former owners.
"W.F. Paulett and Son, Inc., has been successful and a pillar of the community for many years, said the younger Hooper. I see no need for change now."

While Haden was a member of the Scottsville Masonic Lodge #45 A.F. & A.M., he also served faithfully as an active member of Scottsville Baptist Church. He was a Deacon, a Trustee, and for years served the church as Treasurer. Haden made several mission trips to East Africa, particularly Tanzania, utilizing his skills as carpentry for the benefit of the local inhabitants of that area. Haden used to enjoy telling listeners of the time he ate warthog while on a mission trip. The cross that is displayed in the sanctuary of Scottsville Baptist Church was handmade by Haden Anderson.

When his son, Howard, became interested in Scouting, Haden became a Scoutmaster. Haden and Howard liked to camp. Pat Pitts remembers his days growing up with Howard and being a Scout under Haden's guidance. Once, while playing at the Haden Anderson home, Pat, Howard, and Gene tied a large rope on the limb of a big sycamore tree to use as a swing. They were swinging on the rope one day when Haden, walking home from the hardware store after work, stopped to see what the boys were up to. Rather than scold them for doing something that might be dangerous, he grabbed the rope and commenced to have a swing or two with them. Pat also remembers seeing Haden when Haden was in his early 70s, up on a ladder using a power saw to make a cut on a board above his head!

Haden was always family oriented and wanted the best for his family. When his wife, Hazel, became ill, Haden stayed near her and saw to her every need until her life was over.

He loved the Peanuts characters, particularly Snoopy. He designed his home with every conceivable space utilized to its fullest with hidden spaces in the walls where he could store items for future use. He wanted things his way. He was a private individual and may have had a hard time, like many, to say the words "I love you", but those who loved him knew he loved his family. He was a respected man. Edna Anderson, Robert's wife, may have been one of the few individuals who would disagree with Haden on a particular topic. As Edna says, "We would agree to disagree," and she, like Haden's daughter-in-law, Joan, felt a special if unspoken "bond" between them. There were probably many "bonds" that we don't know about, but they were there.

Some men love to be known for whom they are and what they have accomplished. Haden Bledsoe Anderson wasn't like that. He was a quiet, unassuming individual who wanted to do things his way. He had his own opinions, and he had his quirks. But he went about quietly doing good, not for recognition of his deeds, but because he saw something that needed to be done, and he did it. On Wednesday, September 19, 2012, Haden Bledsoe Anderson left us. And, while he is gone, his memory will live on with his family and those he considered his friends. And too, there will be many accomplishments of his which only a few know about but from which many have received a benefit.