Gilbert Leslie Johnson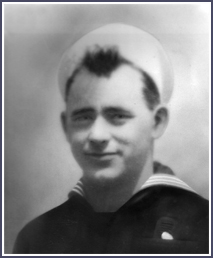 Name: Gilbert Leslie Johnson
Branch of Service: U.S. Navy
Unit: U.S.S. Morrison
Rank: Seaman 1st Class
Dates of Service: 11/8/1943-5/4/1945
Killed in Action when his ship was sunk off
Okinawa during WWII.
Theater of Service: Asiatic-Pacific

Gilbert Leslie Johnson was born on July 30, 1920, in Scottsville, Albemarle County, Virginia; he was the son of Charles Benjamin Johnson, Sr. (1892-1958) and Ruth (Allen) Johnson (1899-1983). Gilbert married Frances Marie Nelms on January 29, 1939, in Waynesboro, Augusta County, Virginia. Gilbert passed away on May 4, 1945, when his ship, the USS Morrison, was attacked by 4 Japanese suicide planes at the battle of Okinawa, Japan. The Morrison sank in 15 minutes and Gilbert and 151 of his shipmates were lost at sea. Gilbert's memorial gravestone was placed in Scottsville Cemetery, Scottsville, Virginia.