George Wilbur Baber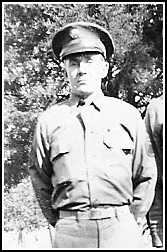 Name: George Wilbur Baber
Branch of Service: U.S. Army Air Forces
Unit:
Rank: Master Sgt.
Dates of Service: 9/13/1940-10/16/1945,
10/31/1945- 1958
Theater of Service:

George W. Baber Made Technical Sergeant
The Scottsville News, Scottsville, Virginia
Thursday, April 15, 1942, (P.1)
Panama City, Fla--Promotion of George W. Baber, whose mother is Mrs. Bessie Baber, Scottsville, to the rank of technical sergeant was announced recently at the Army Air Forces Flexible Gunnery School at Tyndall Field.
The newly promoted man is in one of the squadrons stationed at the field to handle the administrative and technical work connected with training young Americans to become aerial gunners.
Graduates of the school, who receive ratings and silver wings, are the men who are charged with the responsibility of fighting off enemy planes when they attack our bombers.

OBITUARY

September 19, 1989

GEORGE W. BABER


HAMPTON, VA - Retired Air Force Master Sgt. George Wilbur Baber, 74, died Saturday, Sept. 16, in Sentara Hampton General Hospital. A native of Scottsville, Mr. Baber had been a Peninsula resident since 1964. He retired from the Air Force in 1958 after 21 years and from NASA as a technician in 1976 after 11 years. Mr. Baber was a Baptist.