George Grant Anderson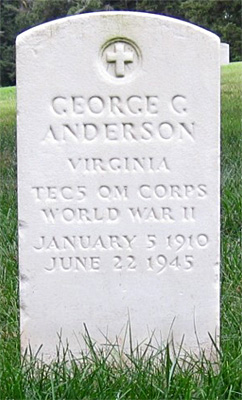 George Grant Anderson's Gravestone
Culpeper National Cemetery, Culpeper, VA
Name: George Grant Anderson
Branch of Service: U.S. Army
Unit: QM Corps
Rank: T/5
Dates of Service: 6/29/1942-6/22/1945
Died of non-battle cause.
Area of Service:
Sister: Mrs. Willie Hudson, Esmont

George Grant Anderson was born on January 5, 1910, in Esmont, Virginia; he was the son of Dandrien Anderson (1857- ) and Harriet (Simpson) Anderson (1872- ) of Esmont. George married Geneva Elmira Starks on March 21, 1942, in Howardsville, Virginia. George enlisted in the U.S. Army in June 1942, and died on June 22, 1945, of a non-battle cause while in service with the U.S. Army Quartermaster Corps. George Grant Anderson is buried at the Culpeper National Cemetery in Culpeper, Culpeper County, Virginia (Plot: Section D, Site 1370).