Frank William Boling, Sr.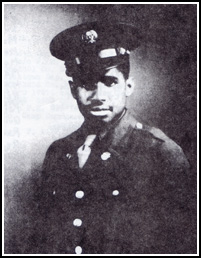 Name: Frank William Boling, Sr.
Branch of Service: U.S. Army Air Forces
Unit: 13th Army Air Forces
Rank: T4
Dates of Service: 9/6/1944-1947
Theater of Service: Asiatic-Pacific

Frank William Bolling was born on November 23, 1923, in Schuyler, Nelson Co., Virginia; he was the son of Joseph Fisher Bolling and Mamie Lee (Wayne) Bolling. Frank enlisted in the U.S. Army on September 6, 1944, in Richmond, Virginia. He was eventually assigned to the Army Air Corps and sent via ship to serve in the Asiatic-Pacific Theater, arriving in the Philippines on July 4, 1945. Frank was discharged from the Army in 1947 at Ft. Bragg and returned to the Esmont area wh.ere he worked alongside his father as a carpenter. On February 26, 1955, Frank married Anna Marie Bruce in Esmont, Virginia, and they were the parents of two sons, Frank W. Boling, Jr., and Bruce J. Boling; and two daughters, Felice Boling and Athea Boling. Frank was employed by the Van Clief family at Nydrie Farm for over 40 years when he retired. Frank passed away on March 27, 2012, and he is buried at New Green Mountain Baptist Church Cemetery in Esmont, Albemarle County, Virginia.