Frank Russell Moon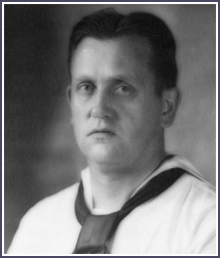 Name: Frank Russell Moon
Branch of Service: U.S. Navy
Unit:
Rank:
Dates of Service:
Theater of Service: Hawaii

Frank Russell Moon, Jr., was born on June 21, 1904, in Manteo, Buckingham County, Virginia; he was the son of Frank Russell Moon, Sr., and Annie Dunscomb (Horsley) Moon. Frank enlisted in the U.S. Navy and was stationed in Hawaii by 1943 where he met and married his wife, Cenie Hornung.

Cenie (Hornung) and Frank Russell Moon at 626 Maui
Street in Honolulu shortly after their marriage in 1943.
After the war was ended, Frank and Cenie returned to Virginia, and on April 6, 1948, Frank was confirmed as Postmaster at Warminster Post Office in Nelson County when his father, Frank, Sr., retired from that position. Frank, Jr., stayed in that role at the Warminster P.O. until it was discontinued in April, 1959. Frank, Jr., also was the owner of a grocery store in Scottsville, Virginia.

Warminster Grocer Offers Streamlined Bean Delivery
By Hamilton Crockford
Times Dispatch, Richmond, VA, February 21, 1951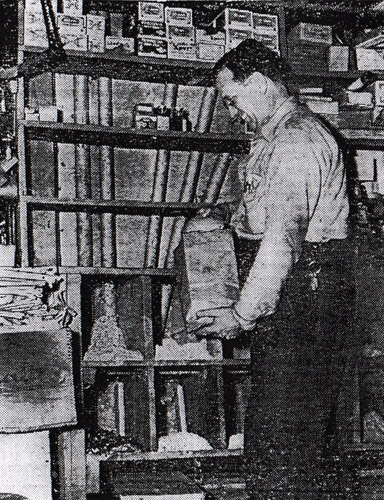 Bean Chuter F. Russell Moon, Jr., of Warminister, VA
When He Puts in the Scoop, the Beans Come Tumbling Down
WARMINSTER, VA, Feb. 20 - Beans are coming down all the time at Moon's store here.
It's not deflation. Just a streamlined service for the customers in a place where the boasted policy is to get it for you quick.
Postmaster F. Russell Moon, Jr., who manages the store in this tiny Nelson County community on the James for his father, only mentioned the situation to show that not all the streamlining's done in the city and the supermarkets.
At Moon's, where you can still buy every kind of thing they sold 43 years ago except the coffins, they've had streamlined bean delivery for 11 years now, he observed casually.
The shelves still sag a little with the groceries, crockery, shoes, dry goods, and drugs. The linoleum, electrical appliances, and the farm machinery in the storeroom repose leisurely on the floor.
But the beans are piped from upstairs down to the snug selling bins by a maze of chutes as imposing as the pipes from a cathedral organ.
Fastened against a wall, the pipes are neatly hidden behind the shelves of shotgun shells, so that a new customer can only marvel at how it is the bean bins stay full no matter how many beans F. Russell Moon scoops out. But Moon laid bare the mysterious system with a smile of satisfaction.
He explained how his brother, Channing H. Moon, now a member of the Board of Supervisors over in Buckingham County, installed the system back in 1939--10 big bins upstairs, each to receive a 100-pound bag of a different kind of bean; 10 pipes curving and twining gracefully down below to feed into 10 much smaller bins--just big enough to admit a scoop, and arranged in two decks of five.
Pintos, Navies, Octobers, when a customer wants beans, F. Russell Moon dips the scoop into the proper little bin to fill the paper sack, and more come down.
Nice time saver, he says; nice space saver, labor saver, and conversation piece.
Only time there's any trouble is when somebody empties a bag of the right kind of beans into the wrong bin upstairs. "Then we have to sell mixed beans," said Moon, "and at a reduction."
("Not much reduction, though," moaned John Burnley, who's on the buying end. Nothing comes down much in this place, he suggested, unless it's beans.)
But Moon is a confirmed bean chuter.
"Thinking about putting a padded bin down here with a chute now," he said, "and setting a hen upstairs so we can get our eggs on order."
But how about signals? Tie a string to the hen's leg, maybe, and jerk it?
"Not these days," said Moon. "We'll just put a buzzer up there by her and press a button down here.

Frank Russell Moon, Jr., passed away at his Harrison Street home in Scottsville, Virginia, on January 30, 1966, and he is buried at Scottsville Cemetery.