Frank Russell Moon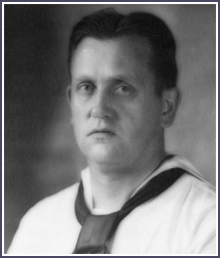 Name: Frank Russell Moon
Branch of Service: U.S. Navy
Unit:
Rank:
Dates of Service:
Theater of Service: Hawaii

Frank Russell Moon, Jr., was born on June 21, 1904, in Manteo, Buckingham County, Virginia; he was the son of Frank Russell Moon, Sr., and Annie Dunscomb (Horsley) Moon. Frank enlisted in the U.S. Navy and was stationed in Hawaii by 1943 where he met and married his wife, Cenie Hornung.

Cenie (Hornung) and Frank Russell Moon at 626 Maui
Street in Honolulu shortly after their marriage in 1943.
After the war was ended, Frank and Cenie returned to Virginia, and on April 6, 1948, Frank was confirmed as Postmaster at Warminster Post Office in Nelson County when his father, Frank, Sr., retired from that position. Frank, Jr., stayed in that role at the Warminster P.O. until it was discontinued in April, 1959. Frank, Jr., also was the owner of a grocery store in Scottsville, Virginia. Frank Russell Moon, Jr., passed away at his Harrison Street home in Scottsville, Virginia, on January 30, 1966, and he is buried at Scottsville Cemetery.