Francis Cornelius Wood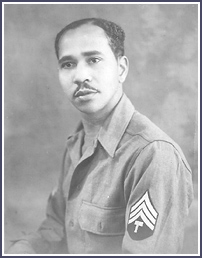 Name: Francis Wood
Branch of Service: U.S. Army
Unit:
Rank: T/4
Dates of Service: 8/16/1943-
Theater of Service: Europe



Francis Cornelius Wood was born on 14 April 1916 on the Fluvanna County side of Scottsville, Virginia. Francis was the son of Cornelius Wood and Mary (Martin) Wood. Francis enlisted in the U.S. Army in August 1943.

Francis married Annette Roana Payne on 28 December 1942 in Charlottesville, VA, just before heading off to serve overseas in Europe during WWII. The back of this undated photo has the inscription, "somewhere in France."

After WWII, Francis returned to his family in the Scottsville area and worked for the railroad. Francis Cornelius Wood passed away at the Virginia Medical Center in Richmond, VA, on 14 September 1984. Francis Corneilius Wood is buried in the Wood family cemetery near Scottsville, VA.