Ernie Lorenza Baber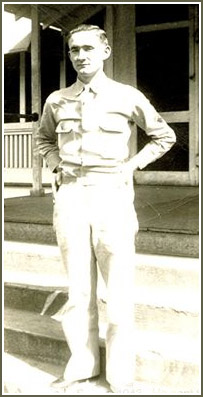 Name: Ernie Lorenza Baber
Branch of Service: U.S. Army Air Forces
Unit: Hq Det 1385th SCU
Rank: T/4
Dates of Service: 12/5/1939-8/25/1945
11/16/1945-until his retirement on 06/30/1960
Theater of Service: Asiatic-Pacific

Returns After 59 Months in Central Pacific
Scottsville News, 28 December 1944 (p.1):
Mayor Percy Harris received word Saturday from the Virginia Headquarters of the Third Service Command in Richmond that Technician 4th Grade Ernie L. Baber of Scottsville has returned to the United States after having served for 59 months in the Central Pacific Theater of operations and has arrived at Ft. Meade, Md., on the way to visit his mother, Mrs. Bessie J. Baber.
This young man has made an enviable record for himself, and it is with great pleasure that the people of this community welcome him home.

Ernie Lorenza Baber was born on July 3, 1918, in Buckingham County, Virginia; he was the son of Sidney Cabell Baber (1881-1931) and Bessie (Jones) Baber (1890-1984). Ernie enlisted in the U.S. Army Air Force on 05 December 1939 and was stationed in Hawaii on April 1, 1940. He served in the Army AF until 25 August 1945. Ernie reelisted in the Army AF as a Technician 4th Grade on November 16, 1945, and served in the AAF until he was released on 30 June 1960 as an AF Master Sgt. and medic. Ernie was living in Mauertown, Shenandoah, Virginia when he passed away on January 5, 1988. He is buried at the Saumsville Christian Church Cemetery in Saumsville, Virginia.