David L. McGuire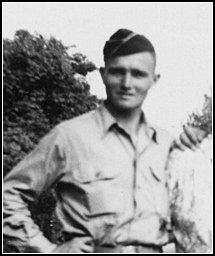 Name: David L. McGuire
Branch of Service: U.S. Army
Unit:
Rank: TEC5
Dates of Service: 1/5/1945-10/30/1945
Area of Service:

David Lee McGuire was born September 23, 1926, in Scottsville, Fluvanna County, Virginia; he was the son of Charles Henry McGuire (1884-1960) and Annie Elizabeth (Dolan) McGuire (1894-1945). David married Julia Ann Martin on April 4, 1953, in Albemarle County, Virginia. David passed away on December 12, 1971, in Scottsville, Virginia, and is buried at Scottsville Cemetery.

David Lee McGuire Obituary
The Daily Progress, Charlottesville, Virginia
December 13, 1971
SCOTTSVILLE - David Lee McGuire, 45, died unexpectedly at his hoe here yesterday. He was born September 23, 1926, son of the late Charles Henry and Annie Doland McGuire.
Mr. McGuire was a carpenter and a veteran of World War II. He was a member of the VFW Post 8169 in Scottsville and the Scottsville Volunteer Fire Department.
Surviving are his wife, Mrs. Julia Ann Martin McGuire; two sons, David Lee, Jr., and Bennie Ray McGuire of Scottsville; a daughter, Miss Lelia Ann McGuire of Scottsville; five brothers, Russell and Jimmie McGuire of Scottsville, Ralph McGuire of Charlottesville, John McGuire of Rising Sun, Md., and Paul McGuire of Jacksonville, NC; and six sisters, Mrs. Evelyn Plum of Richmond, Mrs. Margaret Dunkum of Scottsville, Mrs. Ruth Shumaker of Scottsville, Mrs. Catherine Heeter of Unionville, Mrs. Shirley Hughes of Pasadena, Calif., and Mrs. Ruby Valentine of Charlottesville.
A graveside service will be at 2 p.m. tomorrow at Scottsville Cemetery. Thacker Brothers Funeral Home is in charge of arrangements.