David Emmett Easton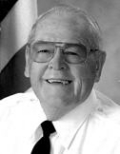 Name: David Emmett Easton
Branch of Service: U.S. Army
Unit:
Rank: T/5
Dates of Service:2/26/1945-11/17/1946
Theater of Service: Asiatic-Pacific

OBITUARY
Daily Progress, Charlottesville, VA
April 8, 2009
DAVID EMMETT EASTON
David Emmett Easton, 83, of Lee Drive in Farmville, Virginia, went to be with the Lord on Tuesday, April 7, 2009, at his residence, surrounded by his family. He was loved by many and respected by all.
He was born on December 14, 1925, in Charlottesville, a son of the late William Wallace Easton (1882-1945) and Beulah Vista (Clements) Easton (1894-1977).
Mr. Easton served in the United States Army from 1945 until 1946. He was a life member of the Charlottesville Lions Club, former member of the Falcons Club, and served as an Usher for many sporting events at the University of Virginia for 39 years. He was a member of the Scottsville, Waynesboro, and Charlottesville Fire Departments, and loved his workshop, collecting clocks and horses, and sports. His favorite pastime was watching his great-grandson, Hunter, play sports. He retired as Dairy Manager from AandP in 1989, after which he worked as a school crossing guard with the Charlottesville Police Department until 2006.
In addition to his parents, he was preceded in death by three brothers, John, Lawrence, and Richard Easton; and three sisters, Carrie Rush, Florence Critzer and Virginia French.
Survivors include his wife Edith Lishey (Ripley) Easton, who was the love of his life and with whom he would have celebrated 60 years of marriage on April 14, 2009 (married April 14, 1949, in Scottsville, VA); a son, David Lee Easton of Charlottesville; a daughter, Dolores (Easton) Tingley and her husband, Bob, of Earlysville; two brothers, James Austin Easton of Scottsville and Fred Jackson Easton of Charlottesville; a granddaughter, Lisha Joseph Gilliam of Farmville; a step-grandson, Bryce Tingley of Charlottesville; a great-grandson, Hunter Pratt Gilliam of Dillwyn; a number of nieces and nephews and many special friends.
A funeral service will be conducted 2 p.m. Thursday, April 9, 2009, at Thacker Brothers Funeral Home in Scottsville by the Reverend Robert Price. Burial will follow at Scottsville Cemetery.
The family will receive friends from 6 until 8 p.m. Wednesday, April 8, 2009, at the funeral home.
The family would like to extend a special thanks to Hospice of the Hills in Farmville.
He was a member of Calvary Baptist Church in Charlottesville.