Charles Albert Trice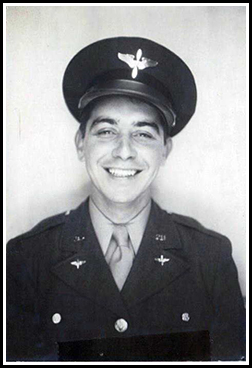 Name:Charles Albert Trice
Branch of Service: U.S. Army Air Forces
Unit:
Rank: Navigator
Dates of Service: 1942-
Theater of Service: Pacific

Charles Albert Trice was born on April 9, 1922, in Howardsville, Albemarle County, Virginia; he was the son of Obediah Ashton Trice (1872-1947) and Heather Ellen Elizabeth (Journey) Trice (1896-1986). In 1930, Charles was living in Scottsville, Albemarle County, Virginia, with his parents and siblings. Charles enlisted in the U.S. Army Air Forces circa 1942 and was stationed first at Selmen Army Airfield in Monroe, Louisiana. During WWII, Charles served as a navigator on weather reconnaissance missions with B-29 squadrons in the Pacific Theater.
On February 18, 1943, the Scottsville News featured the following article about Charles Albert Trice and his four brothers, who were serving in the U.S. Armed Forces during WWII:

Five Brothers Now In Armed Forces
Trice Family May Hold County Service Record
Scottsville News, February 18, 1943
The five Trice brothers, Robert H., Laurence T., Charles A., Carlyle A., and Joseph L., all sons of Mr. and Mrs O.A. Trice of Howardsville and all members of Uncle Sam's armed forces, may hold the service record for family enlistments in Albemarle County.
Robert H. Trice, who graduated from Scottsville High School in 1935, enlisted in the Navy after graduation and is now a Boatswain. He was on the "Hornet" when it was torpedoed and spent several hours in the water before being rescued. After spending a furlough with his parents at the family home in Howardsville, Boatswain Trice has returned to his duties aboard the aircraft carrier Princeton.
Lieutenant Laurence T. Trice, a graduate of the University of Virginia, is now stationed at Camp Davis, North Carolina. Before entering the service, he was engaged in educational work in Southwestern Virginia.
Private Cadet Charles A. Trice is stationed at Selman Army Airfield, Monroe, Louisiana, where he is taking a course in bombardier navigation.
Private Carlyle A. Trice is stationed in New Orleans, Louisiana, where he is studying provisional railway.
Private Joseph L. Trice, recently inducted, is at present at Camp Lee. Private Trice intends taking a course in meteorology.
The Trice boys are well known throughout this community, and news of their activities will be of great interest to their many friends.

While serving in the Army Air Forces, Charles Albert Trice married Julia Louise Cameron on March 4, 1944, in Polkton, North Carolina. Charles passed away in North Carolina, and he is buried next to his wife, Julia, at Myers Park United Methodist Church Columbarium, in Charlotte, North Carolina.

Charles Albert "Charlie" Trice (1922-2016), Obituary
Charlotte Observer, North Carolina
July 20, 2016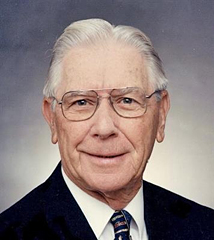 Charles "Charlie" Trice died the afternoon of Sunday, July 17, 2016. Born the seventh of nine children on Sunday, April 9, 1922 in Howardsville, VA; Charlie was a wonderful son, husband, brother, father, grandfather, great-grandfather, friend, and colleague. He was preceded in death in June of 2015 by the love of his life, Julia Cameron Trice, with whom he celebrated seventy-one years of marriage. As the last surviving offspring of Obadiah Ashton Trice and Ellen Elizabeth Journey, Charlie shared many fond memories of growing up in the foothills of Virginia with Carlyle, Lawrence, Frances, Robert, Richard, Ashton, Joe, and Margaret.
After graduating from Scottsville High School in 1938, Charlie left Virginia for North Carolina upon landing a job with Woolworth's in downtown Greensboro. There he met Julia while she was attending UNC-G, and they were married March 4, 1944 in Polkton, NC. Charlie served in the United States Army Air Corps during World War II as a navigator on weather reconnaissance missions with B-29 squadrons in the Pacific Theatre.
Post WWII, Charlie attended UNC-Chapel Hill and graduated Phi Beta Kappa in 1949 with a B.S. in Commerce. Upon graduation, he and Julia, now with two daughters, Ellen and Ann, moved to Charlotte where Charlie began his career with the accounting firm of Haskins and Sells, which later became Deloitte, Haskins, and Sells. While balancing a growing family with the additions of Susan and Jean, and with a focus on the textile industry in the audit department, his work ethic, client relationship skills and mentoring approach eventually earned him the title of Managing Partner for the Charlotte office. Charlie retired from DH&S in 1984 but remained active in the community by serving on a number of committees and boards for Myers Park United Methodist Church, Hospice of Charlotte, and Sharon Towers.
Family, faith, and the Tar Heels were Charlie's deep-rooted loves, but his passionate pursuit was the game of golf. Despite playing left-handed and not truly growing serious about the game until he was in his 40s, he quickly honed his skills, often in a net in the garage of his house, to the point where he was a single-digit handicap player. From his hole-in-one at St. Andrews to serving as President of Carmel Country Club in 1971 and 1972 to the Boomers group trips to Hilton Head to the Carolina Senior Golf Association outings, Charlie and golf were almost synonymous terms for many years. He continued to regularly shoot his age or better it into his eighties.
The early-to-mid 1990s were difficult for the Trice family with the deaths of daughter, Ellen, and son-in-law, Pete Bensley. Charlie is survived by granddaughter, Brandon Bensley, and three daughters: Ann Faircloth and husband Ron of Tega Cay, granddaughters Tracy Sullivan (Alex) and Robin Smith (Scott); Susan Donaldson and husband Gary Jaburg of Scottsdale AZ, granddaughters Melanie Donaldson, Stephanie Steffen (David), and Laura Bercovich (Justin); and Jean Deason and husband Richard of Charlotte, granddaughter Lauren Wade (Will) and grandson Charles Deason (Sarah). Great-grandchildren are Georgia, Ella, and Ben Sullivan; Caleb, Ruby, and Michael Smith; Manoli and Nick Karageorgos; Jackson and Mason Steffen; and Charles Deason Jr. He is also survived by numerous nieces and nephews.
A memorial service for Charlie will be conducted at 11:00 a.m., Saturday, July 23, 2016, at Myers Park United Methodist Church in the Sanctuary.
In lieu of flowers, the family requests that you consider a gift to Hospice and Palliative Care Charlotte Region or Sharon Towers Employee Christmas Fund. The family also extends its gratitude to the many care givers from Sharon Towers, who were a part of Charlie's and Julia's lives for the past thirteen years.
Burial: Myers Park United Methodist Church Columbarium, Charlotte, Mecklenburg County, North Carolina.