Carl LaRue Combs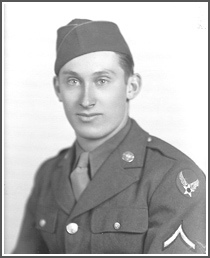 Name: Carl LaRue Combs
Branch of Service: U.S. Army Air Forces
Unit: 11th Heavy Bombardment Group,
7th AAF
Rank: T/Sgt.
Dates of Service: 3/9/1943-6/27/1945
Area of Service: Asiatic-Pacific

Carl L. Combs Promoted to Technical Sergeant
The Scottsville News, 18 January 1945
A 7th AAF Base in the Marianas - Carl L. Combs of Scottsville, VA, engineer-gunner on a 7th AAF Liberator based in the Marianas has been promoted to Technical Sergeant.
Sgt. Combs, who joined the 7th AAF in the Pacific last May, has participated in many of the recent aerial attacks on the Volcano and Bonin Islands less than 600 miles from Tokyo. He was graduated from Scottsville High School in 1942 and employed as a riveter by the Glen L. Martin Corporation, Baltimore, MD, prior to entering the Army in March 1943.
Sergeant Combs Congratulated by General Landon:
The Scottsville News, 18 January 1945
A 7th AAF Heavy Bomber Base in the Marianas - Because of the terrific pounding they gave the Jap-held Volcano Islands on the third anniversary of Pearl Harbor, Staff Sergeant Carl L. Combs of Scottsville, VA, aerial gunner, and other members of this 7th AAF heavy bombardment group were praised by Brigadier General Truman H. Landon, Commanding General of the 7th Bomber Command.
So successful was the combined Liberator bomber-B29 Superfortress attack, that General Landon telegraphed congratulations ---"for a fine mission to Iwo Jima which makes the Nips three-year headache worse."
Taking off from their Mariana base, wave after wave of 7th AAF B24s swept over the heavily fortified stronghold. Each Liberator dropped 3 tons of bombs on enemy installations below.
Navy reconnaissance photos taken immediately after the raid showed direct hits on supply and ammunition dumps, oil and gas storage tanks, communication centers, shops, and airstrips.
Sergeant Combs' parents are Mr. and Mrs. Collie Combs of Scottsville.

Sergeant Combs Giving Good Account of Himself In War Against Japs:
The Scottsville News, 1 March 1945 (p.1)
ARMY AIR FORCES, PACIFIC HEADQUARTERS -- Strafing Japanese supply ships 50 feet above the harbor of Kita Iwo Jima is one of the outstanding things Technical Sergeant Carl L. Comps, Scottsville, Virginia, engineer-top turret gunner of the 7th AAF Liberator bomber "Kay Lyn", remembers of his 30 combat missions against the Japanese in the Central and Western Pacific.
"We went into Kita Iwo Jima at noon and found four ships in the harbor," Sergeant Combs said. "Flying at mast-top level, we raked them from stem to stern with our machine guns."
"As we headed out, we spotted three twin-engine Jap bombers about 3000 feet above. We circled and climbed but they wanted no part of us and by the time we had gained altitude, they had fled. We went on and bombed Haha Jima and Chichi Jima on the way to our base in the Marianas."
Sergeant Combs, since arriving in the Central Pacific last May, has helped to hit the Jap strongholds of Wake, Truk, Iwo Jimi, Chichi Jima, Haha Jima, Pagan, Kita Iwo Jima, and Woleai. He is now resting at a rear base camp in Hawaii before returning to action.
"On our twenty-second mission, which was Iwo Jima, we helped shoot down a Zero," Sergeant Combs said. "We went in just before dusk and five Jap fighters came up. One of them came straight at us, but we opened fire, and he fled."
"Our bombs hit the airfield. As we headed home, two Jap fighters tried to drop phosphorus bombs on us. They missed, and several planes in our formation opened fire. I picked up one about 800 yards away and let him have a burst as he kept coming in. I could see the tracer bullets hit his plane. When the engine started to smoke, the Jap pilot bailed out and his plane crashed into the water below."

Carl LaRue Combs was born February 27, 1924, in Scottsville, Virginia; he was the son of Collie Combs (1902-1994) and Ethel Skeen (1902-2001). Carl married Bettie Rebecca Stargell (1928-1975) on June 8, 1947 in Scottsville, Virginia. After Rebecca's passing in 1975, Carl married secondly, Faye Ragland (1923-2003). Carl passed away on December 9, 1999, in Charlottesville, Virginia, and is buried at Scottsville Cemetery.

Following is Carl's obituary as it appeared in the Charlottesville Daily Progress, dated December 10, 1999:

Obituary, Carl L. Combs:

Carl L. Combs, 75, of Charlottesville and Schuyler, died Thursday, Dec. 9, 1999.

He was preceded in death by his first wife, Rebecca S. Combs, and his father, Collie Combs.

Survivors include his wife, Faye Ragland Combs; his mother, Ethel Skeen Combs of Scottsville, three children, Anita C. Roberts of Lexington, KY, Susann Ruddock and her husband, Alex, of Kilmamock, and Steve Combs and his wife, Lynn, of Schuyler; two stepchildren, Philip H. Moore and his wife, Judy, of Roanoke and Carolyn Mack, and her husband, "Howdy," of Charlottesville; one brother, Donald R. Combs and his wife, Janice, of North Carolina; two sisters, Pauline C. Engberg and her husband, Lee, of California, and Marie C. Lane and her husband, Arthur, of Scottsville; and seven grandchildren and five step-grandchildren.

Mr. Combs was an active member of New Faith United Methodist Church, Schuyler. He served in the U.S. Army Air Corps during World War II and retired from Home Beneficial Life Insurance Co. after 32 years of service.

A funeral service will be held at 2 pm on Saturday at Thacker Brothers Funeral Home, Scottsville, with Pastor Glenn Phillips officiating. Internment will follow in Scottsville Cemetery.

The family will receive friends from 7 to 8 pm this evening at the funeral home.