Benjamin Franklin Meadows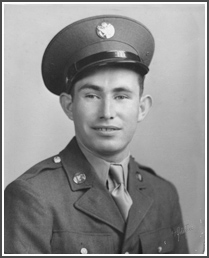 Name: Benjamin Franklin Meadows
Branch of Service: U.S. Army
Unit:
Rank: SSgt
Dates of Service: 2/20/1942-
Theater of Service:

Benjamin Franklin Meadows was born on April 1, 1920, in Elkton, Virginia; he was the son of Abraham Franklin Meadows (1886-1990) and Mattie Basil Dulin (1893-1982). Per his WWII Draft Card, Benjamin and his family were residents of Scottsville, Virginia, in 1941, and he worked for Monticello Motors Inc. in Charlottesville.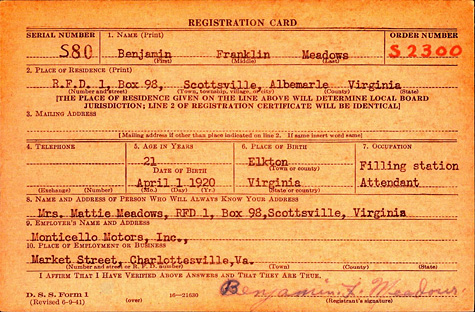 After WWII, Benjamin married Betty Jo Bishop on February 7, 1946, in Carter County, Oklahoma. Benjamin passed away on January 1, 1976, in Ardmore, Carter County, Oklahoma, and is buried at the Hillcrest Memorial Park in Ardmore.