Benjamin Douglas Anderson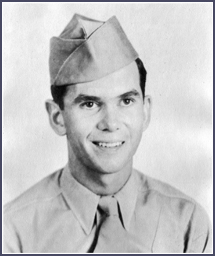 Name: Benjamin Douglas Anderson
Branch of Service: U.S. Army
Unit:102nd Infantry Division, 9th Army
Rank: PFC
Dates of Service:9/4/1944-4/10/1945
Killed in action near the Harz Mountains,
Germany; awarded Purple Heart; buried in
Scottsville Cemetery, Scottsville, VA
Theater of Service:European-African-
Middle Eastern

B.D. Anderson Qualifies As Sharpshooter
The Scottsville News, Scottsville, Virginia

November 16, 1944 (p.1)
Private Benjamin D. Anderson, trainee of D. Company, 174th Infantry Replacement Training Battalion, Camp Hood, Texas, qualified as Sharpshooter with the Army's M-1 Rifle according to Lieutenant Colonel Earl W. Huntting, Battalion Commander. The course consisted of firing at 20, 300, and 500 yards in both slow and sustained fire.
Private Anderson, who is now in his seventh week of Infantry Training, has also fired the .30 calibre carbine, the Anti-tank Rocket Launcher (Bazooka), and Rifle Grenades. He has thrown Hand Grenades under simulated combat conditions, and, later in his training, he will fire the Light Machine Gun, the 60 MM Mortar, and the Browning Automatic Rifle and will fire all these weapons under simulated combat conditions.
Private Anderson, the son of Mr. and Mrs. W. Y. Anderson of Scottsville, is well known here.

Benjamin Douglas Anderson was born in Scottsville, Albemarle County, Virginia on May 4, 1926; he was the son of Wiley Young Anderson (1895-1959) and Mattie Irene (Haden) Anderson (1900-1982) of Scottsville. Benjamin was killed in action in Germany on 10 April 1945 and awarded a Purple Heart posthumously Benjamin is buried at Scottsville Cemetery in Scottsville, Virginia.