Andrew Jefferson Collins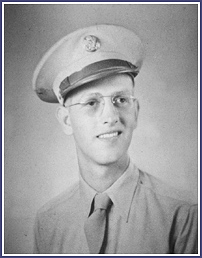 Name: Andrew Jefferson Collins
Branch of Service: U.S. Army
Unit: 36th Infantry Division
Rank: PFC
Dates of Service: 6/2/1944-11/24/1945
Theater of Service: Europe
Andrew Jefferson Collins' Oral History

Andrew Jefferson Collins was born on November 6, 1922, in Albemarle County, Virginia; he was the son of Jefferson Randolph Collins (1876-1971) and Nellie E. (Alexander) Collins (1883-1958).
Andrew enlisted in the U.S. Army on June 2, 1944, and after basic training, he was sent with his unit to Italy and then to the front lines in France. Andrew was seriously wounded on D-Day (H-hour), and, as he described his injury, "I could see my foot up on my back---I couldn't move it. My leg was shot in two!" A medic was fortunately nearby and placed a tourniquet on his leg. Andrew was then carried back to the medical station, and later he was carried by ambulance to Paris, France, where medics put him on a plane and flew him from Paris over to Southampton, England, for his first medical treatments. Andrew stayed in the Southampton hospital for about 6 weeks. Then a cast was placed on his leg, and Andrew was put on a little hospital boat which took him to New York. In New York, Andrew was placed on a troop train that came on down through Charlottesville to North Carolina, Andrew was discharged from the U.S. Army on November 24, 1945. For his military service, Andrew was awarded a Purple Heart, Medal of Valor, Good Conduct Medal, and Expert Rifleman citation. To learn more about Andrew's military service, please read his oral history interview above.
Andrew married Etta Lecester Herndon on October 4, 1947, in Scottsville, Virginia. Andrew passed away on May 10, 2008, in Palmyra, Virginia, and is buried at the Fluvanna Baptist Church Cemetery near Kidds Store in Fluvanna County, Virginia (7454 W River Rd, Scottsville, VA 24590).