Allen Andrew Kidd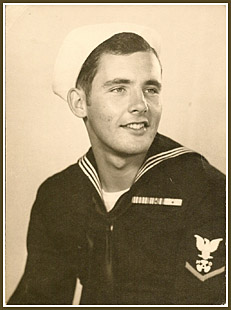 Name: Allen Andrew Kidd
Branch of Service: U.S. Navy
Unit: U.S.S. Betelgeuse
Rank: MoMM3c
Dates of Service: 5/28/1943-3/2/1946
Area of Service: American, European-
African-Middle Eastern, Asiatic-Pacific

Obituary of Allen Andrew "Andy" Kidd, 3 January 2009
Richmond Times Dispatch, Richmond, VA:

Allen Andrew "Andy" Kidd of Richmond, son of the late Allan William Kidd and Jessie Pollard Kidd of Scottsville, Va., passed away January 3, 2009. He is survived by his wife, Iris Newcombe Kidd; three children, Shirley Wyatt and her husband, Ernie, Judy Hatchett and her husband, Donnie, Larry Kidd and his wife, Melanie; six grandchildren, Suzanne Whitcomb and her husband, Jeff, Paul Schilling, L.W. Kidd Jr. and his wife, Nicole, Allen Lee Kidd, Carri Hatchett, and Amy Hatchett; seven great-grandchildren, Amber, Austin, Shelby, Chelsea, Kyrstin, Savannah, and Angel; three brothers, Ray Kidd of Scottsville, Jack Kidd of Michigan, and Douglas Kidd of Maryland; one sister, Minnie Haga of Charlottesville.
Mr. Kidd was an exhibiting member of Bon Air Artist Association and the U.S.S. Betelgeuse-A.K.A.- 11 Survivors club. He was life member of Powhatan VFW Post 10570, Midlothian Masonic Lodge No. 211, Black Heath Masonic Lodge, Midlothian Chapter 85, Order of the Eastern Star, Central Chesterfield Ruritan Club, and American Legion Post 186-Midlothian.
He served in the Navy in World War II in the Mediterranean Sea and took part in the invasion of Southern France. He also served in the Pacific and took part in the invasion of Okinawa.
His family will receive friends 3 to 5 and 6 to 7:30 p.m. Sunday at Bliley's - Chippenham, 6900 Hull Street Rd., where a Masonic service will be held 7:30 p.m. Sunday. A graveside service will be held 11 a.m. Monday at Alberene Cemetery in Albemarle County, Va.