Name: Charles Thomas Moon's Grocery Store in Scottsville

Date: ca. 1920

Image Number: DV23cdDV04.jpg

Comments: The Charles Thomas Moon grocery store sat between the Masonic Lodge and the very edge of Mink Creek on Scottsville's Main Street. On its first floor was the small store owned by Mr. Moon, Charles T. Moon Grocery, and this building's second floor hosted a small apartment. Mr. Moon operated his grocery roughly between 1900-1920.

Charles Thomas Moon was born on October 25, 1872, in the Fluvanna side of Scottsville and was the son of John Washington Moon and Martha Francis (Thomas) Moon. Charles married Margaret Willie Tutwiler in January 1897. In the 1900-1910 U.S. census, Charles and Margaret Moon lived in Scottsville on the Fluvanna side of town, and Charles' occupation is listed as 'merchant' and 'grocery store.' By 1920, Charles appears to have retired from the grocery store business, and in both 1920-1930 U.S. Censuses, Charles listed his occupation as 'general farmer' on the Fluvanna Co. side of Scottsville. It is unknown if anyone continued his grocery store business or if this store building on Scottsville's Main Street was repurposed or torn down.

Charles Thomas Moon died in Scottsville on 22 April 1945, and his death certificate lists his 'usual occupation' as retired merchant. He is buried at Scottsville Baptist Church Cemetery next to his wife, Maggie (Tutwiler) Moon.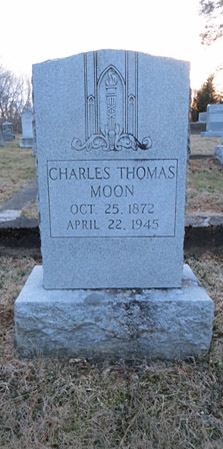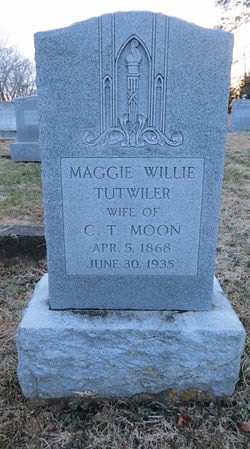 Copyright © 2021 by Scottsville Museum

Top Image Located On: Capturing Our Heritage, CDDV04
DV23cdDV04.tif
DV23cdDV04.jpg
DV23cdDV04.psd

Second Image Located On: Scottsville Baptist Church Cemetery,
See: Scottsville Baptist Church Cemetery

Third Image Located On: Scottsville Baptist Church Cemetery
See: Scottsville Baptist Church Cemetery