Name: Train Wreck! By Evelyn Edson
Date: 10 September 1935
Image Number: IED01_1935 Warren Train Wreck
Comments: It was early in the morning of September 10, 1935, when two C&O freight trains collided head on just west of Warren. There was a single track there, and the west-bound train received a signal to move onto a siding to let the east-bound train through. The engine had received the signal at Strathmore, just west of Bremo, but apparently fell asleep until he was rudely awakened at 1:05 a.m. In his defense, he said he had been on duty for almost eleven hours and twenty minutes.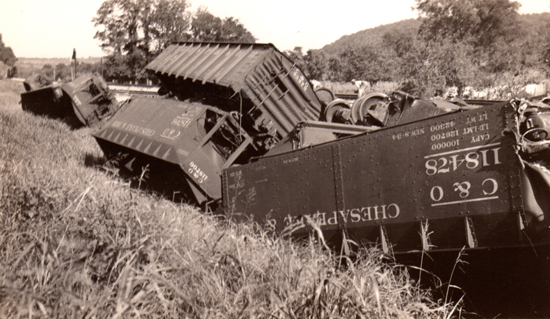 Train No. 78, the east-bound train, had 160 cars and a caboose while the west-bound train, Extra 1246, had 150 cars and a caboose. Fortunately, no one was killed, although the fireman of each engine and the head brakeman of Train 78 were injured. The accident report does not say what each train was carrying, but we assume the west-bound carried coal and the east-bound train had empty cars.

The wreck was spectacular with a number of cars derailed and left helter-skelter on and besides the tracks. Local people trekked out to see the sight. Among them was Edward Dorrier, who took his camera and provided us with these photos. his daughter, Irene Dorrier, donated the photos to Scottsville Museum.

Copyright © 2022 by Scottsville Museum

First Image of 1935 Train Wreck Located On: Capturing Our Heritage, CDIED01
IED01.tif
IED01.jpg
IED01.psd

Second Image 1935 Train Wreck Located On: Capturing Our Heritage, CDIED01
IED02.tif
IED02.jpg
IED02.psd

ThirdImage of 1935 Train Wreck Located On: Capturing Our Heritage, CDIED01
IED03.tif
IED03.jpg
IED03.psd