Name: Scottsville High School Class of 1959
Date: 1959
Image Number: Scottsville High School Scotty, 1959
Comments: Shown above are the following members of Scottsville High School (SHS) Class of 1959:
Front Row (L to R) Roland Leap; Donald Sandridge; Joyce Currier; and Phyllis Goode.
Center Row (L to R): William Foster; William McDearmon; William Pitts; and Joyceann Brooks.
Back Row (L to R): Arnold Palmer; Joseph Smith; and Eugene Harding.

Scottsville Commencement Is Scheduled For Friday; Awards Are Announced
The Scottsville Sun, 04 June 1959
Commencement exercises will be held in the new auditorium tomorrow night, 05 June 1959, at 8 pm.
H. H. Walker, mathematics instructor at Lane High School, Charlottesville, will be the commencement speaker.
Diplomas will be awarded by Forest E. Paulett, Scottsville District member of the Albemarle County School Board.
Roland Franklin Leap will deliver the valedictory address and William Arthur McDearmon will be salutatorian.
William Robert Pitts, son of Mr. and Mrs. Robert Pitts, received the United States Rubber Company scholarship tonight at Class Night exercises for Scottsville High School's graduating class. The award was made by the local plant manager, Donald Carroll.
The annual William Day Smith award, given to both an outstanding student and teacher, was won by Mrs. Leslie H. Allison, government and biology teacher, and Joyceann Brooks. The award was given by the high school principal, T.A. Allison.
Mr. Allison also awarded the prize for FFA Chapter Star Farmer to Roland Leap, the prize in agriculture to Frank Pierce, and the medals to the Valedictorian and Salutatorian, Roland Leap and William A. McDearmon, Jr.
Other prizes for excellence in subjects were given as follows: Mathematics, Sawrie Carroll; English, Donald Sandridge; Latin, Sawrie Carroll; Shorthand, Janice Mundy; Typewriting, Joyceann Brooks; and French, Norman Fitzgerald.
William Pitts, class president, presented the class gift.
The Class Will was read by Joyceann Brooks and the Class History by Phyllis Goode.
Joyce Currier gave the Class Prophecy.

Following are the Senior portraits for the Scottsville High School Class of 1959:
| | | |
| --- | --- | --- |
| | | |
| Percy Beverley | Joyceann Brooks | Joyce Currier |
| | | |
| --- | --- | --- |
| | | |
| William Foster | Phyllis Goode | Eugene Harding |
| | | |
| --- | --- | --- |
| | | |
| Judith Herndon | Roland Leap | William McDearmon |
| | | | |
| --- | --- | --- | --- |
| | | | |
| Arnold Palmer | William Pitts | Donald Sandridge | Joseph Smith |

The 1959 Senior Class Officers are shown in the photo below: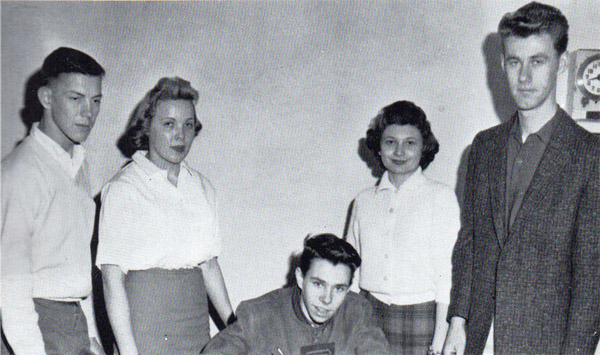 (L to R): William Foster, Vice President; Joyce Currier, Reporter; William Pitts, President;
Phyllis Goode, Secretary; and Joseph Smith, Treasurer.

Copyright © 2018 by Scottsville Museum

All Images Located On: Capturing Our Heritage, 1959 Scottsville HS Scotty