Name: William Robert Pitts, Sr.

Date: ca. 1935

Image Number: RS12ccdRS02

Comments: William Robert Pitts, Sr., (shown above in 1935), was born on July 17, 1908, in Fine Creek Mills, Powhatan County, Virginia, and was the son of William Patteson Pitts and Bettie Frances (Pearce) Pitts. By 1915, William Patteson Pitts and Bettie Pitts had moved their family to Scottsville where their son, William Robert Pitts, attended school in Scottsville and graduated from Scottsville High School in 1927.

William Robert Pitts, Sr., married first, Ruth Morton Kent on June 12, 1934; Ruth was born August 27, 1910. They were the parents of two sons, Edward Patteson "Pat" Pitts (b. April 11, 1946, VA) and William "Billy" Robert Pitts, Jr. (b. May 25, 1941, VA). Ruth passed away on Oct. 16, 1965, and is buried at the Scottsville Baptist Church Cemetery.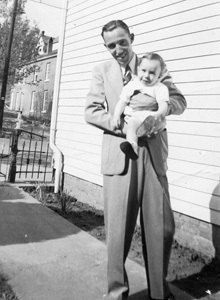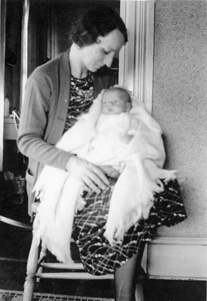 William Robert Pitts, Sr. (left) and his wife, Ruth (right),
pose for photos with their first son, William "Billy" Robert
Pitts, Jr., at their home in Scottsville ca. 1941.
Robert Spencer Collection, Scottsville Museum
William Robert Pitts, Sr., married secondly Willie Edmonia Moon Duncan on October 20, 1969, in Henrico County, VA. Willie was born on November 19, 1911, and was a widow living in Scottsville when she met and married Mr. Pitts. William Robert PiItts, Sr., passed away on October 24, 1979, in Charlottesville, VA, and is buried at the Scottsville Baptist Church Cemetery. See the gravestones of William Robert Pitts, Sr., and Ruth Pitts below: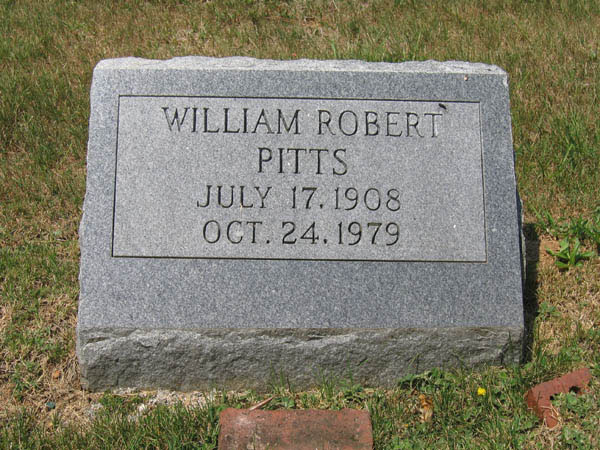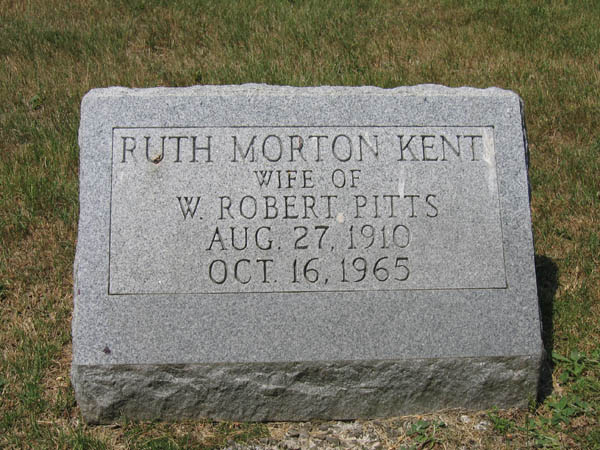 William Robert Pitts, Sr., was very active in the Scottsville community. He operated a successful grocery store, Pitts Market on Main Street from 1937 until 1962 when the store went out of business. Their son, Pat Pitts, said that this store area of this L-shaped building (at the left of the building in below 2021 photo) was part of a four-over-four house plan so prevalent at the time of its construction. There were four rooms on each floor with a long hallway down the middle and a bathroom at the end of each hallway. One of these rooms on the first floor at the left of the building housed the grocery store, and Pat estimated this store area was about 20 feet wide by 35 feet in length. Groceries could be, and were, ordered over the phone (on a desk inside the store) and were delivered to your home by someone from the store.
The Pitts family lived in the four-over-four house behind the front porch of this L-shaped building, as seen in this 2021 photo below, and in other rooms above and on the same floor as the store at left in this photo.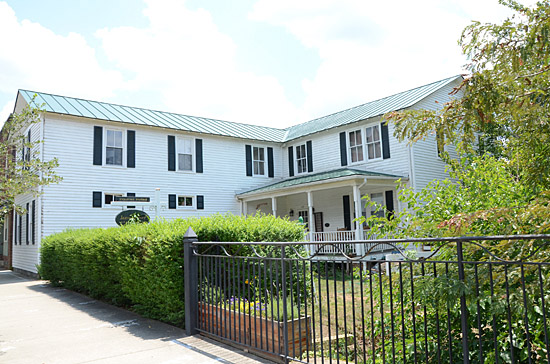 The former Pitts Market Building with the market at left and the Pitts family home behind the porch
at right.
Connie Geary Collection
, Scottsville Museum.
After the store went out of business in 1962, that section of the Pitts property remained vacant until the Flood of 1972. The entire property remained in the Pitts family and was remodeled into three apartments and an office space at that time. The Pitts family sold this property in the mid-1980's, and it has been apartments known as the James River Apartments ever since.
Besides managing a grocery store, William Robert Pitts, Sr., was also successful and busy with real estate business (he got his real estate broker's license in 1945 and worked full time in real estate), political, civic (for 33 years he worked as a Scottsville councilman and served two terms as Mayor of Scottsville), and church activities in Scottsville. Thanks to Mr. Pitt's son, Pat Pitts, who provided us with a copy of the following article that appeared in the Richmond Times Dispatch in 1946, we are able to learn more about his father's busy life:

Troubled by Time on Your Hands?
Scottsville Man Has a Cure for You!
Richmond Times Dispatch, 1946
By John Grave
Scottsville, Nov. 20 - William Robert PItts has developed a sure cure for worrying about what to do with spare time---just don't have any.
Pitts, a sapling-thin party with a quick step and a quicker smile, is a man of many jobs.
He has eight, according to the last count. Besides operating a grocery store, he has developed a successful real estate business and has found time for political, civic and church activities. He is Scottsville's Mayor, President of the town council, President of the Lions Club, member of the local Boy Scouts committee, a deacon in the Scottsville Baptist Church and secretary of the Sunday school.
Pitts didn't exactly get all of his jobs by going out and looking for them. With him, it was more a case of the jobs finding the man. Take politics, for instance. In 1938, he left Scottsville to go hunting with some friends,and came home to find himself a town councilman.
"While I was away," he recalls, "my mother wrote me and told me I would be a councilman when I got back. Seems that one of the members had resigned, and the council had appointed me to fill the term."
Scottsville citizens must have known a good man when they saw one. Pitts ran for election to the council in 1939, and has done so every two years since. Each time he has led the regular ticket in vote-getting.
Pitts became Mayor about the same time he first became councilman. Almost on the eve of the town's election last Spring, Mayor Thomas E. Bruce announced that he would not be able to run for re-election because of his health. Thus the regular ticket was left without a candidate for Mayor. Pitts was asked to run but declined. Finally a local merchant, Reeves Nicholas, consented to be a write-in candidate and was elected.
In September, the council held a meeting to install new officers, but Nicholas told the group apologetically, that he would not be able to serve as Mayor.
Pitts and other members of the council, foreseeing such a possibility, had talked privately with Bruce and were of the opinion that he would consent to remain Mayor under special appointment. Then Pitts was sworn in as council president, a job which also carries the title of Vice-Mayor. Next Bruce surprised the group by resigning as Mayor.
Lawyers were hastily consulted, and it was finally decided that Pitts, as council president, would have to become Scottsville's acting mayor. So the busy grocer wound up with the job wanted by nobody, including himself.
"That was the hottest meeting I ever saw," says Pitt with another smile. "Everyone kidded me about how I got to be mayor. But I'm it, and I guess I'll stay it until we can straighten the whole thing out somehow." Just when that will be hard to say.
Pitts never seems to let having so many different jobs get him down. "I have to sandwich one in with the other," he explains.
Without a little sandwiching he would hardly be able to maintain his schedule.
He opens the grocery store at 7 am each day, stays there until his wife and two clerks come in at 8. He then might spend the morning looking at timberland in Buckingham County. He's generally back in town in time to have lunch with Mrs. Pitts and the two boys at home, next door to the store. After dinner, he is off once again, perhaps to Albemarle County to inspect a farm with a prospective client. The store closes at 6 pm, but Pitts is frequently delivering groceries until 8 or 9 pm.
Almost every night of the week, he attends a political, civic, or church meeting. He maintains two offices, one in the store, one at home. Besides running the house, the family, and the grocery store, Mrs. Pitts finds time to be an efficient secretary.
In January, 1951, Pitts suffered a heart attack. "Since then I have been taking it easy," he says. There are those who might argue that point.
Pitt closes his store at noon on Wednesday and takes the afternoon off. His approach to hobby is about like his approach to business.
"We are really going duck hunting," he said then. "But I'm taking my fishing stuff just in case. You never can tell. I might clear up, and I'd hate to be without a pole if the fish start biting."

And here is a photo and description of William Robert Pitts' work on the Scottsville Town Council's clean-up week in Scottsville in April 1958. Thanks to Robert Spencer, Cenie Re Sturm, and Faye Shumaker for their assistance!
Scottsville Leaders Kick off Clean-up Week
It was April 1958, when George Omohundro and William Robert Pitts (see photo below), two members of Scottsville's Town Council, kicked off clean-up week in Scottsville. Standing with broom, paint brush, and smiles, these two leaders urged local citizens to clean up their yards and collect litter to improve the town's appearance and help with fire prevention. They also asked residents to clean out storage rooms and closets, use trash containers on town streets, and observe the town ordinance against dumping trash and garbage in Mink Creek. With that bit of spring cleaning, these Council members hoped to have the town looking at its best for Virginia State Garden Week and for the Christ Church tour of local homes and gardens.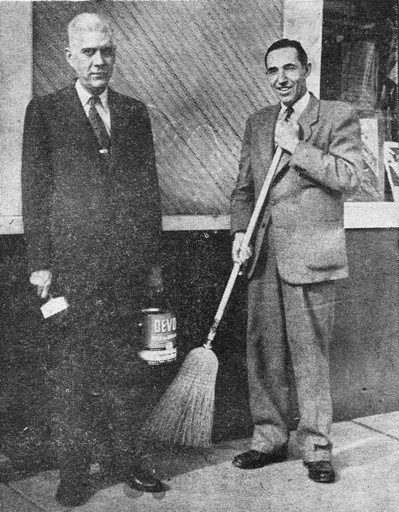 George Omohundro (right) and William Robert Pitts, Sr. (left) Lead Scottsville's Cleanup Week,
April 1958.
Photo courtesy of the Robert Spencer Collection, Scottsville Museum

Copyright © 2021 by Scottsville Museum

Top Image Located On: Capturing Our Heritage, CD RS02
RS12ccdRS02.tif
RS12ccdRS02.jpg
RS12ccdRS02.psd

Second Image Located On: Capturing Our Heritage, CDRS02
RS12acdRS02.tif
RS12acdRS02.jpg
RS12acdRS02.psd

Third Image Located On: Capturing Our Heritage, CD RS02
RS12bcdRS02.tif
RS11bcdRS02.jpg
RS11bcdRS02.psd

Fourth Image Located On: Capturing Our Heritage, CD CG2021
CG24cdCG2021.tif
CG24cdCG2021.jpg
CG24cdCG2021.psd

Fifth Image Located On: Capturing Our Heritage, CD CG2021
CG22cdCG2021.tif
CG22cdCG2021.jpg
CG22cdCG2021.psd

Sixth Image Located On: Capturing Our Heritage, CD CG2021
CG23cdCG2021.tif
CG23cdCG2021.jpg
CG23cdCG2021.psd

Seventh Image Located On: Capturing Our Heritage, CD RS06
RS28cdRS06.tif
RS28cdRS06.jpg
RS28cdRS06.psd