Name: Marguerite Patteson Spencer

Date: 1978

Image Number: CRMS01cdCRMS06

Comments: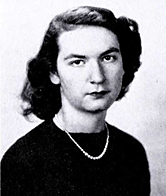 Marguerite Leah Patteson was born on February 5, 1930, at the Ransoms in Buckingham County, VA. and was the daughter of Luther W. and Ethleen (Maxey) Patteson. Marguerite graduated from Buckingham Central High School in 1946; see her Buckingham Central High School 'Buccaneer' yearbook photo at right. Marguerite began working at W.F. Paulette and Sons, a hardware store in Scottsville, at the age of 17. She was employed for many years as clerk and bookkeeper at W.F. Paulett and Sons. Marguerite married Samuel Ayers Spencer, Jr, on April 17, 1954, at the Sharon Baptist Church in Wealthia, Buckingham Co., VA. Cynthia Patteson, Marguerite's sister, was her maid of honor, and Haden B. Anderson of Scottsville, was Samuel's best man. Marguerite (Patteson) Spencer and Samuel Spencer lived a long and productive life in Scottsville.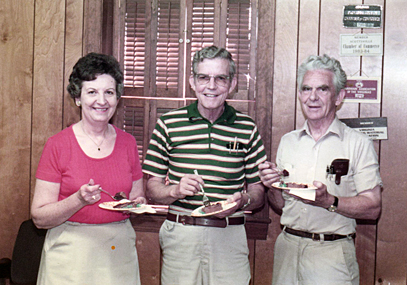 Marguerite Spencer, Wilson Dansey, and Haden Anderson (L to R) in 1984


In 1964, Forest Paulett eventually sold the Paulett store to Marguerite, Haden Anderson, and Wilson Dansey, who were recognized as very dedicated employees of his store. Marguerite (shown above), Haden, and Wilson continued their ownership of this store until 1984, when they sold it to George D. and George H. Hooper, who later partnered with Ace Hardware Corporation in 1986.&nbsp When Marguerite retired from W.F. Paulett and Son, she continued to support Sharon Baptist Church, where she served as trustee and Sunday School teacher. Marguerite also was a devoted member and volunteer at Scottsville Museum.

On October 10, 2020, Marguerite passed away and was buried beside her husband, Samuel Ayers Spencer, Jr. (1916-2012), at Scottsville Cemetery. She is survived by her sister, Cynthia Douglas (Bobby) of Mississippi; her niece and caregiver, Sherri Patteson Ryan (Bill) of Richmond; niece, Susan McCall (Andy) of Birmingham; nephews, Luther Willard Patteson, Jr. (Julie) of Kansas, Stephen Patteson (Candace) of New York, Bobby Douglas, Jr. (Christie) of Tennessee, and Caleb Douglas (Penny) of Tennessee; great-nieces, Leah Ryan Moser (Mike), Hannah and Emily McCall, Ella, Eden, Posey, and Poppy Douglas, Maddison Douglas, Coonrod (Spencer), and Mary-Margaret Douglas Walley (Evan); great-nephews, Colin and Ian Patteson; and great-great-niece, Skylar Ryan.




Following are fond memories of Marguerite Spencer as provided by Cenie Re Sturm, currently the assistant manager of Scottsville's W.F. Paulette Ace Hardware in October 2020:

"Longtime W. F. Paulett customers: I wanted you to know that one of our former owners has died. Many of you will remember Marguerite Spencer. She worked here for many years as the bookkeeper and clerk. When Mr. Paulett decided to sell the business, Marguerite was one of three employees, who purchased it. They were owners until 1984, and then they retired, selling the store to George D. and George H. Hooper."

"Marguerite was a big part of the Scottsville Chamber of Commerce. I remember her working on the beautification of the town, especially the entrances to Scottsville, and, of course, the sign and planting nearby the Paulett store. Marguerite, working with the Scottsville Chamber of Commerce, was very involved with getting the annual Scottsville Area Guide published. She was very dedicated in checking and double-checking phone numbers with the names."

"Her health started declining, and so she moved to Richmond to be closer to her nieces and their families. She was missed in Scottsville, but not forgotten. When Marguerite moved, she gave me a box of her recipes and several of her cook books. I have used them many times and always thought fondly of her."

"Scottsville is fortunate to have had her in our lives! R.I.P., Marguerite!"





Copyright © 2020 by Scottsville Museum

First Image Located On: Capturing Our Heritage, CD CRMS06
CRMS01cdCRMS06.tif
CRMS01cdCRMS06.jpg
CRMS01cdCRMS06.psd

Second Image Located On: Buccaneer, 1946 yearbook, Buckingham Central High School, Buckingham, VA

Third Image Located On: Capturing Our Heritage, CD CRMS06
CRMS01cdCRMS06.tif
CRMS01cdCRMS06.jpg
CRMS01cdCRMS06.psd



References:
1. Virginia Department of Health, Richmond, VA, Virginia Births, 1864-2018, Certificate No. 1930004446; Marguerite Leah Patteson
2. Buccaneer, 1946, Yearbook of Buckingham Central High School, Buckingham, Virginia
3. Virginia Department of Health, Richmond, Virginia; Virginia, Marriages, 1936-2014; Roll: 101169003; Marriage Certificate 1954009006; Margaret Leah Patteson and Samuel Ayres Spencer.
4. "Miss Patteson, S.A. Spencer, Jr. Wed Yesterday", Times Dispatch, Richmond, VA, 18 Apr. 1954.
5. "Obituary, Marguerite Patteson Spencer", Daily Progress, Charlottesville, VA, 10 October 2020.
6. Gravestone for Marguerite Spencer, Death Date: 10 Oct. 2020; Death place: Virginia, USA; Cemetery: Scottsville Cemetery, Scottsville, Albemarle County, VA; Find a Grave: http://www.findagrave.com/cgi-bin/fg.cgi .
7. Cenie Re Sturm, Scottsville, VA.