Name: Joshua Fry, 1699-1754
Date: September 2014
Image Number: CG2019_4379
Comments: Shown above is Joshua Fry, portrayed by Kit Decker, as he walked up the Scottsville Museum stairs with a colonial woman, reenacted by Miranda Burnett, during Scottsville's Community Day in September 2014. We offer here the text from the speech given by the inimitable Kit Decker, playing the role of Joshua Fry (1699-1754), who became the partner of Peter Jefferson (1708-1757) in Albemarle map making."
"Mr. Fry speaks: "Ladies and gentlemen, I bid ye a warm welcome to Scott's Landing this chill autumn of the year of our Lord seventeen hundred and forty-five, and I beseech your forbearance of the parious and muddy condition of our roads.&nbsp I trust you have found tolerable accommodation at the ordinary, passable victuals at the tavern (and perhaps some small beer at the new brewery) as you conduct your business here in the county seat of newly founded Albemarle; should you find their charges less than just, be assured that it will be the work of my court to determine a fair price of lodging and diet."
"If you will permit me a brief introduction:&nbsp I am Joshua Fry, native of Somerset, England, an Oxford man, and erstwhile professor of natural philosophy of William and Mary College.&nbsp I have the honour to serve as Chief Magistrate, Lieutenant of the County, and Commander of the Plantations; I will be the Presiding Justice on the bench for our eminent Court if it is matters legal that brings you here; I do apologize for we have but a temporary courthouse at Valmont on the property of the late Edward Scott, that sits above the ravages of the Flooding Fluvanna (as the James is known upriver of Columbia) with a commanding view of our notable Horseshoe Bend."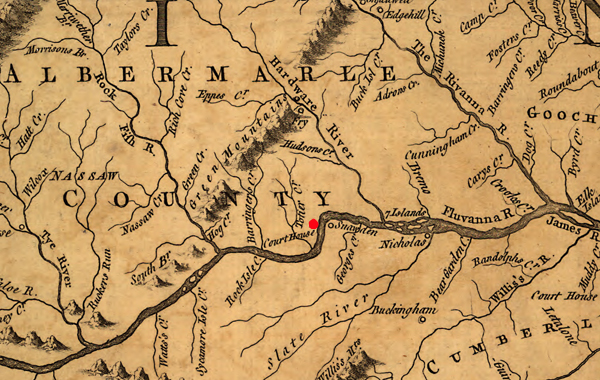 Shown above is part of the Albemarle portion of the Fry-Jefferson Map of Virginia in 1751. The red spot on the map's horseshoe bend of the Fluvanna River (now James River) was the location of the temporary Albemarle Courthouse built ca. 1745 on a high hill on Scott family property that overlooked the river.&nbsp The Albemarle County seat was moved north to Charlottesville in 1762.

"Furthermore, I hold the title of Chief Surveyor, and I seek yeomen such as yourselves to assist in the work of mapping and measuring the crown's American possessions.&nbsp On that same note, it is urgent that weights, scales, and measures be procured for the county, that our tobacco and other goods may be fairly weighed, and note you well that tobacco is as good a tender as gold coin in Virginia.&nbsp I do advise a relaxing draw of fine Orinoco or sweet-scented for which I myself have a particular weakness."

"I serve as Colonel of the Militia, and as such, I require a few stout fellows who know these woods and can carry a flintlock, and a goodly supply of shot and power.&nbsp The Monacan have withdrawn from these parts but their Confederacy does not hold steady, and they are much given to pestersome migration through our territories; of greater concern yet are the unpacified and perilous lands beyond the Shenandoah and the infringements of the French colonists who are forever threatening mischief to the north.&nbsp In such trying circumstances, 'tis a great comfort to have as my second officer a young whippersnapper by the name of George Washington; mark you well that name for it is my fancy that he shall prosper greatly."

"Our most pressing task is to run the dividing line that will demarcate our new boundary with Goochland; and thence there will be estates to settle, a prison with stocks, and a whipping post to be erected, and with all haste we must establish a handsome courthouse of fitting dimensions, built of brick hewn from this fine red Albemarle clay.&nbsp Perhaps there is among your company a master carpenter, a mason, or a cooper willing to aid us?"

"I am determined Albemarle shall have the finest in communications and transport; thus we are sore in need of a blacksmith and a wheelwright, if any of you good folks wish to ply your trade hereabouts; we will gladly employ a ferryman and all those willing and able to load flatboats with horses and chattels to be sold upriver.&nbsp Should finance be your craft, then there are tithables to be counted and taxes collected for the support of the Established Church of St. Anne's parish, and for those marksmen among you, there is a generous bounty on wolves, bears, and wildcats."

"As for myself, I have a patent on some 800 acres to the north of here at Viewmont; many of those acres I have under tobacco and corn, as we seek to carve out productive farms from the wildness of Virginia; I do invite you to pay a social call to my wife, Mary, and my five children -- ham, venison, and a wealthy measure of rum punch await all honest visitors."

"So, ladies and gentlemen, there await great labor, profit aplenty, and no small adventure should you choose to commit your futures to the noble enterprise of the County of Albemarle."

"God keep you, and God save King George!" (At this point, Kit attempted to get his audience to shout, "God save the King!" with mixed results.)

Following is more on Joshua Fry from Albemarle Adventurers at http://www2.vcdh.virginia.edu/lewisandclark/students/projects/adventurers/frybio.html:
Joshua Fry was born ca. 1700 in Somerset, England.&nbsp As a young man, Joshua emigrated from England to Essex County, Virginia.&nbsp He started a boy's grammar school attached to the College of William and Mary and later chaired the college's Math Department and also served as a professor of natural philosophy.&nbsp Like many young men of colonial Virginia, Joshua made a fortune through his marriage to Mary Micou Hill in 1736, the widow of a wealthy plantation owner from Spotsylvania County.&nbsp He gathered further prominence serving as a member of the House of Burgesses, and as a justice of the peace for Essex County.
In 1743-1744, Joshua moved his family (including his 5 children: John, Henry, Martha, William, and Margaret Fry) to one of the westernmost reaches of the Virginia settlement.&nbsp He hoped to take advantage of unpatented lands, and surveying opportunities in the area.&nbsp When Albemarle County was founded the following year, Joshua was named chief surveyor, responsible for finalizing claims on tracts of land throughout the county.&nbsp Beginning in 1746, Joshua was assisted throughout his work by his close friend, Peter Jefferson, father of Thomas Jefferson. Their bonds of friendship tied them until death. Fry willed his surveying instruments to the elder Jefferson, who was also the executor of his will. Fry also acted as a Justice of the Peace in Albemarle, often making decisions on minor cases from his home, Viewmont, an 800 acre plantation bordering the Hardware River.
Like many early settlers, Joshua Fry was an extensive land holder. He did little farming, but earned a living through surveying and selling lands. The most lasting contribution Fry made to later generations was his maps, documenting with great accuracy, areas never charted before. He was valued for his cartographic skills, and Virginia turned to Fry and Jefferson for later projects such as the Fry-Jefferson Map depicting Virginia and Maryland. This map was unique for its time because it was completed from actual surveying records, and would therefore be useful to following generations.
Joshua Fry was also known as a capable soldier and leader. Joshua had commanded Albemarle's militia since its founding in 1745, and nine years later at the start of the Seven Year's War, Joshua was named head of the Virginia Regiment. En route to Fort Monongahela, Colonel Joshua Fry fell from his horse and died from his injuries on 31 May 1754, thus leaving the young George Washington in command for the duration of the war.

Copyright © 2020 by Scottsville Museum

Top Image Located On: Capturing Our Heritage, CD CG2019, Photographer: Connie Geary
CG2019_4379.tif
CG2019_4379.jpg
CG2019_4379.psd

Second Image Located On: Library of Congress, LOC_G3880, 1755 Fry Jefferson Map of Virginia

References:
1. Joshua Fry, Albemarle Adventurers, see: http://www2.vcdh.virginia.edu/lewisandclark/students/projects/adventurers/frybio.html

2. Joshua Fry and Peter Jefferson, A Map of the most Inhabited part of Virginia. Thomas Jefferys, engraver, London, 1755. https://edu.lva.virginia.gov/dbva/items/show/59