Name: Edward Dorrier
Date: ca. 1908
Image Number: M05cdKM01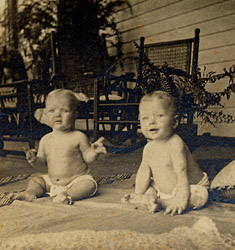 Comments: Born in 1906 Edward Dorrier was the son of Walter and Cornelia (Burgess) Dorrier. The above photo was taken at Idylwood Studio by William Burgess, his uncle, when Edward was 19 months old. Because of the close proximity in their birthdates, Edward was a frequent playmate of his cousin, Katherine Elizabeth Pitts, pictured here in this 1907 stereoscopic card on Belle Haven's front porch.

Edward Dorrier married Hazel Clevinger, a teacher at Scottsville High School, and they became the parents of a daughter, Irene Dorrier.

These photographs are part of the Kathleen (Phillips) McNamara collection. Kathleen resides in Scottsville and is the granddaughter of Captain John Lee Pitts and Helen Amanda (Burgess) Pitts. Kathleen's mother is Katherine Elizabeth (Pitts) Phillips.
Copyright © 2018 by Scottsville Museum

Top Image Located On: Capturing Our Heritage, CD KM01
M05cdKM01.tif
M05cdKM01.jpg
M05cdKM01.psd

Right Image Located On: Capturing Our Heritage, CD KM01
M13acdKM01.tif
M13acdKM01.jpg
M13acdKM01.psd