Name: Lindsey and Dorothy Wood
Date: ca. 1920
Image Number: DW01cdDW01
Comments: Pictured at Idylwood Studio are Lindsey Mason Wood and his sister, Dorothy Beatrice Wood. They are the children of John Wesley and Florence (Johnson) Wood, who lived on a small farm east of Scottsville on Beals Lane.
Lindsey Mason Wood was born on September 26, 1915, on the Wood farm on Beals Lane. He married his wife, Beatrice Lucas, on April 6, 1937. Lindsey Wood died on March 2, 1990, and is buried in the Union Baptist Church cemetery in Scottsville, Virginia.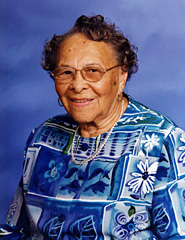 Dorothy Beatrice Wood was born May 9, 1917, on the Wood home place near Beals Lane. Dorothy married Fitzhugh Woody in 1936; they became the parents of six children. In 1965, Dorothy Woody graduated from the University of Virginia as a Licensed Practical Nurse. She is shown at right in a photo taken in December 2000. Her husband, Fitzhugh, was born on September 26, 1915, and died on March 2, 1990; he is buried at Union Baptist Church cemetery in Scottsville.
These photos are part of the Dorothy Beatrice Woody collection. Dorothy resided in Scottsville and was the daughter of John Wesley and Florence (Johnson) Wood.
On 20 April 2015, Dorothy passed away at her Scottsville home, and she is buried at her Union Baptist Church in Scottsville. Following is the obituary for Dorothy as written in the Charlottesville Daily Progress on 23 April 2015:

Woody, Dorothy W.
Dorothy Beatrice (Wood) Woody, 97, of Scottsville, passed away peacefully on Monday morning, April 20, 2015, at her home. She was born on May 9, 1917, in Scottsville, a daughter of the late John Wesley and Florence (Johnson) Wood. In addition to her parents, she was preceded in death by her husband, Fitzhugh Woody; a son, Fitzhugh McCoy Woody; a brother, Lindsey Wood; a grandson, Thomas John Woody; a great-grandson; and a great-great-grandson. Mrs. Woody worked at the University of Virginia Hospital as an LPN for a number of years. She was a member of the Union Baptist Church in Scottsville where she served as the Church Clerk, was a member of the Choir, and served on the Usher and Missionary Boards. She was active in the Scottsville Community, serving as a volunteer for JABA at the Scottsville Senior Center and as a volunteer at the Scottsville Museum. She also enjoyed sewing, knitting, quilting, gardening, and canning. Survivors include five children, Robert Woody of Norfolk, VA; Shirley Washington of Richmond, VA; Neil Woody and wife, Denise, of Hopewell, VA; Florence Harrison and husband, Glenn, of Milford, Massachusetts; and Charlotte Woody Purnell and husband, James of North Chesterfield, VA; nine grandchildren; nine great-grandchildren; nine great-great-grandchildren; and a host of extended family and friends. A funeral service will be conducted at 2:00 p.m., Saturday, April 25, 2015, at Union Baptist Church by the Reverend Sheldon Paige and the Reverend Curtis Hedgeman. Internment will follow in the church cemetery. Friends may pay their respects at any time between the hours of 10:00 a.m. and 6:00 p.m. on Friday, April 24, 2015, at Thacker Brothers Scottsville Funeral Home and again on Saturday beginning at 1:00 p.m. until service time at Union Baptist Church.
In lieu of flowers, memorial contributions may be made to the Scottsville Volunteer Fire Department, P.O. Box 381, Scottsville, VA 24590 or to the Scottsville Volunteer Rescue Squad, P.O. Box 550, Scottsville, VA 24590. Family and friends may share memories and photos at www.thackerbrothers.com.

Following is an article about Dorothy and her tireless work ethic, friendship, and direct, honest character. This article was authored by Ruth Klippstein and published in the 22 May 2015 edition of The Scottsville Monthly:

An Appreciation: The Humor, Spunk, and Independence of Dorothy Woody
by Ruth Klippstein
Dorothy Woody was buried Saturday, April 25, 2015, at the Union Baptist Church on Hardware Street in Scottsville. Under showery skies, the church rang with song and praise in a Homecoming Celebration for this long-time member of the Scottsville community. "Anything they said about her in the eulogy," friend and former neighbor Gene Harding said, "was true."
Dorothy, in her 97 years, gained friends and admiration from a wide circle for her tireless work and direct, honest character. She was, most recently, a volunteer for JABA at the Scottsville Senior Center, a member of Southside Fellowship, Union Baptist Church clerk and choir member, deaconess and member of the usher and missionary boards. She volunteered at the Scottsville Museum, and in 2002 produced an oral history of her parents, John Wesley Wood and Florence Johnson Wood, for the Museum's exhibition, Whispers from the Past.
Dorothy's father was born in Scottsville in 1889 and her mother, five years later; they married in 1915. Dorothy said, "We lived past the end of Beal's Lane in Fluvanna County, approximately a mile from the James River and three miles down the railroad track from Scottsville. Dad worked as a section hand on the C&O Railroad along the Nicholas Section of track just east of Scottsville. He worked a 40-hour week with a four-six man crew headed for many years by Charlie Shumaker, the section foreman. During the Depression, each crew member earned $3.26 a day, a substantial wage in those times. His section foreman regarded Dad as a highly competent worker, who took great pride in his work and did it well...He was a happy man, and I'll never forget his dry sense of humor. I can still hear his rich baritone voice, singing the old gospel songs that he dearly loved."
"The section crew daily inspected their six miles of track for defects, repaired it as needed, and cleared the right of way along both sides of the track with hand scythes. It was hard physical work with danger a constant companion. Before heading out to inspect the track, Mr. Shumaker first needed clearance from the Scottsville station master, Mr. Taylor. If the tracks were clear, Dad's crew set to work."
One day in 1936, on a day which started off like any other day, Mr. Taylor gave the 'all-clear' signal, and Dad's crew started to work. They loaded themselves and their tools on their motorcar and set off down the track. Frank Shumaker, the foreman's son, recalls the day well. He was standing at the rail crossing near home, watching the motorcar putt-putting down the track. Suddenly he heard the unmistakable throb of a steam engine barreling down the track right at them. Almost immediately, the section crew saw the train. Frank said that before he could do anything, the crew looked like jack rabbits jumping off the motor car. A second later, the train, with its emergency brakes squealing, slammed into the motorcar and threw tools clear into the old canal. Fortunately, no one was hurt but not a single man among the crew ever forgot the crash. A bag of chicken feed on the wrecked motorcar burst open in every direction. The next spring it grew up as volunteer corn to clearly mark the crash site. Thereafter, the section crew felt safer in a lever car.
When his shift on the railroad ended, Dad's daily farm work began. He owned a fine team of Virginia mules and raised corn on the low ground near our house. Two or three times during the summer, we would go out to help him pull weeds out of the corn, a job that we all worked at until it was done. Dad also raised hogs and chickens, a milk cow, and a large garden for our food; all extra food was shared with our neighbors. And Dad regularly used his mule team to help our neighbors thresh their wheat. He was rewarded for his help by being given some of the wheat, which he traded for barrels of flour at the Scottsville Flour Mill."
Dorothy's mother kept house and raised the three children. "She packed us up for the three-mile walk to school, which was located in a two-room building behind the Union Baptist Church above town (on Hardware Street). When school was out, we helped her tend the garden, and she canned its vegetables for our year-round use. On washday, my brother, Lindsey, and I carried buckets of water from the spring to our house for washing. Mom would boil our dirty clothes in a big iron wash pot with lye soap and then rinse and hang the clothes out to dry. Sometimes Mom did laundry for people in Scottsville and walked up the track to town with baskets of freshly-laundered clothes."
"All of our neighbors worked together at hog butchering and threshing time. Children ran to the spring to get drinking water, hams were salted down and cured hog fat was cooked down to make lard for biscuits and cooking, and neighbor women carried big dinners to the work site to share with all...On Sundays, Dad hooked the mules to our buggy, and we went to the Union Baptist Church above Scottsville. After church, we went home to eat dinner and then piled back in the buggy to go visit our neighbors. It was a hardworking but happy life in our neighborhood."
Dorothy married Fitzhugh Woody and had six children. Daughter Charlotte Woody Purnell recalls that when their father was ill and disabled, Dorothy had to support the family. She didn't have, however, a job that would provide sufficient money. Her son, Neil, told her about nursing classes being offered at Charlottesville's Burley High School. She had no way to get there."
Neil was driving a school bus; he suggested his mother get a similar position. When that happened, Dorothy was able to be assigned to the bus taking her daughter, Florence Ann, to Burley, the recently-assigned school for Albemarle blacks. In this way, she was able to get a year of classes and earn her L.P.N. Dorothy passed her state nursing boards and got a job at the University of Virginia hospital, where she worked for the duration of her career.
At home, Charlotte recalls, the two girls found that Dorothy's night shift assignments--by then she had use of the car--"complicated things." They came directly home from school, finished their homework, and cared for the house. Dorothy would have left supper; their father "watched over us," and always stayed up until Dorothy returned home. "Somehow, we managed."
A recent neighbor, Gloria Scharer recalled seeing Dorothy up on her roof, hammer in hand, when she was in her 80s. "She was anywhere and everywhere there was something to fix." Gloria also recalls Dorothy's renowned directness: "She would tell you what it was and how it was." Gloria fondly remembers making snow women with Dorothy and another neighbor in Dorothy's front yard one snowy winter.
Chris Wade says, "Forthright, that's what Dorothy was." He recalls her many acts of kindness, homemade soup she'd bring to the sick, her dedication to the local Martin Luther King, Jr., scholarship program and Race Unity Day. Chris recalls the 2010 Appreciation Day which Union Baptist Church held in Dorothy's honor, noting her many qualities and services; "You are special to us", their poster said.
At her Homecoming Celebration last month, the church was urged to be joyful: "She didn't want a dead funeral, but a spirit-filled service." Dorothy's sense of humor, her spunk, her independence was extolled. Her lead foot as a driver was mentioned. Her gentle but stern love for her children was recalled; her skills in the garden and kitchen, with sewing and home renovations, were mentioned. "She didn't sit down, she worked."
"It was a hardworking but happy life in our neighborhood," Dorothy wrote. Her own example will carry this on to her children, nine grandchildren, and nine great-great-grandchildren.

Following is an article about Dorothy's life in Scottsville which was authored by Evelyn Edson, President of Scottsville Museum, in July 2020 in her weekly history e-mail to our Museum fans:

Dorothy Woody's Scottsville
by Evelyn Edson
Two weeks ago, we took a stroll through Scottsville of the 1950's. Today we are going further back -- to the 1920's. Dorothy Beatrice (Wood) Woody (1917-2015) was a lifelong Scottsville resident. She grew up on the Fluvanna side of town, attended the school there, and was a devoted member of Union Baptist Church. Some years ago she wrote a memoir of Scottsville from which I quote in part:
"I remember at an early age (3-4 years) of coming to Scottsville. We either walked or used a horse and buggy or a wagon. In my early growing up years, I can remember a black church on the right side of the coin laundry. It was named Macedonia Baptist Church." She went on to name the owners of various houses in town, including one on Route 795 owned by Mrs. Alice Ross. "Mrs. Ross boarded the black school teachers that taught at the black school behind the Union Baptist Church. Their names were Miss Alice Asylle Minor and Mrs. Cora Wilson."
She also reminisced about town businesses, some of which were still there in the 1950's, such as Lee's Restaurant on Valley Street. "If you wanted anything to eat or drink, there was a door on the street marked 'colored.' You went in and down a hall to a room that was set up to serve you." At Bruce's Drug Store on the corner, "I can remember going in and buying a cone of ice cream and having to take it out on the street to eat it."
There were some black-owned businesses, including a general store operated by Leonard Lewis. He lived out of town and drove his horse and wagon to the store, "arriving early and leaving late." There was also a cleaning and pressing business, and a butcher shop, but the African-American population of Scottsville was already shrinking in her day, as many people joined the exodus to larger cities and to the north, fleeing the Jim Crow laws of the south, looking for more remunerative employment and better lives. In 1870, the African-American population of Scottsville was a majority with 175 white "heads of households" and 245 black and mulatto. By 1910, these figures were 56 and 10.
Dorothy Woody went back to school and trained as a nurse. She received her LPN degree in 1966 among the first graduating class of African American nurses, an accomplishment of which she was justifiably proud. She worked at the University of Virginia Hospital for 17 1/2 years. Dorothy was an active member of the Scottsville community and volunteered at the Scottsville Museum.

Following is what Gwynne Daye, a former President of Scottsville Museum, wrote on July 08, 2020 about Evelyn's article and about her own very positive memories of Dorothy Woody:
"Such a wonderful memory of a wonderful lady! I was so lucky to have had the opportunity to get to know Dorothy through the Museum. Dorothy was so proud of all of her children and grandchildren and had such a beautiful spirit and love of life. In her last years - she was still able to drive to to Richmond and very often I would run into her at the fabric stores in town...Dorothy always had a project. The Museum was so lucky to have had her volunteer to docent for all those years!"
Gwynne Daye

Copyright © 2020 by Scottsville Museum

Top Image Located On: Capturing Our Heritage, CD DW01
DW01cdDW01.tif
DW01cdDW01.jpg
DW01cdDW01.psd

Right Image Located On: Capturing Our Heritage, CD DW01
DW14cdDW01.tif
DW14cdDW01.jpg
DW14cdDW01.psd