Name: Isaac Anderson Moon
Date: ca. 1880
Image Number: CRMS03cdCRMS01
Comments: Isaac Anderson Moon was born in Albemarle County, Virginia, on May 13, 1836, and he was the sixth child of Edward Harris Moon (1805-1853) and Anna Maria (Barclay) Moon, who lived at Viewmont near Carter's Bridge. Isaac was the brother of Charlotte "Lottie" Moon and Edmonia Harris Moon, missionaries to China beginning in the 1870's. Another of his sisters, Orianna Moon, enrolled in the Female Medical College of Pennsylvania in 1854 and was awarded her Doctor of Medicine in 1857.
In 1857, Isaac married Margaret Elizabeth Jones (1838-1930); the wedding was conducted by Rev. P. C. Hoge. Isaac was an attorney of the Albemarle County Bar until he retired; Isaac passed away on November 01, 1906, in Crewe, Virginia; he is buried in the Crewe Cemetery, Nottaway Co., VA.
According to his widow's pension application in Nottaway County, VA, dated October 10, 1907, Isaac A. Moon served for Virginia in the Civil War and had previously received a pension for his Civil War service in Nottaway Co. prior to his death on November 01, 1906, in Crewe, Virginia. Margaret E. (Jones) Moon passed away on September 17, 1930, in Richmond, VA, and is buried beside her husband, Isaac, in the Crewe Cemetery; following are their gravestones: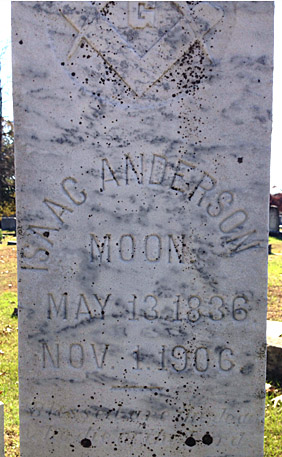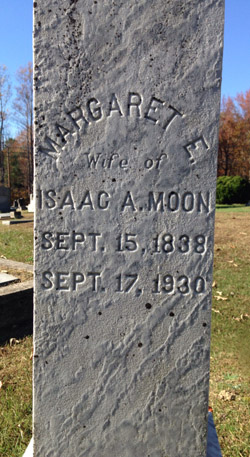 Copyright © 2018 by Scottsville Museum

Top Image Located On: Capturing Our Heritage, CD CRMS02
CRMS03cdCRMS01.tif
CRMS03cdCRMS01.jpg
CRMS03cdCRMS01.psd
This photo of Cary Ann (Coleman) Moon was provided courtesy of Cenie Re Sturm, Scottsville, VA.

Images of the Gravestones of Isaac A. Moon and Margaret E. Moon at the Crewe Cemetery are located on the FindaGrave website at:
https://www.findagrave.com/memorial/16908339/isaac-anderson-moon
https://www.findagrave.com/memorial/16908396/margaret-elizabeth-moon


References:
1. Sketches of The Moon and Barclay Families Including the Harris, Moorman, Johnson, Appling Families compiled by Anna Mary Moon, Chattanooga, Tennessee, November, 1938; p. 45.
2. Alabama, Texas, and Virginia Confederate Pension Applications, 1899-1975. Vol. 1–646 and 1–283. Ancestry.com: Alabama, Texas and Virginia, Confederate Pensions, 1884-1958 [database on-line]; Provo, UT, USA: Ancestry.com Operations, Inc., 2010.