Name: Dr. Charles Luther Fry, Sr.

Date: 2002

Image Number: CF02cdCF01

Comments: Charles Luther Fry, II, was born on 08 March 1932 in New York City, NY, and was the son of Charles Luther Fry, Sr (1894-1938) and Marion Boyd Warren (1898-1985). Charlie graduated from Haverford College, NY, with a major in philosophy, and then in 1954, he was drafted into the U.S. Army. He completed a two-year tour of Army duty in Europe before retiring as a Specialist 4 in 1956. Upon return to the civilian life, Charlie did his graduate training in developmental psychology and obtained his PhD from the University of Rochester in 1962. Charlie accepted a position at the University of Virginia (UVA) in its Department of Psychology in 1962 and taught psychology at UVA for the next 36 years.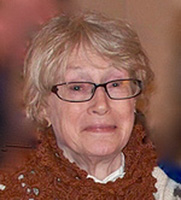 Charlie married Patricia Lloyd (Bergen) Armstrong on June 21, 1975, in Albemarle County, VA. Pat was born on 15 September 1932 in Scottsville and was the daughter of Lloyd V. Bergen and Bessie (Conklin) Bergen of Scottsville; Pat also attended Scottsville High School, After their wedding, Charlie and Pat lived on Mountain Vista Road in Scottsville, VA. Charlie retired as an Associate Professor at UVA in 1997. His love of teaching and learning did not stop with his retirement, and he soon became a Trustee of Scottsville Museum and at Pine Knot, President Theodore Roosevelt's getaway cottage near Keene, VA.

Charlie was an early supporter of computerizing Scottsville Museum and chaired its Education Committee from 1999-2009. He formed a brilliant partnership with Dr. Phyllis Leffler and UVA's Department of History that married the talents and creativity of UVA's student interns with interesting historical projects developing at the Scottsville Museum. The Museum benefitted greatly from Charlie's abilities to define internships that attracted over 150 highly skilled and motivated students. Among the major education milestones met by our UVA interns include development of our most successful 'Museum in a Trunk', recording over 150 oral history interviews, photographing the gravestone inscriptions of 9 local cemeteries, and developing new exhibits.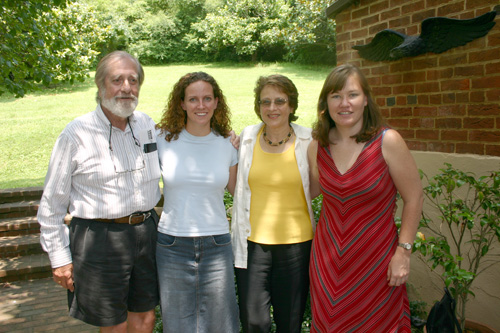 (L to R) Dr. Charles Luther Fry, IPH Intern Jessica Koepfler, Dr. Phyllis Leffler, and IPH
Intern Emily Kane posed for a photo after meeting at the Museum to discuss their
Summer 2004 internship progress.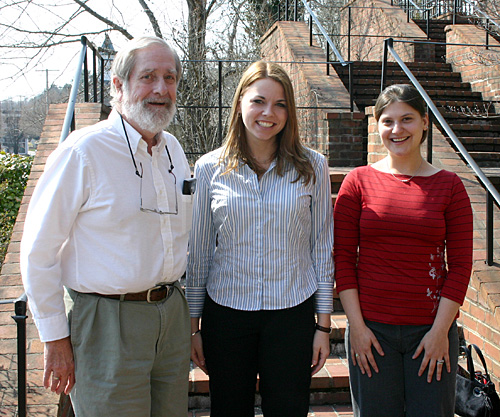 (L to R) Dr. Charles Fry and our Summer 2005 IPH interns, Anna Rakes and Angela

Nemecek, are shown standing on the Museum's front steps after meeting to discuss

their success in achieving the goals of their Museum internships.


On 3 November 2009, Charles Luther Fry, II, passed away at his Scottsville home following a long illness. Scottsville Museum was blessed to have Charlie's vision and dedication devoted to the Scottsville Museum's program for over a decade. Pat Fry passed away at her Scottsville home on Mountain Vista Road on 01 June 2012, and both Charlie and Pat are buried at the Christ Church cemetery on 900 Glendower Rd., Scottsville, VA.

To learn more about Charles Luther Fry, his family, and his many accomplishments, please read his obituary below which was published in the Charlottesville Daily Progress on 7 November 2009.



OBITUARY:
Charles Luther Fry, Jr.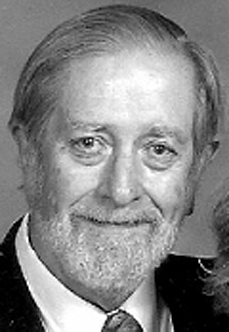 Charles Luther Fry, Jr., 77, of Scottsville, died Tuesday, November 3, 2009, at his home following a long illness.

He was born in New York City at the Sloan Hospital on March 8, 1932.

His childhood was spent in Rochester, New York, where from September through May, he attended the Harley Day School, graduating in 1950. He summered with sailboat, Skillit on Waquoit Bay, Cape Cod, Massachusetts.

Charlie graduated from Haverford College in 1954 with a specialization in philosophy, and was then promptly drafted into Uncle Sam's Army. He retired as a Spec. 4 in 1956; the two years of his European tour of duty were spent guiding railroad cars around Austria and Italy.

Rather than pursuing a career in philosophy or railroading, he decided to enter the rapidly developing field of psychology. His graduate training in developmental psychology led to a PhD from the University of Rochester in 1962, under the direction of Dr. John Flavell. Charlie was an Acting Assistant Professor at the University of Rochester from 1961 until 1962.

He accepted a position at the University of Virginia where he taught for the next 36 years. The Department of Psychology was small when he joined it, consisting of seven hard science faculty members, who were teaching and researching in the areas of human and animal learning and behavior, sensory and perceptual abilities and statistics. Charlie continued teaching social psychology, developing classes in child development, and adolescent psychology, and later, courses in comparative primate psychology and primatology. He retired as an Associate Professor in 1997. For a period of time, he remained an active professor, teaching fourth-year seminars in primate psychology and the psychology of friendship.

During the early years of his career at the University of Virginia, the psychologists in the Commonwealth of Virginia felt it important to develop a Virginia Psychology Association in order to address such issues as licensures, i. e., who could "practice as a psychologist" in Virginia. In 1969-1970, Charles became president of the newly formed Virginia Psychology Association.

After retirement from the Psychology Department at the University of Virginia in 1997, Charlie found additional projects of interest. He continued to focus on primate development and its similarity to that of child development, particularly through adolescence.

Charlie also became a member of the Board of Directors at both Pine Knot and the Scottsville Museum. Pine Knot was a sparse and local retreat of President Theodore Roosevelt during his presidency. Both Pine Knot and the Scottsville Museum were in need of developing into a computerized world, and both were loaded with interesting historical topics for bright graduate and undergraduate students. With the help of Dr. Phyllis Leffler and the University of Virginia Department of History, he was able to bring together University of Virginia's summer internship program with interests developing in the Scottsville Museum.

Charlie was preceded in death by his son, Charles Luther Fry, III.

Survivors include his wife, Patricia Bergen Fry; a son, Gordon Fry, his wife, Mary; his mother, Terry Fry; a stepson, Charles Armstrong, and his wife, Kimberly; a stepdaughter, Kathleen Armstrong McCleskey, and her husband, Pierce; grandsons, Gordon L. Fry, and his wife, Anne, and Edward Fry; a sister, Clementine Fry Kennedy, and her husband, Bruce.

A funeral service will be conducted at 11 a. m. Tuesday, November 10, 2009, at Christ Episcopal Church in Glendower by the Reverend R. Ellen White, assisted by the Reverend Mac Gatch, with a reception following at the Parish Hall.

In lieu of flowers, the family requests that contributions be made to St. Anne's Parish, P.O. Box 337, Scottsville, VA24590.

Thacker Brothers Funeral Home in Scottsvile is handling the arrangements.




Sources:

1) Marriage of Charles L. Fry and Sarah H. Shrady, 14 Sep. 1957, Rochester, NY. New York State Department of Health, Albany, NY; New York State Marriage Index.

2) Commonwealth of Virginia - Report of Divorce, Charles L. Fry of Charlottesville, VA and Sarah Helen Shrady, Charlottesville, VA; Divorce granted on 18 June 1975 (date/place of marriage: 14 September 1957, New York City, NY). Source: Virginia Department of Health, Richmond, VA; Virginia Divorce Records, 1918-2014.

3) Marriage of Charles Luther Fry, Jr., and Patricia Lloyd (Bergen) Armstrong, 21 June 1975, Source: Virginia Department of Health, Richmond, VA; Virginia Marriages, 1936-2014; Roll: 101142412.

4) Charles Fry, U.S. Department of Veterans Affairs Beneficiary Identification Records Locator (BIRLS) Death File, 1850-2010.

5) Charles L. Fry, U.S. Social Security Death Index, 1935-2014. Social Security No 013-26-9477, born: 8 March 1932; death date: 3 Nov. 2009.

6) Charles Luther Fry, Jr., Biography & Genealogy Master Index (BGMI), Gale Research Company, Detroit, MI, 2009.

7) Patricia Lloyd Bergen Fry, Obituary, died: June 1, 2012, Scottsville, VA. Thacker Brothers Funeral Home, Obituary; www.thackerbrothers.com




Copyright © 2020 by Scottsville Museum

Top Image of Dr. Charles Luther Fry, II, Located On: Capturing Our Heritage, CDCF01
CF02CDCF01.tif
CF02CDCF01.jpg
CF02CDCF01.psd

Second Image of Patricia (Bergen) Fry, is contained in her obituary on Thacker Brothers Funeral Home, dated 1 June 2012.

Third Image of Charles Luther Fry, Jessica Koepfler, Dr. Phyllis Leffler, and Emily Kane in 2004,Located On: CG01cdCG2004

Fourth Image of Charles Luther Fry, Deanna Rakes, and Angela Nemeceke, dated March 2005, Located On: CG01cdCG2005

Fifth Image of Charles Luther Fry is contained in his obituary in the Charlottesville Daily Progress, dated 7 November 2009