Name: Arbutus May (Diehl) Thacker
Date: ca. 1950's
Image Number: RT41cdRT13
Comments: Scottsville Museum reports with sadness the passing of Arbutus May Thacker on Wednesday, 08 December 2021, at Martha Jefferson Hospital in Charlottesville, Virginia.
Arbutus was born on February 27, 1926, in Reedville, Virginia, a daughter of the late John and Annie (Wheatley) Deihi. For many years, Arbutus lived in Reedville, Richmond, and Scottsville, and worked as a hairdresser. She was a devoted wife of Arthur Raymon Thacker (1909-2016) and mother of Matthew Thacker.
In addition to her parents, Arbutus was preceded in death by her devoted husband of 56 years, Arthur Raymon Thacker; brothers, John, Einon, Emory, Robert, Allen, Kenneth, and Woodrow Deihl; and sistrs, Gladys Jett, Myrtle Deihl, Annie Evans, and Gertrude Lawrence.
Arbutus' husband, Raymon, was a funeral director in Scottsville and served for 30 years as Scottsville's Mayor. Shown below is a photo of Arbutus Thacker standing with her husband, Raymon, and their son, Matthew (left) and his wife, Donna (right), at the Virginia State Capitol Building in Richmond when Virginia Governor George Allen recognized July 1, 1996 as "A. Raymon Thacker Day" in the state!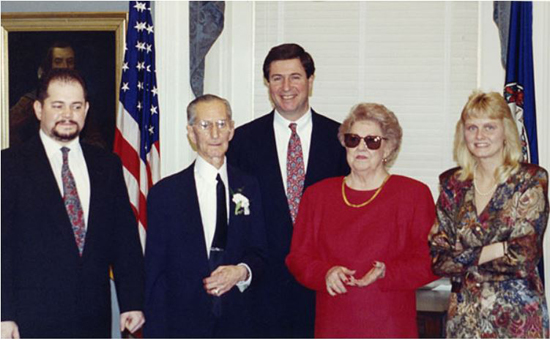 In above photo, Virginia Governor George Allen officially recognized July 1, 1996, as "A. Raymon Thacker Day" with a ceremony at the Virginia State Capitol Building. (L to R: Matthew Thacker, Raymon Thacker, Governor Allen, Arbutus Thacker, and Donna Thacker.

Survivors include Arbutus' son, Matthew Lewis Thacker (Donna) of Scottsville; a very special niece, Diane McVicker (John); great-nephew, Michael Kinsey, all of Alexandria, and a nephew, Woodrow Deihl, Jr., of Mississippi.

A funeral service for Arbutus Thacker was conducted at 3pm on Sunday, Decembrer 12, 2021, at Thacker Brothers Funeral Home by the Rev. Laura Stratton. Burial Services were held privately, and Arbutus was buried beside her husband, Raymon Thacker, at Scottsville Cemetery.

The obituary for Arbutus May (Deihl) Thacker was published by the Daily Progress, Charlottesville, VA, on 11 December 2021.

Copyright © 2021 by Scottsville Museum

Top Image Located On: Capturing Our Heritage, CD RT13
RT41cdRT13.tif
RT41cdRT13.jpg
RT41cdRT13.psd
This photo of Arbutus May (Diehl) Thacker was provided courtesy of A. Raymon Thacker, Scottsville, VA.

Viewmont Image Located On: Capturing Our Heritage, CD RT11
RT01cdRT11.tif
RT01cdRT11.jpg
RT01cdRT11.psd
This photo of Raymon Thacker and family attending the July 1, 1996 ceremony honoring "A. Raymon Thacker Day" and led by Governor Allen.