Name: Pine Knot
Date: ca. 1930
Image Number: JH11cdJH01
Comments: Pine Knot is a rustic cottage near Keene, Virginia, that served as the Albemarle County getaway for President Theodore Roosevelt and his family from 1905-1908. The cottage sits on a knoll above Miller's Creek on a land tract fronting on the old Scottsville Road, now called Route 712. This was the same road used by over 5000 Union soldiers, belonging to General Philip Sheridan's command, on their March 1865 mission to destroy the James River and Kanawha Canal locks near Scottsville.
In May 1905, Edith Kermit Roosevelt purchased this unfinished farmhand's cottage and fifteen acres from William "Willie" Wilmer, an old family friend and owner of Plain Dealing farm nearby. The cottage's purchase price of $280 included the cost of adding a porch plus some remodeling of the cottage's interior. These alterations consisted of adding two end fireplaces, making one 12' x 32' single lodge room of the first floor, and partitioning the second floor into three small bedrooms. Edith named the cottage "Pine Knot" because of the abundance of pine trees surrounding it.
President Roosevelt's first visit to Pine Knot occurred on June 9, 1905, and as described in Teddy's letter to his son, Kermit, he found it to be "a perfectly delightful little place." During that weekend, he rustled up a breakfast of fried eggs and bacon and later surprised his wife by cooking up two chickens. Edith, who did not cook, boiled water from a spring down the hill for their tea. Between 1905-1908, Roosevelt made eight trips to Pine Knot where he enjoyed sitting in a rocking chair, reading books, watching birds, taking long walks, and clearing away small trees blocking their porch view.
Often Pine Knot is described as Roosevelt's hunting lodge because he loved to come there at hunting time. Wild turkeys were plentiful on his woodlands, and Teddy hunted them obsessively for long hours until finally shooting one in the fall of 1906. Teddy also was fond of hunting fox with a pack of six to eight dogs. The Omohundro family, who lived nearby, told of a Roosevelt hunting trip with Dick McDaniel, a black man from Esmont who was Roosevelt's trusty hunting guide and respected woods companion at Pine Knot. Dick also owned a fine pack of fox hounds, which he always had available when Teddy wanted to hunt fox. One brisk fall morning, Teddy and Dick hunted and hunted, but their dogs just didn't strike a trail. Off to the side, they could hear a big fox chase going on with hounds barking and scurrying about. Teddy said, "I wonder whose dogs those are?"
Dick: "I think they belong to a black man named George Monroe."
Teddy: "Could you get those dogs for us? I believe they're better than the ones we have."
Dick headed over to Monroe's home and arrived just after he had returned home from his successful hunt. When the door opened, Dick said to Monroe, "Mr. Roosevelt would like to borrow your dogs to go for a hunt."
Monroe: "We don't loan our dogs to nobody!"
Dick: "But, sir, this is Mr. Roosevelt...the President of the United States!"
Monroe: "I don't give a damn if he's Booker T. Washington, he's not going to get my dogs!"
When the Roosevelts came to Pine Knot, they came as a family with one to several of their six children in tow (only Alice did not visit). Many years later George Omohundro asked Archibald Roosevelt about how many Secret Service men accompanied the family on their Pine Knot trips. "Secret Service men? We didn't need any Secret Service men---our father was the only protection we needed." Perhaps unbeknownst to her son, Edith feared for her husband's safety, and after May 1907, two Secret Service men guarded Pine Knot at night. Edith kept such evening security details a secret from her husband, who would have been upset had he known. Teddy after all was always confident of his ability to defend himself.
Archibald Roosevelt described one fall trip to Pine Knot where they had dinner with the Wilmers at Plain Dealing and then afterwards rode over to Pine Knot where all the Roosevelts went upstairs to bed. There were three rooms upstairs: Edith and Teddy slept in the west bedroom with one fireplace; the two girls slept in the center room in which the stairwell entered; and the three boys slept in the east bedroom with the other fireplace. The beds were covered by straw ticks, which were made of heavy striped fabric and filled with straw. Archie stripped off his clothes, pulled on his nightshirt, and was the first of his brothers to jump into their bed...only to be stung unmercifully by a swarm of wasps nesting in the straw. Archie considered himself quite fortunate to have survived his many wasp stings.
In July 1911, Edith Roosevelt purchased 75 more acres at Pine Knot, anticipating that her husband would run for a second term as President. But they never returned to Pine Knot after their last visit in May 1908. However, this property stayed in the Roosevelt family even after Teddy's death, and Edith authorized its use by the local Boy Scout and Girl Scout troops. In 1941, Edith sold Pine Knot to George Omohundro, their neighbor and Teddy's hunting partner. Today in 2011, the Edith and Theodore Roosevelt Pine Knot Foundation manages the Pine Knot property.

This news item appeared in the New York Times, December 1905
NORTH GARDEN, VA, Dec. 27--President Roosevelt and party arrived here shortly before 3 o'clock this afternoon. The party took carriages immediately for Pine Knot, Mrs. Roosevelt's country place. The President will remain there until Sunday afternoon. He expects to be back in Washington at 9:30 o'clock Sunday night.
Accompanied by Mrs. Roosevelt and the children, Ethel, Kermit, and Archie, the President left Washington at 11:30 o'clock for a five days' outing. The trip was made over the Southern Railway in the private car, Rover, attached to a regular train. Theodore Roosevelt, Jr., will join the party tomorrow.

President Roosevelt's Vacation Home
American Carpenter and Builder, Spring 1906
President Roosevelt's new vacation retreat in the mountains of Virginia is a refuge which could scarcely be expected to appeal to a man unless his love of nature were deep and genuine. Pine Knot is located in an isolated section of the Old Dominion not readily accessible from either steam railroad or trolley line and all such luxuries as telephones and electric lights are utterly unknown. Moreover, the quaint cottage, closely hemmed in on all sides by the forest, is probably quite the most unpretentious habitation owned by a President of the United States.
The little wilderness estate where President Roosevelt and his family lead the simple life in real earnest is located in the broken and picturesque Piedmont region of central Virginia in the same environment which little more than a century ago encompassed the homes of Presidents Thomas Jefferson, Madison, and Monroe. The idea of securing this retreat on "the highlands of Albemarle" where the family might enjoy short vacations from time to time originated with Mrs. Roosevelt, but now he has had a taste of the delights of unconventional life in the mountains, the President is quite as enthusiastic as is his wife over his lodge in Dixie.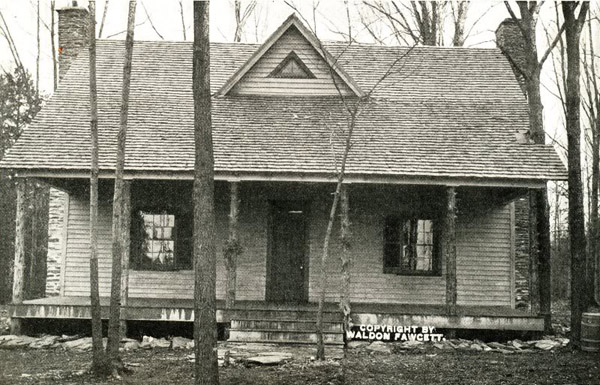 Pine Knot in 1906; photo by Waldon Fawcett
The Roosevelt estate comprises fifteen acres of land and was purchased about a year ago from William N. Wilmer, a New York banker and old personal friend of the Roosevelts, who has a large plantation adjoining. The lodge, a modest little two-story dwelling, set deep in the heart of the woods, was altered and improved to some extent in conformity with the wishes of Mrs. Roosevelt, but as is apparent from the accompanying illustration, it remains a decidedly modest shelter. In color, the house is ochre with brown trimmings and green blinds. A porch, supported by the trunks of young trees with the bark on, extends across the front of the house and the cottage is well shaded by overhanging trees on all sides.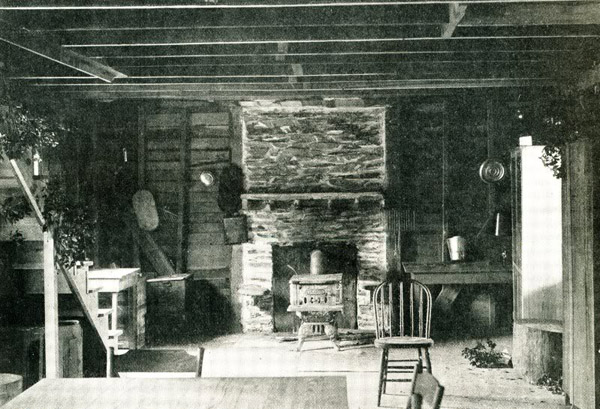 Interior of Pine Knot, 1906; photo by Waldon Fawcett
The interior of the little frame structure which the mountaineers have dubbed "Roosevelt's Rest," is quite in keeping with the simplicity of the exterior.
In particularly marked contrast to the conveniences of the average city house is the equipment of "Mrs. Roosevelt's kitchen" at Pine Knot, aptly so named because the First Lady of the Land on most of her visits to the retreat has taken a hand in preparing the meals. On one occasion, two cooks from the White House accompanied the presidential party, but at other times the preparation of the meals for the Chief Executive and his sons, when long tramps over the hills have whetted their appetites, has been in the hands of Mrs. Roosevelt, assisted by "Aunt" Lina Coleman, a colored 'mammy' eighty-six years of age, who knows how to prepare all the proverbial Southern delicacies and who incidentally 'waits on table' for the Pine Knot household.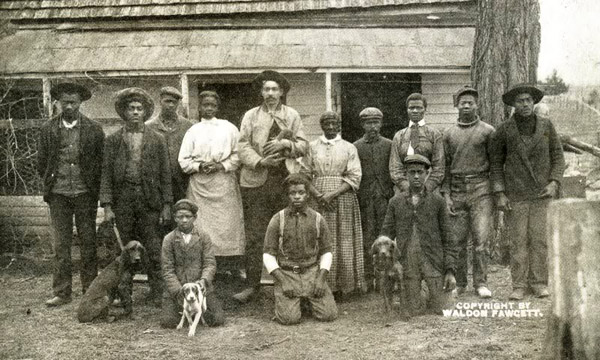 Pine Knot's Staff in 1906; photo by Waldon Fawcett
There is only one room under the roof at Pine Knot in which to tuck away servants and so most of the colored help about the place have quarters outside or over at Wilmers. The nearest approach to a servants' hall is the cabin of 'Uncle' Dick McDaniel, a strapping big fellow, who acts as the President's guide and body servant and who incidentally has charge of the hunting dogs and the horse, Virginia Chief, which the President rides when at Pine Knot. It is Dick who opens the house and gets the fires going when word comes from Washington that a party from the White House is enroute for a sojourn at the lodge under the shadow of Green Mountain.
President Roosevelt and his family have lost none of their loyalty to their summer home at Oyster Bay, Long Island, and will continue to spend the heated term of each year there, but Pine Knot is likely to be the scene of most of their other and briefer vacations. The family went to the Virginia mountain retreat for their Thanksgiving vacation and also for the Christmas holidays and had all plans made to spend Easter there this year but an unexpected engagement kept the President in Washington on the last mentioned occasion.
As may be imagined from what has been said of its location, Pine Knot is not reached with sufficient ease to cause the President to fear an invasion of his solitude. Passengers for Pine Knot leave the Southern railway trains at North Garden, which is situated eleven miles from the city of Charlottesville, Virginia, the seat of the University of Virginia. A drive of 12 miles brings them to the mountain cottage. cottage. Sometimes the Roosevelts make the trip to or from Pine Knot in two-seated drags and wagons, but more often there is utilized for the journey a stage coach drawn by four powerful bays.
The President goes to Pine Knot to enjoy long horseback rides with Mrs. Roosevelt on the fine roads of Albemarle county and to tramp through the woods with his sons under the guidance of 'Dick' rather than to indulge in hunting; but for all that he does not entirely ignore the game that abounds in the vicinity and on one recent expedition upon which he set out without waiting for breakfast and from which he did not return until 1:30 o'clock in the afternoon the game bagged included a splendid wild turkey, half a dozen quail, two rabbits, and several snow birds.
When at their mountain home the Roosevelts attend divine services at Christ Church, St. Ann's parish, which is located but a short distance from the lodge at Pine Knot. This church, which is of the Episcopal denomination, is one of the oldest in that section of the State and many prominent Virginia families have worshiped within its walls. Here William Cabell Rives, one time U.S. Minister to France, worshiped along with the Carters and Coles, and the congregation is to this day one of the most aristocratic and wealthy in the Old Dominion, among the regular attendants being Mrs. Martin, wife of Senator Martin.
President and Mrs. Roosevelt, when they go to Pine Knot for an outing, bring most of their groceries and other supplies from Washington, for the shopping facilities in the neighborhood of Pine Knot, as may be imagined, are scarcely up to the requirements of so ambitious a housewife as Mrs. Roosevelt. The nearest mercantile establishment is a half hour's ride on horse.
Note: Throughout this article in the American Carpenter and Builder, President Roosevelt's retreat was erroneously called 'Pine Knob'. For accuracy, the retreat's name has been corrected here to read 'Pine Knot'


Shown above is the double-barrelled shotgun that belonged to President Theodore Roosevelt when he owned Pine Knot Hunting Lodge near Keene in Albemarle County. It was left to his caretaker, Dick McDaniel, and later acquired by Dr. J. Walter Moon. The double-barreled, sawed-off shotgun is English, late 19th century, mule-eared with a double trigger and walnut stock. Roosevelt was president of the U.S. from 1901-1909.



Hobo at Home In Pine Knot
President's Virginia "Shack" Occupied by Gentleman of the Road
Special to The New York Times
ESMONT, Va., Sept. 4, 1908 - A driving party, intent on visiting the show places in Albemarle County, VA, recently found evidences of the habitual occupation of Pine Knot, Mrs. Roosevelt's little shack. Investigation of the premises discovered a missing slat in a shutter at the back of the house and an absent window pane that had been cut out as neatly as if a glazier had performed the operation.
A member of the party found it an easy matter to press the rather primitive spring that held the window down, and on entering the house discovered a chair drawn up to the President's pine dining table and a lately used plate and napkin.
As the Roosevelt family have not visited Pine Knot since the early Spring and as Mrs. Roosevelt is much too good a housekeeper to leave her home in disorder, there is only one conclusion to arrive at, and that is that the President's Virginia home is being occupied, free of rent, by some chance visitor, who finds in the secluded spot a safe hiding place. Further investigation of the place showed a bowl half full of sugar, a cup hanging in a cupboard, whose doors were evidently left ajar for convenience; a cider pail of water, and a bed that had been slept in and "smoothed over," as they say in Virginia.
Who this mysterious occupant is is a mystery to the neighborhood, whose inhabitants boast of the fact that the President's home is regarded as private property and not a public showplace. It is believed that some gentleman of the road has been using Pine Knot as Summer quarters.

This W.E. Burgess postcard is from the collection of Jack Hamner of Scottsville, Virginia. The three 1906 photographs are contained in an article entitled "President Roosevelt's Vacation Retreat" in the Spring 1906 issue of American Carpenter and Builder.
Copyright © 2018 by Scottsville Museum

Top Image Located On: Capturing Our Heritage, CDJH01
JH11cdJH01.tif
JH11cdJH01.jpg
JH11cdJH01.psd

Second Image of Pine Knot's exterior in 1906 Located On: Capturing Our Heritage, CDACB01
ACB01cdACB01.tif
ACB01cdACB01.jpg
ACB01cdACB01.psd

Third Image of Pine Knot's interior in 1906 Located On: Capturing Our Heritage, CDACB01
ACB03cdACB01.tif
ACB03cdACB01.jpg
ACB03cdACB01.psd

Fourth Image of Pine Knot's staff in 1906 Located On: Capturing Our Heritage, CDACB01
ACB04cdACB01.tif
ACB04cdACB01.jpg
ACB04cdACB01.psd

Fifth Image of Teddy Roosevelt's shotgun Located On: Capturing Our Heritage, CG2020
CG01CG2020.tif
CG01CG2020.jpg
CG01CG2020.psd