Name: Twilight Tours 2022

Date: October 21-22, 2022

Image Number: 2022ScottsvilleTwilightToursLogo

Comments: Thanks to all of you who came to our Twilight Tours last weekend! It was heartening to see such a crowd out on the streets, and we appreciated how many of you thanked us for making a comeback!

This year, the Museum collaborated with SCAN, the Scottsville Committee for Arts and Nature. Kristen Freshwater was our director, who recruited the actors, provided them with scripts and coached them on their performances. Matt Lawless played the part of a Revolutionary War soldier, Corporal Isaac Wotring, one of his ancestors. Kit Decker reprised his role as Joshua Fry, who was in on the founding of Scottsville in 1745. Brynn Deakins-Hull portrayed Dr. Oriana Moon, who served as a doctor during the Civil War. Edith Taggart, Scottsville's long-time telephone switchboard operator, was played by Kit van Tassell. Marion McKay, a high school drama teacher who was instrumental in the founding of Victory Hall, was portrayed by Jessi Giannini. Mary Bova took on the role of Virginia Moore, the author of Scottsville on the James, in the aftermath of Camille, the 1969 flood in town.

The lantern guides were Dan Gritsko, Ron Smith, Andy Wilson, Kathy Allen, Lisa Bittner, Colleen Church, Stuart Munson, and Daniel Gidick. We were happy to welcome back Jack Maxwell as the Traffic and Safety Coordinator, who reported another successful year of nobody getting run over on Main Street.

Other volunteers were Liz Koedam, Laura Mellusi, Barbara Wilkinson, Peter Rapp, and Evelyn Edson. Barbara was responsible for recruiting the bakers of wonderful homemade cookies and the purveyors of fresh apple cider!

Thanks to Molly Angevine and Erin Root for sharing their Twilight Tours photos with Scottsville Museum! Shown below are their photos of the actors who performed in the Twilight Tours and photos of Kristin Freshwater, the Tours Director, plus several of our devoted guides on the 2022 Twilight Tours: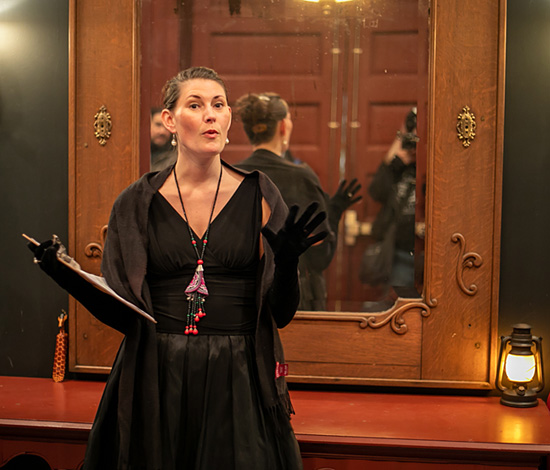 Jessi Giannini portrays Marion McKay, the play director at Victory Hall in Scottsville in 1930's.
Photo by Molly Angevine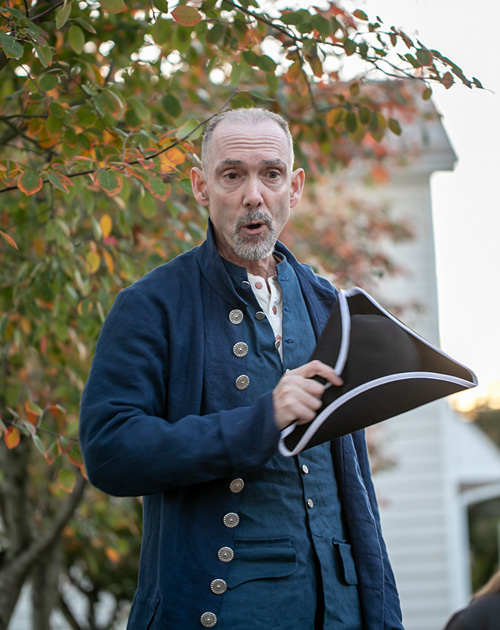 Kit Decker portrays Joshua Fry (1699-1754), Chief Magistrate of Albemarle County
in 1745, who partnered with Peter Jefferson in Albemarle County map making.
Photo by Molly Angevine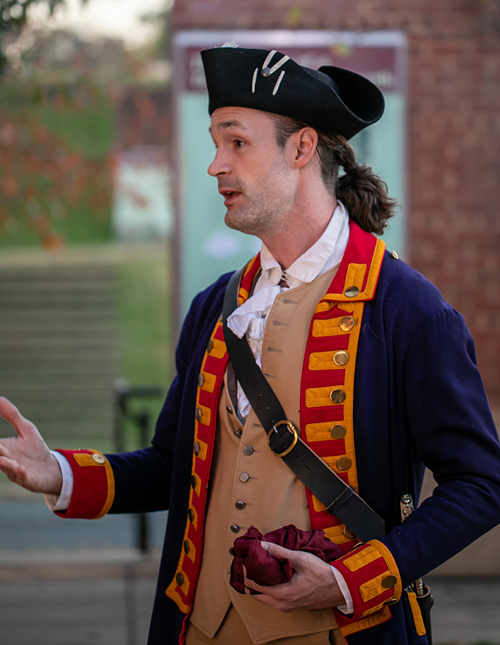 Matt Lawless portrays Corporal Isaac Wotring, whose story shares Scottsville's history.
In the buildup to the siege of Yorktown, Scottsville was a rally point for supplies, and
soldiers came from surprisingly far away to camp here before going
to secure American independence in the Revolutionary War.
Photo by Molly Angevine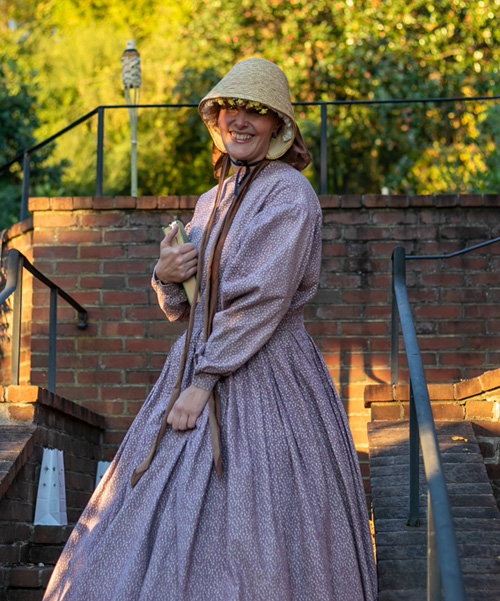 Brynn Deakins Hull portrays Oriana Moon, who ran a hospital with her husband,
Dr. John S. Andrews, during the Civil War.
Photo by Molly Angevine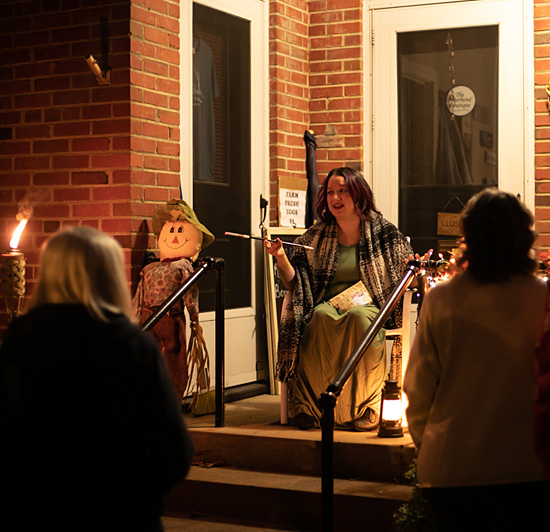 Kit Van Tassell portrays Edith Taggart, who served as Scottsville's central telephone operator
from 1911 until her retirement in 1950.
Photo by Molly Angevine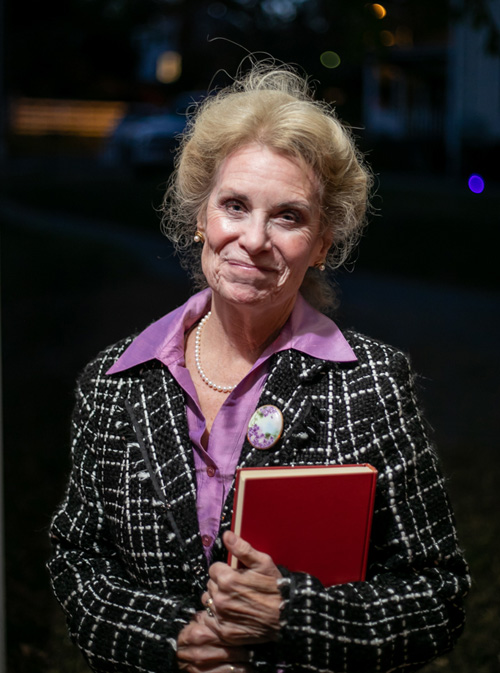 Mary Bova portrays Virginia Moore, who wrote
Scottsville on the James
in the aftermath
of Camille, the 1969 flood in Scottsville.
Photo by Molly Angevine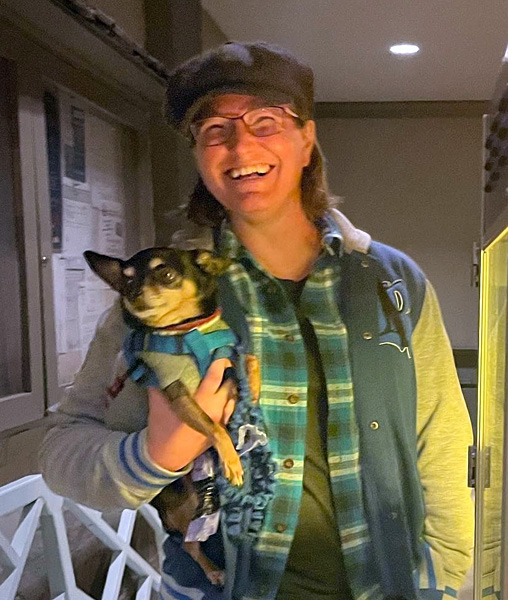 Kristin Freshwater, Director of Scottsville's Twilight Tours in 2022.
Photo by Erin Root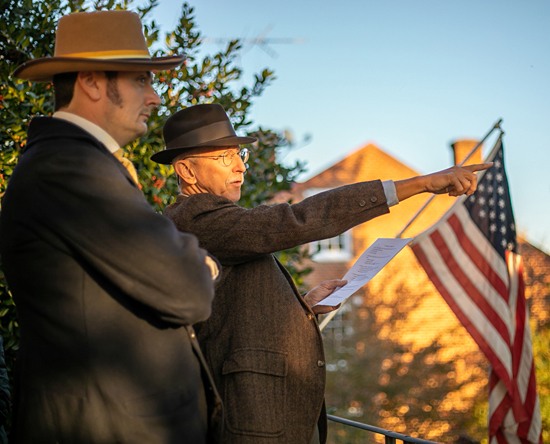 Daniel Gidick (L) and Stuart Munson (R) served as tour guides during the 2022 Twilight Tours.
Photo by Molly Angevine

Copyright © 2022 by Scottsville Museum

First Image Located On: Capturing Our Heritage, CDTS01; Photo Courtesy of Scottsville Council for Arts and Nature.
SCAN2022cdSCAN01.tif
SCAN2022cdSCAN01.jpg
SCAN2022cdSCAN01.psd

Second Image Located On: Capturing Our Heritage, CDMA01; Photo Courtesy of Molly Angevine.
MA03JoshuaFry_actorKitDecker.tif
MA03JoshuaFry_actorKitDecker.jpg
MA03JoshuaFry_actorKitDecker.psd

Third Image Located On: Capturing Our Heritage, CDMA01; Photo Courtesy of Molly Angevine.
MA04CorporalIsaacWotring_actorMattLawless.tif
MA04CorporalIsaacWotring_actorMattLawless.jpg
MA04CorporalIsaacWotring_actorMattLawless.psd

Fourth Image Located On: Capturing Our Heritage, CDMA01; Photo Courtesy of Molly Angevine.
MA02OrianaMoon_actorBrynnDeakinsHull.tif
MA02OrianaMoon_actorBrynnDeakinsHull.jpg
MA02OrianaMoon_actorBrynnDeakinsHull.psd

Fifth Image Located On: Capturing Our Heritage, CDTMA01; Photo Courtesy of Molly Angevine.
MA06EdithTaggart_actorKitVanTassell.tif
MA06EdithTaggart_actorKitVanTassell.jpg
MA06EdithTaggart_actorKitVanTassell.psd

Sixth Image Located On: Capturing Our Heritage, CDMA01; Photo Courtesy of Molly Angevine.
MA01virginiamoore_actorMaryBova.tif
MA01virginiamoore_actorMaryBova.jpg
MA01virginiamoore_actorMaryBova.psd

Seventh Image Located On: Capturing Our Heritage, CDER01; Photo Courtesy of Erin Root.
ER01KristinFreshwater_TwilightToursDirector.tif
ER01KristinFreshwater_TwilightToursDirector.jpg
ER01KristinFreshwater_TwilightToursDirector.psd

Eighth Image Located On: Capturing Our Heritage, CDTS01; Photo Courtesy of Molly Angevine.
MA07VolunteerGuides_DanielGidick_StuartMunson.jpg.tif
MA07VolunteerGuides_DanielGidick_StuartMunson.jpg.jpg
MA07VolunteerGuides_DanielGidick_StuartMunson.jpg.psd