Name: Minerva Bell Lewis Marker Dedication

Date: June 19, 2022

Image Number: TS01cdTS01

Comments: Sunday, June 19, or "Nineteenth" is a holiday commemorating the final emancipation of the slaves in Texas, one of the last states to do so, in 1865. Celebrated in the Black community for many years, it was declared a national holiday in 2021.

This past Sunday, 19 June 2022, Juneteenth in Scottsville was marked by the unveiling of a plague dedicated to Minerva Bell Lewis (1844-1916). A hundred years ago, she was the only Black female property owner in Scottsville (Lot 142). Her husband, George Washington Lewis, ran a grocery store and saloon on this site (Lot 142) near the present-day farmer's market. The building, damaged in Scottsville's floods, no longer stands, but the town intends to establish a shaded area near Minerva's plague where visitors can read and reflect.

Minerva Bell Lewis (born 1844) and her husband (born 1841) were born under slavery, and George Washington Lewis was listed as a merchant in the U.S. Census of 1870. Although many Black citizens of the South joined the Great Migration to the North, the Lewises made a successful life for themselves in Scottsville. They became prominent citizens of the town, and Mrs. Lewis hosted "grand entertainments" for out-of-town guests as well as piano recitals for their daughters. The Lewises had thirteen children, five of whom became teachers.

Lot 142 on the original plat of Scottsville, was purchased by George Washington Lewis in 1870. They had an estate valued at $800 in 1870, and Mr. Lewis signed the 1870 deed with his name, not an illiterate mark. In 1886, an insurance document showed a saloon and apartments on the site. Census records from 1870 to 1910 show Washington Lewis as a merchant. In 1901, the tax roll shows Minerva Lewis as a property owner and taxpayer.

Mr. Lewis had gifted the property to his wife "in consideration of the love and affection" he bore for her. She held the property until 1911 and died in 1916. Minerva is buried at the Union Baptist Church Cemetery in Scottsville. On June 19, 2022, a brief ceremony, sponsored by the Scottsville Town Council, was held at the old Lewis store site (near today's Farmer's Market) at 3pm.

Shown below are photos of participants and some of the attendees at the Minerva Lewis Marker Dedication on 19 June 2022: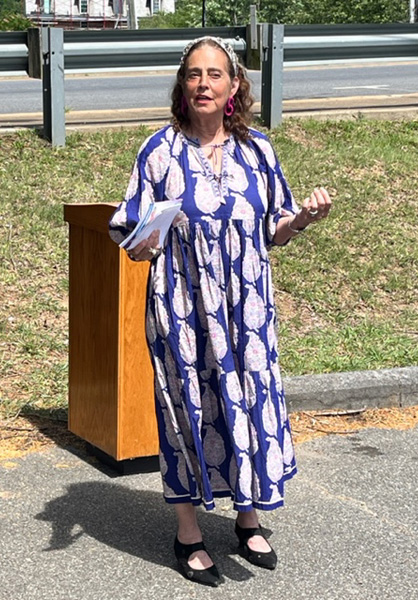 Sharon Dennis Wyeth, fifth great granddaughter of Minerva Bell Lewis.
Photo by Laura Mellusi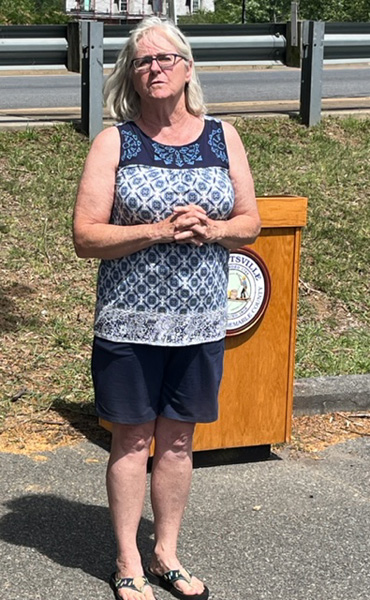 Jana Sauders, who recently bought the house where Minerva and family
lived on Poplar Springs Road in Scottsville.
Photo by Laura Mellusi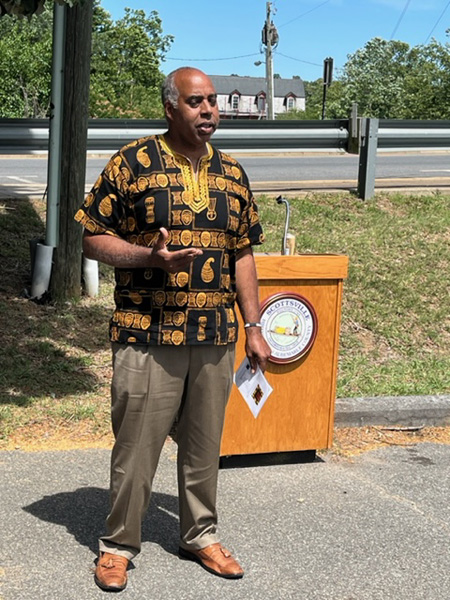 Ed Brooks of the Yancey Community Center
Photo by Laura Mellusi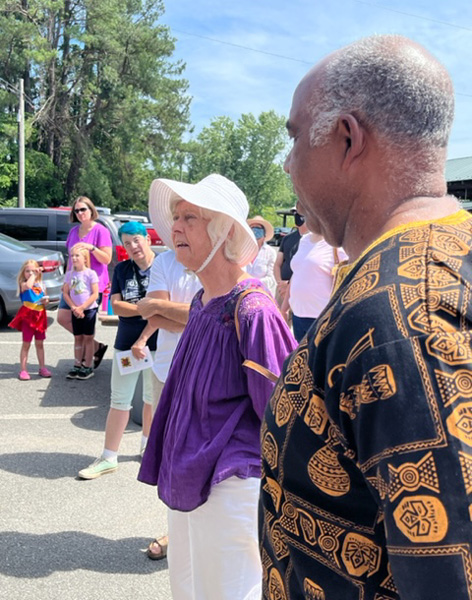 Evelyn Edson speaks as Ed Brooks stands listening to her right
Photo by Laura Mellusi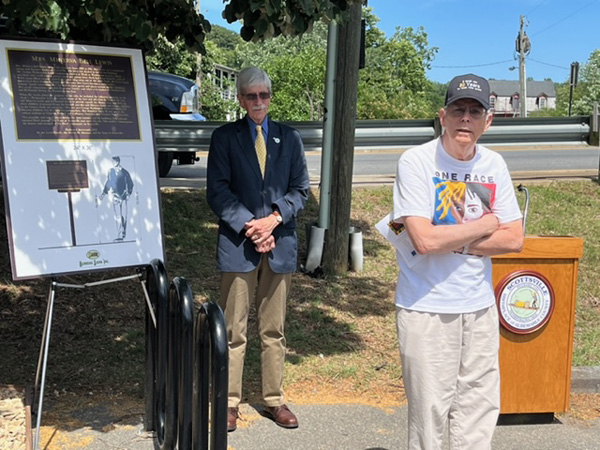 Mayor Ron Smith (at left) listening as Chris Wade (at right) speaks.
Photo by Laura Mellusi
Graham Paige speaks as Fannie Louden sits to his right and Mary Eubanks
to his left.
Photo by Laura Mellusi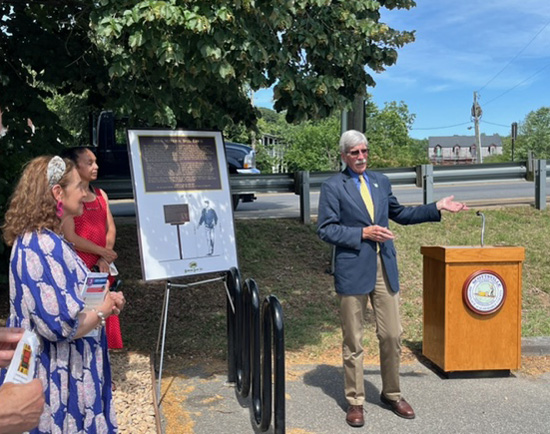 Mayor Ron Smith speaks as Lenora McQueen (in red) and Sharon Dennis Wyeth (in blue)
stand to his right.
Photo by Laura Mellusi

Copyright © 2022 by Scottsville Museum

First Image Located On: Capturing Our Heritage, CDTS01; Photo Courtesy of Laura Mellusi.
TS01cdTS01.tif
TS01cdTS01.jpg
TS01cdRTS01.psd

Second Image Located On: Capturing Our Heritage, CDTS01; Photo Courtesy of Laura Mellusi.
TS03cdTS01.tif
TS03cdTS01.jpg
TS03cdTS01.psd

Third Image Located On: Capturing Our Heritage, CDTS01; Photo Courtesy of Laura Mellusi.
TS04cdTS01.tif
TS04cdTS01.jpg
TS04cdTS01.psd

Fourth Image Located On: Capturing Our Heritage, CDTS01; Photo Courtesy of Laura Mellusi.
TS05cdTS01.tif
TS05cdTS01.jpg
TS05cdTS01.psd

Fifth Image Located On: Capturing Our Heritage, CDTS01; Photo Courtesy of Laura Mellusi.
TS06cdTS01.tif
TS06cdTS01.jpg
TS06cdTS01.psd

Sixth Image Located On: Capturing Our Heritage, CDTS01; Photo Courtesy of Laura Mellusi.
TS07cdTS01.tif
TS07cdTS01.jpg
TS07cdTS01.psd

Seventh Image Located On: Capturing Our Heritage, CDTS01; Photo Courtesy of Laura Mellusi.
TS08cdTS01.tif
TS08cdTS01.jpg
TS08cdTS01.psd

Eighth Image Located On: Capturing Our Heritage, CDTS01; Photo Courtesy of Laura Mellusi.
TS09cdTS01.tif
TS09cdTS01.jpg
TS09cdTS01.psd